Penn State Health to sell downtown Reading properties. Access to health services at locations will not change.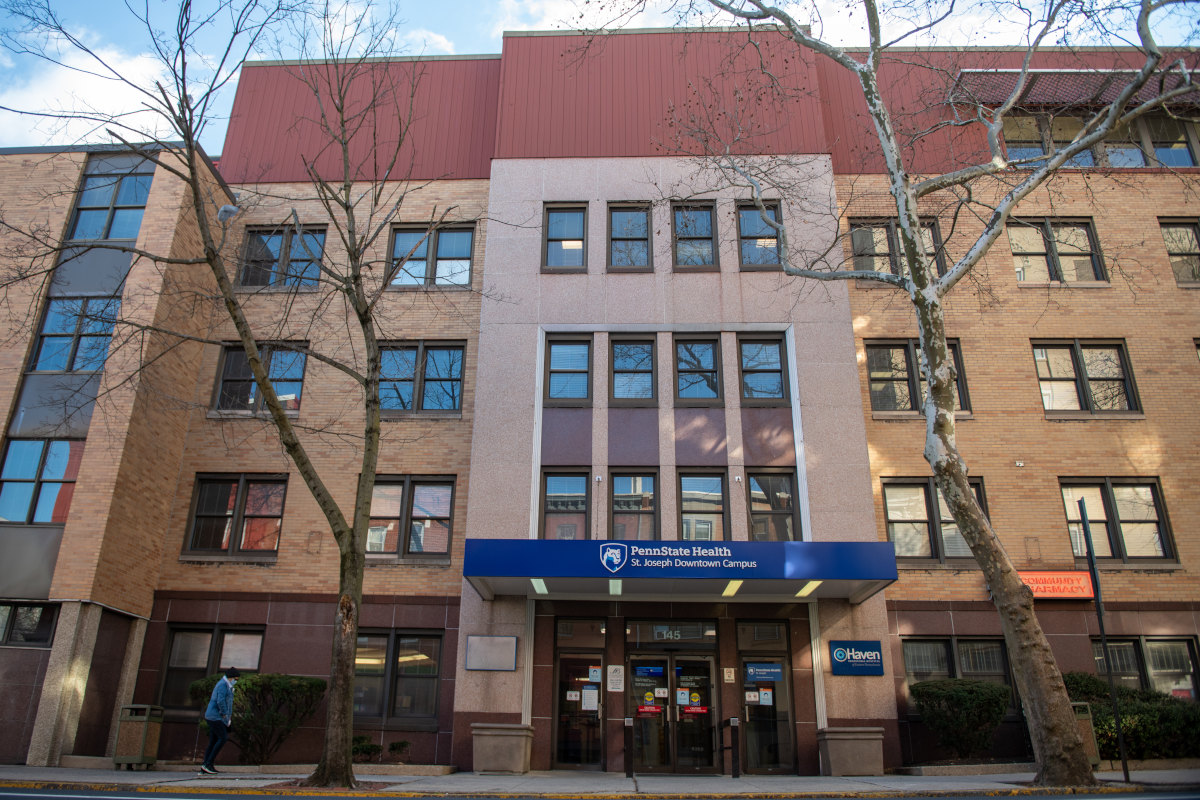 St. Joseph remains fully committed to providing vital clinical care at the downtown facilities
Penn State Health has signed an agreement to sell its Penn State Health St. Joseph downtown properties, 640 Walnut St. and 145 N. 6th St. in Reading, to Shuman Development Group, a locally based real estate developer. Following the sale, which is expected to close in October, Penn State Health will become a tenant in the buildings.
None of the Penn State Health practices or services offered at the St. Joseph Downtown Campus will be affected by the sale. Haven Behavioral Hospital of Eastern Pennsylvania will also remain at its North 6th Street location.
"As we celebrate the 150th anniversary of St. Joseph, we remain committed to providing the residents of downtown Reading with excellent, compassionate, culturally responsive and equitable care," said Joseph Frank, hospital president for Penn State Health East Region. "Selling our downtown properties lets us get out of commercial property management so we can focus fully on meeting the diverse health care needs of our patients."
Penn State Health providers and practices currently at the 6th Street location include Penn State Health Family and Community Medicine, staffed by attending physicians, resident physicians, and a team of nurses and medical assistants providing primary care services including family medicine, pediatrics, gynecology and geriatrics; gastroenterology; urology; podiatry; and dental services. Additionally, laboratory and imaging services and a fruit and vegetable prescription program (Veggie Rx) are offered there. The Walnut Street location houses Penn State Health's diabetes management program and physical therapy.
"This is more than a real estate transaction for the downtown community," said Alan Shuman, president of Shuman Development Group. "This is an investment in Reading's future. Penn State Health and Haven Behavioral Hospital will continue to provide the critically important health care services our community needs and deserves. And my team will infuse upgrades and other elements to the buildings, contributing to the revitalization of the downtown area."
Haven Behavioral Hospital of Eastern Pennsylvania, an acute care behavioral health hospital, is housed on the third floor of the North 6th Street property. Shuman said that the hospital will sign a long-term lease to remain in its current location.
"We are honored to serve and care for patients in downtown Reading now and long into the future," said Kady Schane, chief executive officer of Haven Behavioral Hospital of Eastern Pennsylvania. "Like Penn State Health, we are fully committed to improving the health and well-being of the community and look forward to seeing the enhancements Shuman Development Group will bring to our hospital and downtown Reading."
###
About Penn State Health
Penn State Health is a multi-hospital health system serving patients and communities across 29 counties in central Pennsylvania. It employs more than 18,000 people systemwide. The system includes Penn State Health St. Joseph Medical Center in Reading, Pa.; Penn State Health Milton S. Hershey Medical Center, Penn State Health Children's Hospital and Penn State Cancer Institute based in Hershey, Pa.; Penn State Health Hampden Medical Center in Enola, Pa.; Penn State Health Holy Spirit Medical Center in Camp Hill, Pa.; Penn State Health Lancaster Medical Center in Lancaster, Pa.; Pennsylvania Psychiatric Institute, a provider of inpatient and outpatient behavioral health services, in Harrisburg, Pa.; and 2,450+ physicians and direct care providers at 225 outpatient practices. Additionally, the system jointly operates various health care providers, including Penn State Health Rehabilitation Hospital, Hershey Outpatient Surgery Center and Hershey Endoscopy Center. In 2017, Penn State Health partnered with Highmark Health to facilitate creation of a value-based, community care network in the region. Penn State Health shares an integrated strategic plan and operations with Penn State College of Medicine, the University's medical school. With campuses in State College and Hershey, Pa., the College of Medicine boasts a portfolio of more than $150 million in funded research and more than 1,700 students and trainees in medicine, nursing, other health professions and biomedical research.
About Shuman Development Group
Shuman Development Group is the largest developer in the City of Reading with nearly 30 years of experience revitalizing more than one million square feet of city buildings with local investments totaling over $150 million. Shuman Development Group has restored some of the key anchor buildings in the city, including the entire Reading Outlet Center neighborhood, the Abraham Lincoln Hotel, the just completed Berks County Trust building and is currently working on two long vacant city gems: the Medical Arts building and the Elks Club. Shuman Development Group projects have created more than 1,200 jobs, 107 businesses and 205 quality, market-rate housing units with much more to come.
About Haven Behavioral Hospital of Eastern Pennsylvania
Haven Behavioral Hospital of Eastern Pennsylvania is a licensed, acute care behavioral hospital that provides a safe, nurturing environment for the treatment of complex mental health issues. The hospital offers innovative, customized treatment in both inpatient and outpatient programs, customizing care based on patients' individual needs and preferences with compassionate, expert treatment that is designed to help individuals move past illness and take control of their lives.
If you're having trouble accessing this content, or would like it in another format, please email Penn State Health Marketing & Communications.