St. Joseph Medical Center welcomes Caring Cradle donation for grieving families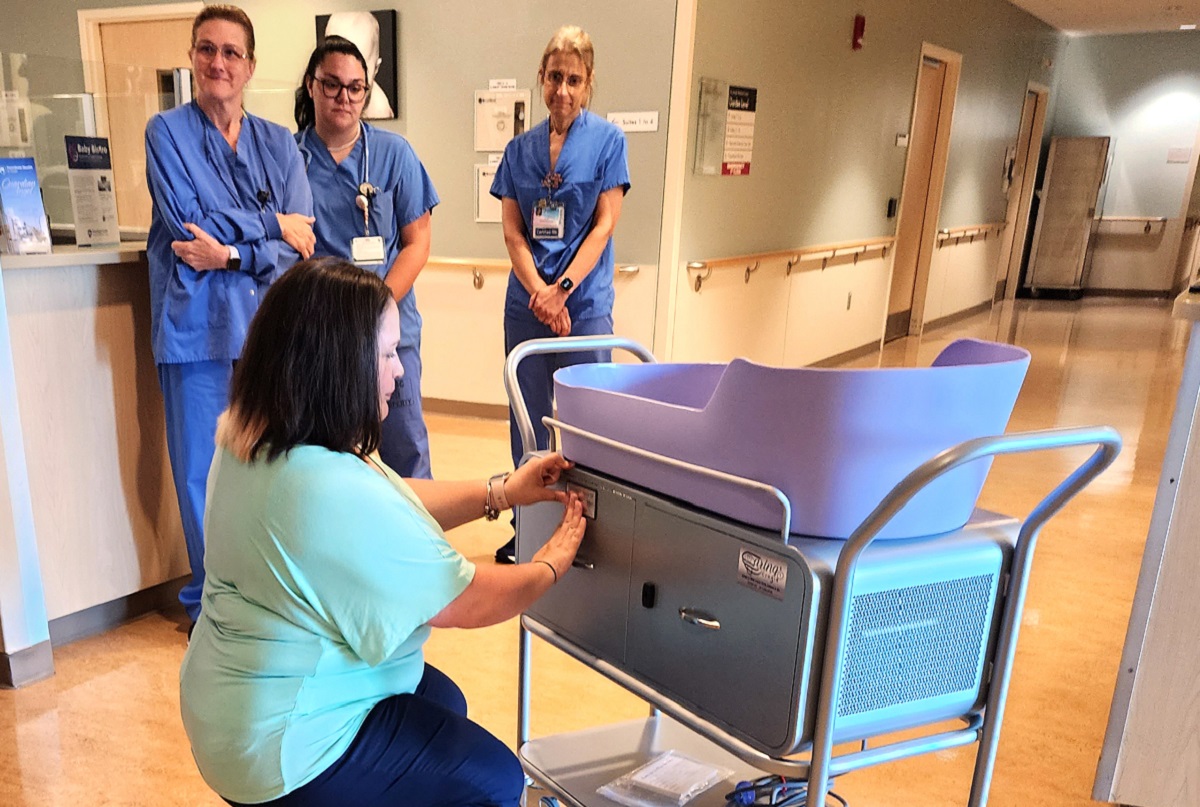 Penn State Health St. Joseph Medical Center has received a special bassinet that gives grieving families more time to say goodbye to their infant, thanks to one family's wish to help others.
The Adalyn Rose Foundation presented the $7,000 Caring Cradle, a cooling bassinet donated in memory of Quinton Hadden, who was stillborn on July 7, 2021, at St. Joseph Medical Center. Designed for hospitals, the bassinet gives parents and families of stillborn babies the opportunity to spend time with their infant until the new mom is medically stable for discharge.
"We are very grateful for the generosity of the Adalyn Rose Foundation and the Hadden family," said Stacey Border, director of Women's and Children's Services. "We recognize the Caring Cradle's value in showing compassion and empathy to a mom and dad who have lost their baby."
The bassinet is crucial to the healing process, according to Chloe Ciferri, the foundation's executive director.
"Often times there are grandparents or partners not at the bedside when the baby is born, and it may take them more time to get to the hospital. Being able to give that gift of time to families in this situation is huge," said Ciferri, who founded the Adalyn Rose Foundation with her husband after the loss of their daughter in pregnancy in 2017. "We are so grateful for the donations from Recipes by Josh and Quinton's family that made this possible."
The Caring Cradle donation comes six months after the Adalyn Rose Foundation and the Hadden family presented the hospital's Breidegam Family Birthing Center with a $3,000 remembrance cart. Used in tandem with the Caring Cradle, the cart provides keepsake items that families can use to make memories of their babies.
"The remembrance cart also helps nurses and staff guide the family in situations where moms, dads, siblings and grandparents have no idea what to do," Ciferri said. "You can never make loss easy, but if you can at least provide comfort, options, support and guidance, you set the family up for a better path for healing."
The Adalyn Rose Foundation also supports up to $500 in funeral costs for each family that has lost a baby during pregnancy through early childhood and provides staff bereavement training as part of its partnership with St. Joseph Medical Center.
"It feels good to be a part of giving back to the families who unfortunately will come after us," Ciferri said. "Being able to raise funds and awareness as parents who are part of a community of loss helps us heal. Although our babies aren't here on earth with us, it gives us the opportunity to recognize them as our children and us as their parents."
Penn State Health provides a variety of infant bereavement support services at its hospitals. Patients have access to Caring Cradles at both Penn State Health Lancaster Medical Center and Penn State Health Hampden Medical Center, which also has an infant burial program. Penn State Health Children's Hospital provides palliative care to children facing complex, life-threatening conditions through the Hummingbird Program.
If you're having trouble accessing this content, or would like it in another format, please email Penn State Health Marketing & Communications.