Volunteers from The Arc of Cumberland & Perry Counties lift up Penn State Health patients and staff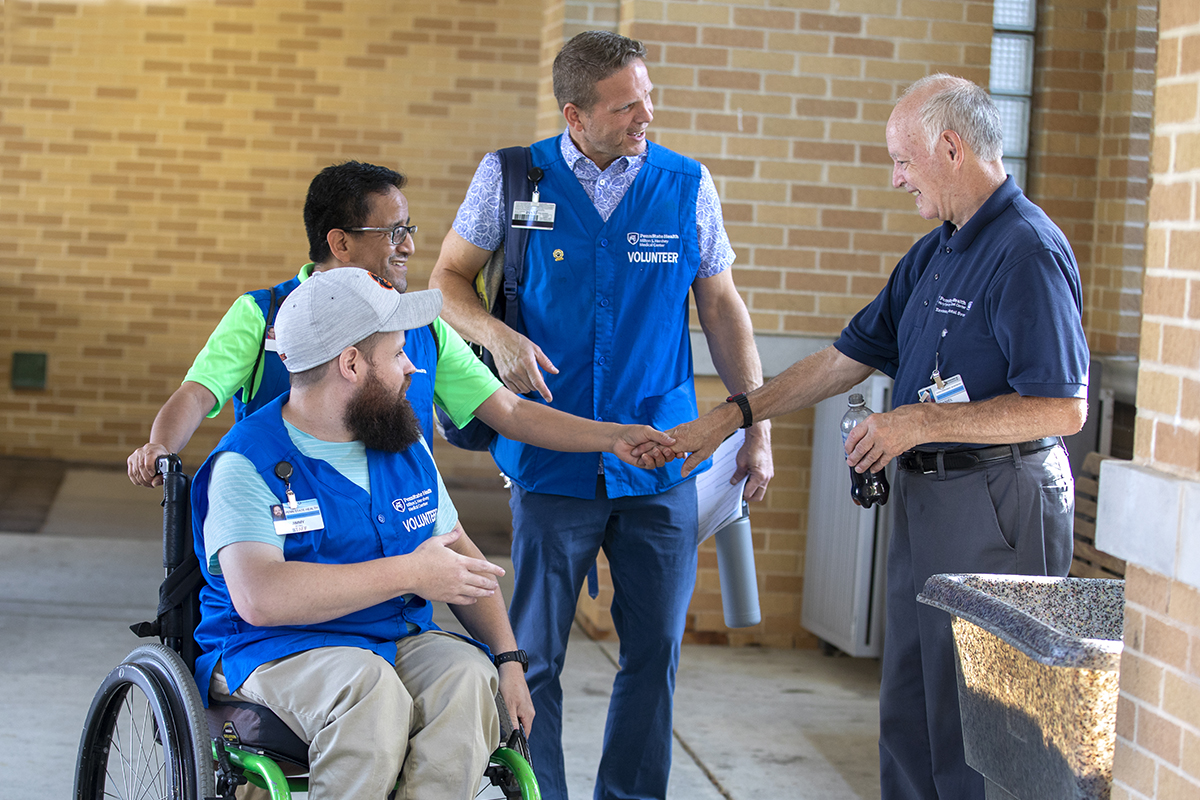 "You don't need to get paid. Just make someone happy."
"I like to make people smile."
"Meeting people and helping people makes me happy."
These are the words of three dedicated volunteers from The Arc of Cumberland & Perry Counties (CPARC). They spend two hours at Penn State Health Holy Spirit and Milton S. Hershey medical centers each week lifting patients' spirits, helping staff and sharing their positive attitudes with everyone they meet. Since May 2, Matt Barrick, Jimmy McGill and Wilbur Weezorak have been clocking in to Holy Spirit Medical Center every Tuesday at 9:30 a.m. to bring the comfort cart to patient rooms and lend a hand with office tasks.
Every Thursday, Barrick and McGill join CPARC volunteers Ean Garman, Brian Shaffer and Summer Spangler at Hershey Medical Center to help in the gift shop and Rotunda Café.
CPARC is a nonprofit agency with a mission to empower, inspire and educate people with intellectual and developmental disabilities, their families and the community. Rich Davis, community participation instructor at CPARC's S. Wilson Pollock Center for Industrial Training in Mechanicsburg, is always on-site with the volunteers. He transports them and provides guidance and encouragement to make sure they are delivering quality customer service.
Boosting patient experience
The Tuesday team reports to the Patient and Volunteer Engagement Office at Holy Spirit Medical Center, where Liz Keating, volunteer services coordinator, gives them their assignments. The guys chat with Keating and Gretchen Ramsey, regional director of patient and volunteer engagement, and Tiffany Jenkins, patient and family representative. They discuss sports scores and summer activities like a group of old friends. Their comfortable connection with the staff is evident in their easy banter and friendly ribbing back and forth.
"These four give off an incredible feeling of happiness the minute they come through the front doors," Keating said. "They're so excited to be here, it melts my heart."
Weezorak and McGill settle into an office to prepare stacks of documents for scanning. McGill gives Weezorak a pep talk, explaining they will be done in no time. Barrick, a long-time volunteer, gets ready to round with Davis on patient floors with the comfort cart, which is stocked with treats and puzzle books.
They take turns pushing the cart, checking in with nurses about dietary restrictions, and knocking on patient doors to offer goodies and chat briefly. Barrick keeps watch for visitors in the waiting rooms who might enjoy a snack or book to pass the time.
"The comfort cart rounds are a great way for volunteers to connect with patients and show them special attention," says Keating. "This initiative boosts the patient experience, but also helps our nurses so they can focus on delivering clinical care."
Serving the community
On the way back to the Patient Experience office, Barrick shares his love for dogs and sea animals, as well as watching NASCAR and WWE Friday Night SmackDown with friends at his apartment. McGill and Weezorak are waiting at the office eager to report that they finished the scanning job early and moved on to assembling packets for a presentation. They proudly show off their work, neatly stacked piles across a desk, and Keating thanks them for their help.
Hampden and Holy Spirit medical centers have 97 volunteers who help patients, staff and visitors. The volunteer program encourages teamwork and builds a sense of community, Keating said. "Every volunteer has their own reason for choosing to dedicate time in our medical centers. These guys just take it to a different level."
Hanging out with the guys
At 11:45 a.m., the volunteer shift ends, and Davis and his volunteers clock out and head to the cafeteria for lunch. Maryann Everett, a longtime Holy Spirit Medical Center volunteer who helped to onboard the group, stops by their table. "I missed my boys! You always brighten my day," she said.
Barrick lights up when he sees her. He and McGill can rattle off name after name of the employees they work with at Hampden and Hershey medical centers.
Their lighthearted jokes about favorite foods and sports rivalries are evidence of their close bonds. They also like to talk about their hobbies. Weezorak is an avid fisherman, who also enjoys taking trips with his family. McGill is a sports enthusiast­­­ with a passion for the Baltimore Orioles and Notre Dame football. They both participate in the region's Special Olympics. McGill and Barrick are the reason Weezorak became a volunteer at Holy Spirit Medical Center, encouraging him to give it a try.
After lunch, Davis, Barrick, McGill and Wilbur head back to the Pollock Center. If they have a little extra time, Davis might swing by the library so the young men can pick up some books. Sometimes on weekends he takes them to the park for a game of horseshoes or basketball. This was especially frequent during the COVID pandemic when volunteering was restricted, and the CPARC team only had a few outdoor assignments.
A win-win  
These community volunteer opportunities have not always been available to Center for Industrial Training/CPARC clients. The Pennsylvania Office of Developmental Programs adopted a policy about five years ago that all individuals employed in a sheltered workshop setting must be offered the chance to spend at least 25% of their work time making connections in the community. Job training and employment is available for people with disabilities at the Pollock Center for Industrial Training. The combination of employment and volunteering helps individuals expand their social and professional skills.
Davis, who has a background in finance, has always had a passion for volunteering, including at CPARC's residential facility. In 2018, he took the job as a community participation instructor. He reaches out to community partners to identify volunteer opportunities for clients, who face challenges because of injury, illness, economic status or disability. Davis also oversees compliance, training and travel. Outreach is based on clients' input, interests and personalities. Barrick gets the credit for suggesting volunteer time at the medical centers.
Davis meets with volunteer leaders like Keating at Hampden and Tracy Johnsen, manager of volunteer and guest services at Hershey Medical Center, to determine their needs and the best client fits.
The CPARC staff also consider safety and physical restrictions. Trainees must fill out an application, get all necessary clearances, update vaccinations and complete an orientation and annual training. During hospital days, they follow a dress code and wear an ID badge. They are not paid for volunteering but can include the experiences on their resume.
"I love to see how our volunteers impact other people's lives," Davis said. "These guys find enjoyment in things we all should enjoy. It's the greatest part of my job."
If you're having trouble accessing this content, or would like it in another format, please email Penn State Health Marketing & Communications.