Gratitude memorialized: Artist unveils The Gratitude Project at Lancaster Medical Center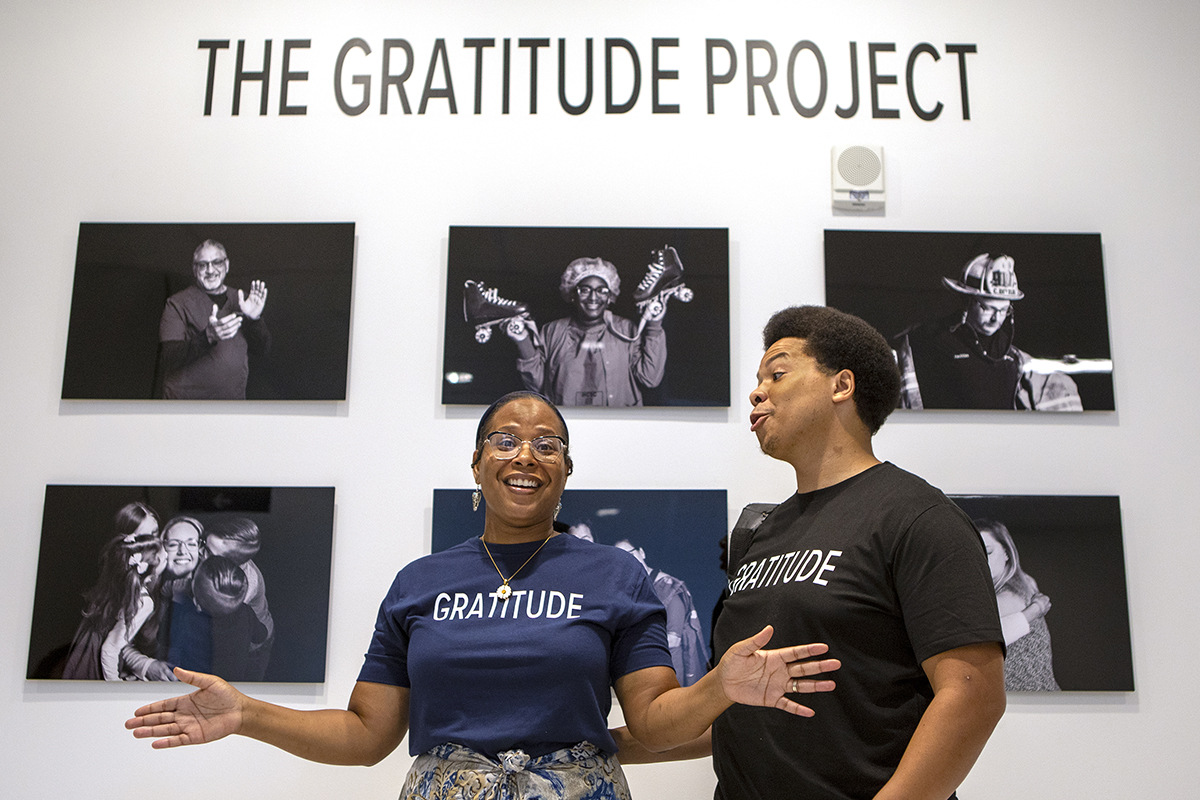 Penn State Health Lancaster Medical Center unveiled in July Lancaster photographer Shelby Wormley's "The Gratitude Project," which memorializes the stories of health care workers while they navigated the COVID-19 pandemic.
"Each participant was encouraged to bring in an object or person that they were most grateful for during such a turbulent time," she said. "They each had the opportunity to have their portrait captured with their loved ones or things, and were able to share their story of gratitude."
Shelby and her husband Jordan Wormley of WE&Company curated the photos and audio stories for a multidimensional installation on the main floor of the hospital. "This display is both a representation of the fortitude and resilience of our health care workers and is also an expression of gratitude for their purposeful work," Shelby said.
Joe Frank, Penn State Health East Region president, which includes Lancaster Medical Center, said he witnessed many profound moments of health care providers supporting each other emotionally during the height of the COVID-19 pandemic. Then, they would armor up again in personal protective equipment to bravely care for the next patient.
"We stood up to a once-in-a-lifetime event," Frank said. "I had to try to find a way to honor employees' commitment and showcase our gratitude." He looked to Center Stage Arts in Health to coordinate the project as the art in Lancaster Medical Center is a hallmark feature of the structure and culture.
Claire de Boer, director of Center Stage Arts in Health for Penn State Health, said this project is emblematic of the power of art to convey meaning, in this case meaningful history and legacy. The 32 black and white photos span a long corridor. Video and audio components are included.
"Viewers get a sense of strength, gratitude, vulnerability and trust through this collection," de Boer said. "Shelby captured unique moments and turned them into a collection that speaks to our hearts."
Claire Mooney, senior vice president and chief operating officer of Lancaster Medical Center, agreed. "This art holds deep a reminder of the strength of our employees during the pandemic," she said. "We were able to capture that and feel a connection to it when we experience this collection."
The hospital opened to patients in October 2022 with a collection of diverse and community representational art. The Gratitude Project exhibit was in the works and finally came to fruition in July 2023.
Shelby reflected that opening day was such a wonderful full circle moment. "This project took about a year and a half to bring to life, so seeing the images on the walls felt good. Being able to see the participants' reaction to their portraits had to be the icing on the cake. I'm so glad we were all able to celebrate with each other," she said.
de Boer assembled an art committee consisting of local stakeholders and professional artists to help with the deliberate curation of the art at Lancaster Medical Center. Several committee members attended the unveiling.
Ophelia Chambliss said the exhibit illustrates the entire process of filling the Medical Center with culturally vibrant and diverse art. The exhibit exudes powerful images of people of many cultural backgrounds, she said. It also feels grounded in history. "The black and white choice of photography gives this moment the gravitas of a historical marker," she said.
More about the art at Lancaster Medical Center.
If you're having trouble accessing this content, or would like it in another format, please email Penn State Health Marketing & Communications.