Penn State Health honored for its support of military employees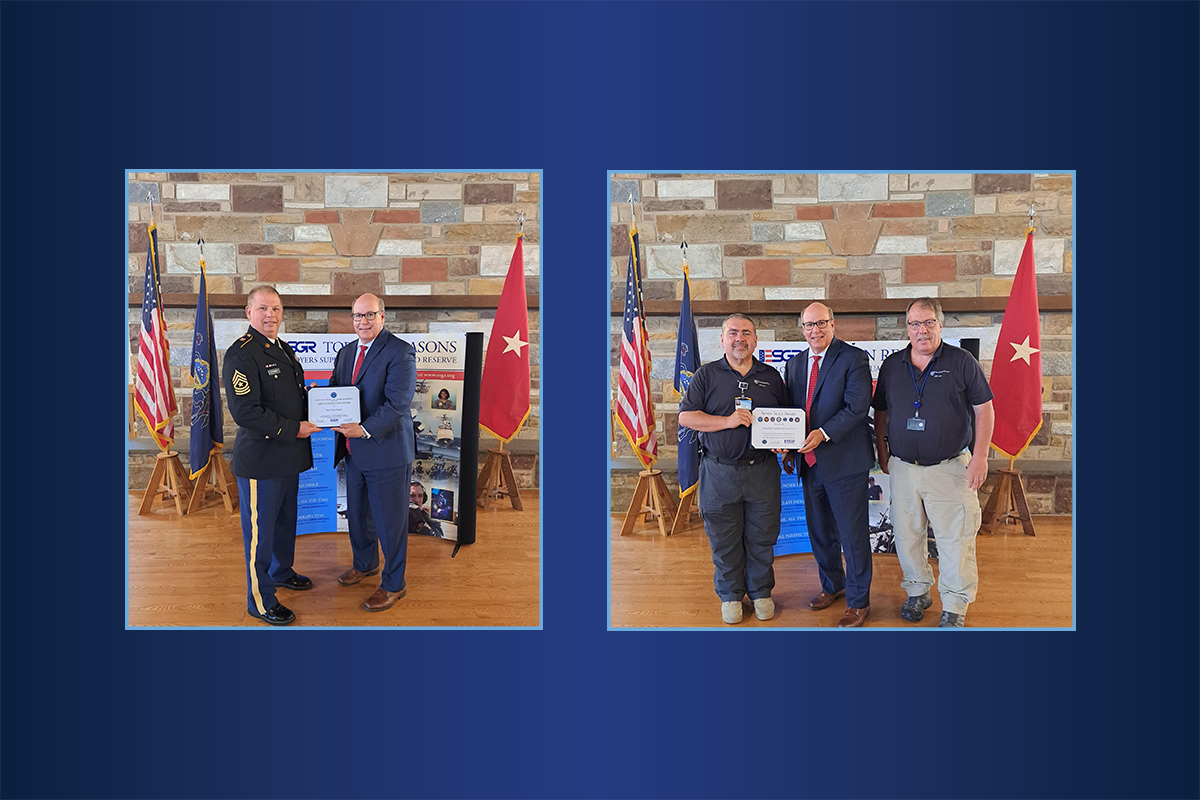 The Employer Support of the Guard and Reserve (ESGR) presented Penn State Health and Penn State Health Life Lion LLC with awards for their support of Guard and Reserve employees at a ceremony on Aug. 9 at Fort Indiantown Gap. A U.S. Department of Defense program, ESGR works to promote cooperation and understanding between service members and their civilian employers.
Penn State Health CEO Steve Massini received the national-level Above and Beyond Award on behalf of the health system. It honored Penn State Health for actively promoting the hiring of military members, recognizing their valuable experience and dedication. It also acknowledged Penn State Health's ongoing support for both active service members and veterans. This award specifically recognizes employers who exceed the requirements of the Uniformed Services Employment and Re-employment Rights Act of 1994.
"Personnel with military training bring invaluable qualities to our health system ­─ discipline forged in adversity, a commitment to teamwork and a profound dedication to serving others," Massini said. "These attributes not only enhance our workforce but also align seamlessly with our mission to improve the health and well-being of the people of Pennsylvania and beyond."
Steve Stinsky, security manager at St. Joseph Medical Center and sergeant major in the U.S. Army Reserve, nominated the health system for the award, citing Penn State Health's:
Veteran Employee Business Resource Group that supports the recognition of military members and veterans in local publications and press events
Processes that allow active military to access leave and benefits while deployed, at training or in anticipation of an upcoming period of service
Efforts to ensure active service members are aware of the health system and local resources available to them and their families
Support for veterans' issues through diversity, equity and inclusion initiatives that address concerns associated with serving the veteran segment of our employee, staff and visitor populations
Life Lion LLC
Duane Nieves, operations manager of Life Lion West Shore, and Kevin Dalpiaz, emergency medical services supervisor of Life Lion West Shore, received the Seven Seals Award for Life Lion LLC's strong support of ESGR's mission. "Life Lion has a long history of supporting veterans and has many current and former military personnel in the Life Lion ranks," said Scott Buchle, Life Lion LLC director. The Seven Seals Award symbolizes the seven U.S. services: Army National Guard, Army Reserve, Navy Reserve, Marine Corps Reserve, Air National Guard, Air Force Reserve and Coast Guard Reserve.
Veteran-friendly organization
The health system has been recognized as a veteran-friendly organization at both the state and national level. In addition to the awards from ESGR, in 2022 Military Times named Penn State Health to its Best for Vets: Employers list for the second year in a row. The award honors organizations for programs and policies that support veterans' post-military careers.
If you're having trouble accessing this content, or would like it in another format, please email Penn State Health Marketing & Communications.