Donors continue son's legacy with estate gift to personalized medicine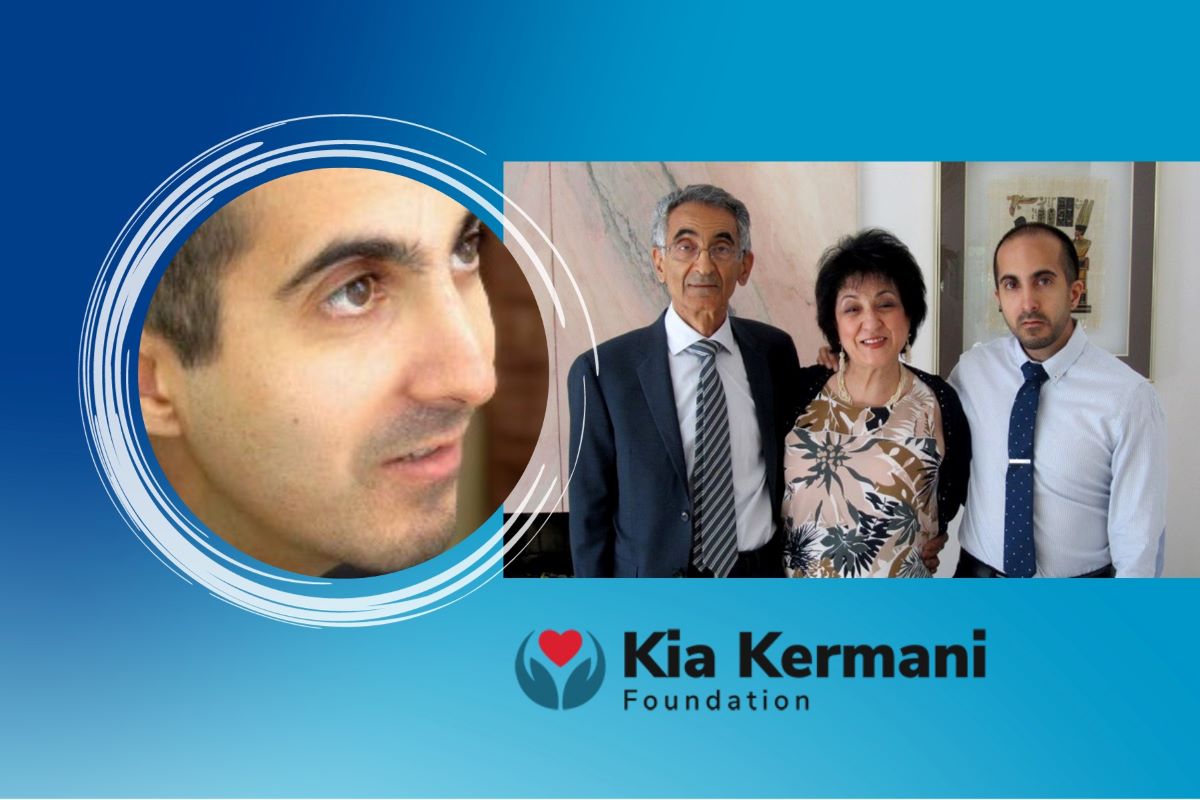 Vali and Pari Kermani have a clear goal: honor their son's memory by bringing personalized health care to more patients.
The Kermanis formed the Kia Kermani Foundation in 2019 following the passing of their son, Kia, at age 33. Through their foundation, they created the Kia Kermani Foundation Research Fund for Personalized Medicine at Penn State College of Medicine in 2020. Now, Kia's parents have committed to furthering his legacy — and the fund bearing his name — with a gift to be made through their own estate.
"Kia was a healthy, athletic, studious, creative and diligent humanist with a vision and passion for precision medicine. We're extremely passionate about doing everything we can to advance and inform people about this area of medicine," said Pari Kermani.
The Kia Kermani Foundation Research Fund for Personalized Medicine supports the research efforts of the Institute for Personalized Medicine at Penn State College of Medicine. Personalized medicine — sometimes referred to as precision medicine — uses genetic information to guide patient care by determining a patient's risk of disease or reaction to treatment and delivering targeted therapies. The institute helps advance this field by investigating new ways of applying modern technology to tailor a patient's treatment plan to their own genetics and limit negative side effects.
The Kermanis' estate gift will deepen the impact of the Kia Kermani Foundation Research Fund at the institute by increasing the number of stipends available to research fellows — physicians who have completed their medical degree and are participating in a post-graduate research or training program. The fund currently supports one fellow per year. James Broach, PhD, director of the Penn State Institute for Personalized Medicine and chair of the Department of Biochemistry and Molecular Biology at Penn State College of Medicine, says that philanthropy can help grow the network of personalized medicine researchers and eventually expand applications for personalized care across specialties.
"Precision care is already a routine approach at Penn State Health, particularly in treating certain types of cancers," Broach said. "Thanks to the Kermanis' inspiring generosity, we plan to engage more residents each year so that they can both build expertise in genomic studies and help us expand research into new clinical areas like infectious disease."
Dr. Christopher Tseng is among the research fellows at the institute who has benefited from the Kia Kermani Foundation Fund for Personalized Medicine. Under the mentorship of Broach and David Goldenberg, MD, Tseng is advancing research on head and neck cancers.
"With the increasing diversity and availability of medical data and ongoing technological development, we are excited about the opportunity to optimize current treatment decision-making to be able to more accurately address the unique issues at hand for a specific patient," said Tseng, who aims to pursue a career in interdisciplinary collaboration and innovation in precision medicine. "I hope that my work will impact patients and inspire future researchers, and I'm incredibly grateful to the Kermanis for supporting this work."
For Vali and Pari Kermani, philanthropy is a way to advance their son's legacy and educate both physicians and patients about the potential of personalized medicine. "Our family truly believes, and Kia's own personal philosophy was, that personalized medicine gives patients peace of mind that they're receiving the best possible treatment for their own bodies," said Pari. Kermani. "We're proud to support the Institute for Personalized Medicine and help bring this level of care to more people."
The connection with the institute has great meaning for the Kermanis as well as the resident fellows, researchers and patients who benefit from their support. "We've developed a close relationship with Dr. Broach over the last few years. His values and those of Penn State College of Medicine align very closely with our family's," said Vali Kermani. "We believe the future of precision medicine is a bright one."
Gifts like the Kermanis' through the Kia Kermani Foundation advance the University's historic land-grant mission to serve and lead. Through philanthropy, alumni and friends are helping students to join the Penn State family and prepare for lifelong success; driving research, outreach and economic development that grow our shared strength and readiness for the future; and increasing the University's impact for families, patients, and communities across the commonwealth and around the world. Learn more by visiting raise.psu.edu.
If you're having trouble accessing this content, or would like it in another format, please email Penn State Health Marketing & Communications.