October Exceptional Moments in Teaching announced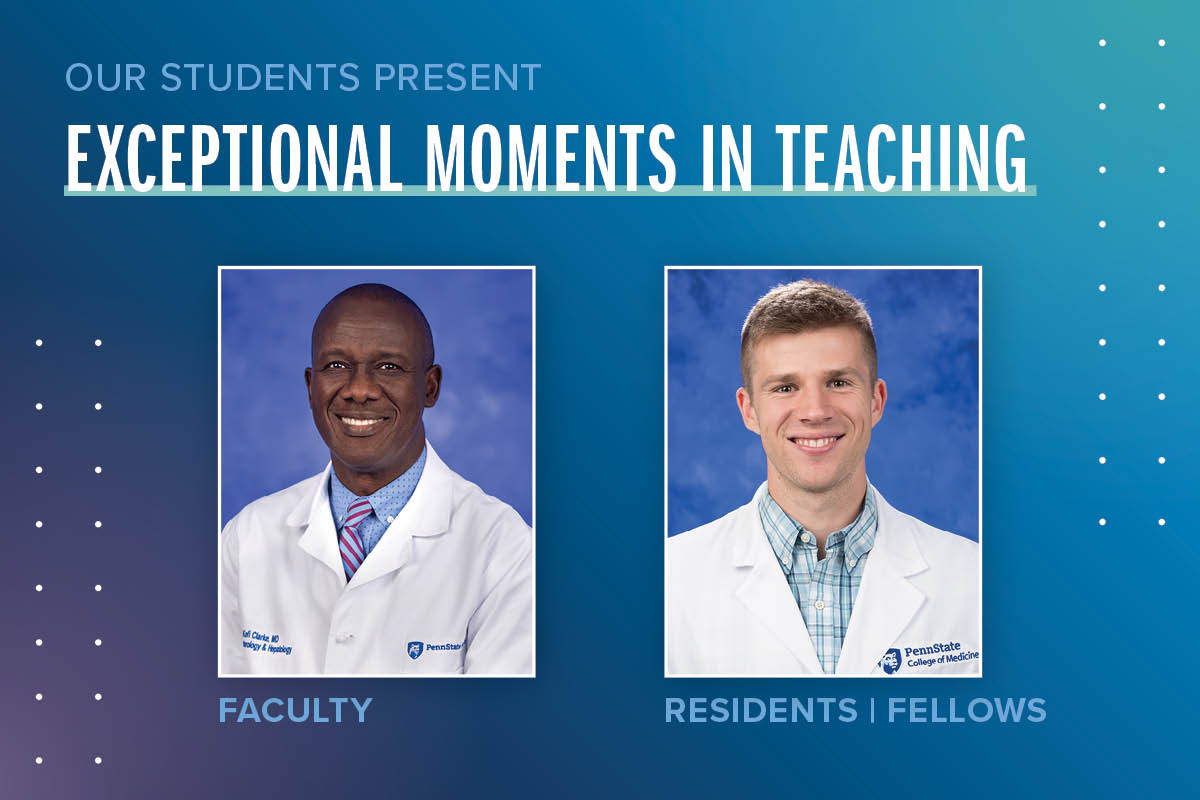 Kofi Clarke, MD, and resident Blake Baer, MD, were named Exceptional Moments in Teaching awardees for the month of October.
Dr. Clarke is the Graham H. Jeffries Endowed Professor of Medicine and chief of the Division of Gastroenterology and Hepatology at Penn State College of Medicine. His clinical and research interests are in inflammatory bowel disease and Celiac disease, as well as an interest in graduate medical education.
"Education was prioritized throughout rounding in a way I had never experienced. Though we followed so many patients, Dr. Clarke found ways to involve the team to think critically and draw learning opportunities from the patients' cases like starting with the assessment to think critically to support the diagnosis," said a student. "It was a fantastic experience that fostered team-based learning, critical analysis, while also sharing important information about the patient in an efficient and time sensitive manner."
Dr. Clarke completed post-graduate clinical education and training at the Imperial College in London, University of Pittsburgh, and Michigan State University. He holds additional certifications in Leadership from Harvard's T.H. Chan School of Public Health and Penn State. He is an avid Arsenal and Steelers fan.
Born and raised in Bedford, Pennsylvania, Dr. Baer is a second-year urology resident at the Milton S. Hershey Medical Center. He attended Grove City College with an undergraduate major in Biology before attending the College of Medicine. Dr. Baer is the son of a family physician from whom he had his earliest exposure to medicine. He chose the field of urology for its diverse operative approaches, unique patient relationships, dramatic impact on patients' lifestyles and interesting pathology.
"Dr. Baer was a fantastic resource during my rotation, always providing feedback on how to improve in all aspects including patient presentations, operating room assistance and beside procedures," said a student. "He walked me through how to provide a suture at the bedside, included me during specific steps and he helped me better understand the day-to-day responsibilities of a surgical residence. Overall, Dr. Baer was one of the best residents I had the privilege to work with."
Dr. Baer is currently considering further study within urologic oncology or pediatric urology. When not in the hospital, he loves spending time with his wife, Megan, and their two daughters, Adelyn and Corbyn. His interests outside of medicine include playing soccer, woodworking, being outside, reading and building Lego creations.
Penn State College of Medicine's Office for a Respectful Learning Environment recognizes exceptional faculty, residents and fellows with the monthly "Exceptional Moments in Teaching" program. One faculty member and one resident/fellow are highlighted each month for their contributions. College of Medicine students are invited to submit narratives about faculty members, residents, nurses or any other educators who challenge them and provide an exceptional learning experience using the online nomination form.
The Office for a Respectful Learning Environment fosters an educational community at Penn State College of Medicine in which all learners and educators feel supported, challenged, valued and respected. It serves all learners at the College of Medicine: medical students, graduate students, physician assistant students, residents and fellows.
See previous faculty and resident/fellow honorees here.
If you're having trouble accessing this content, or would like it in another format, please email Penn State Health Marketing & Communications.