The Medical Minute: Getting help with mental health – a beginner's guide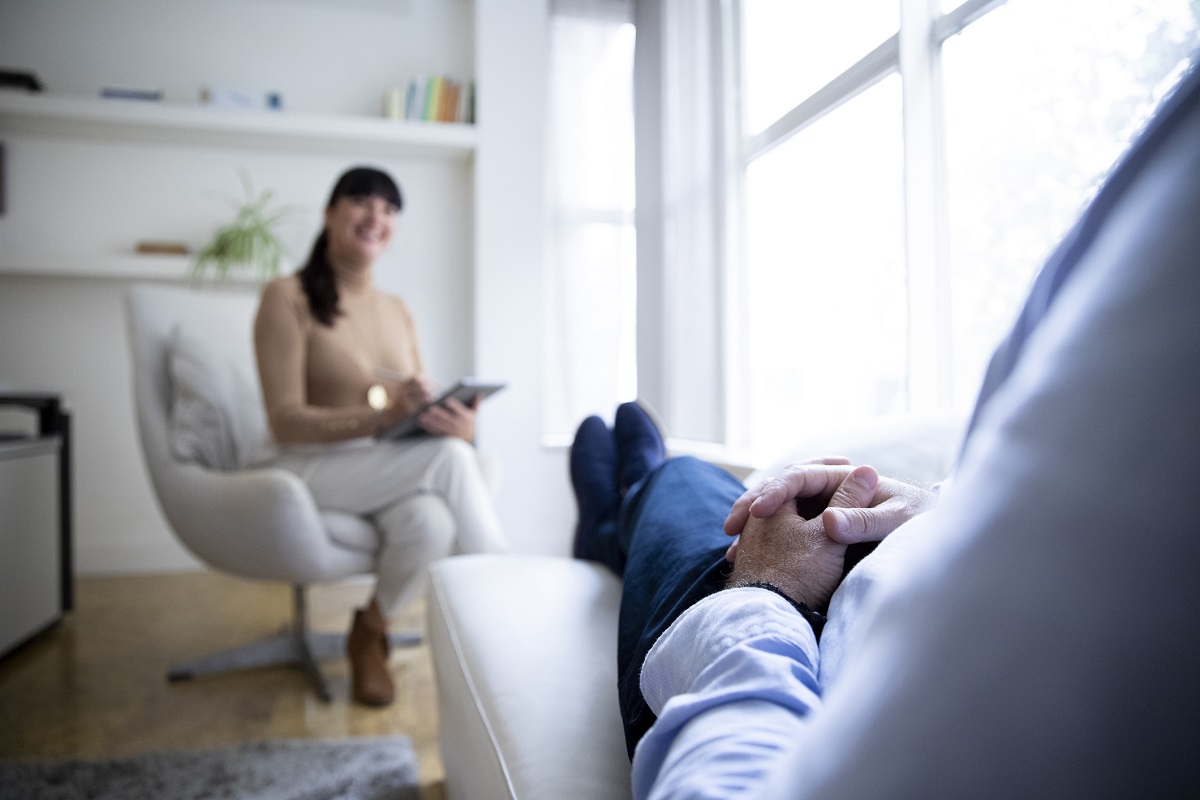 TV shows and movies make it look so simple. Characters lie down on couches in cozy-looking rooms and reveal all their personal issues to doctors who just appear like magic.
For some, the idea of talking with a professional counselor, psychologist or psychiatrist might seem like the very thing they need. For others, this process might seem scary or uncomfortable – or maybe even unnecessary.
But however you feel, the journey from thinking about getting help to being in that cozy room with the couch ― if such rooms even exist ― can seem impossible. What kind of doctor do you need? What happens once you're there? And do you even need help?
Those questions are well worth getting to the bottom of, according to statistics from the National Alliance on Mental Illness. One in five adults experience mental illness, and nearly 60% of them didn't receive mental health services in the previous year.
Dr. Ramnarine Boodoo, a child psychiatrist at Penn State Health Children's Hospital, says taking the first steps needn't be complicated. Mental health might concern thoughts and emotions more than vital signs and measurements, but getting care isn't all that different from going to any other health care provider.
Boodoo offers a guide to the uninitiated seeking mental health treatment, weighing in on where to go, how to get there and what happens at your first appointment.
Do I need help?
Do you think, feel or behave in a manner that affects your ability to function in a way you consider to be normal? You might need to see someone, Boodoo said.
"Unless it's due to something in your life that's going to go away," he said. For example, grief after experiencing a loss is perfectly normal. But when negative feelings linger, or if you can't pinpoint the cause of a troublesome feeling of behavior, a professional might be able to help you find a solution.
Some common warning signs of mental illness:
Staying in a bad mood ― sad, angry or nervous ― for a time period that seems too long.
It's normal to get angry from time to time, but when your anger rises to a level that outweighs the cause, something harmful might be at play. You might have angry outbursts or intense and persistent feelings that lead to thoughts of violence, suicide or self-injury.
Unusual thoughts or behaviors – feeling paranoid, like you're being followed or your neighbors are out to get you.
Deciding to seek help isn't always easy and often involves stepping outside of yourself. "It requires a level of insight," Boodoo said. "You have to honestly look at how your feelings and behavior affect you and people around you, and have enough maturity to say, 'There is something going on with me.'"
How do I find a doctor?
If you have a primary care provider, talk with them about what you're experiencing, Boodoo suggested.
Your family doctor "should be screening for various mental health conditions including depression, anxiety and substance use disorders," Boodoo said. "If they have the time, they might do some basic counseling themselves."
In any case, your doctor can make a referral to the right psychiatric help.
If you don't have a doctor, many employers offer employee assistance programs that include access to mental health services. And of course, you can always schedule your own appointment by checking with your insurance company or looking online. Some resources to check: Psychology Today, the American Psychological Association, Good Therapy and Charlie Health.
If you're unemployed or uninsured, you still have options. Many areas offer community crisis intervention services or other community health groups that can help you manage psychological crises.
If you are intensely distressed, feel like you are about to or have started planning to harm yourself or others, don't waste time:
Remove or limit your access to potentially dangerous items, such as firearms, ropes, cords, sharp objects or pills
Confide in an adult you trust
Call 988, a new, national suicide and crisis number, or 911
Go to your local emergency room or urgent care
Who should I see? A counselor, a psychologist or a psychiatrist?
"Usually, whoever can see you soonest," Boodoo said. "It doesn't matter which professional you start with, as they can all refer a patient to one another."
Often, a counselor is the first stop. If the issues for which you're seeking therapy aren't serious – you aren't thinking of harming yourself or others, for example – a counselor can often be the right answer.
Psychologists often are trained to administer therapy for specific conditions. For instance, a counselor or physician might refer you to a psychologist for trauma issues, depression, eating disorders or childhood disruptive behavior.
Clinical psychologists and counselors are both therapists. They perform psychotherapy, an effective form of treatment that involves talking and interacting with your therapist.
Psychiatrists primarily prescribe medications, but several engage in psychotherapy, either separately from medication management visits or as part of such visits. Some states ― Idaho, Illinois, Iowa, Louisiana and New Mexico ― permit psychologists to prescribe medication.
What are the visits like?
Your initial visit isn't much different than what you might find at any doctor. You'll fill out forms, figure out insurance and discuss privacy.
Then, once you see the provider, you'll discuss why you're there and talk about your history and why you're seeking help.
Your therapist won't just be listening to the words you're saying, Boodoo said. They'll also listen to the way you say them and how you react. Body language. For example, a victim of sexual abuse might find it difficult to talk about sex or even say the words.
Sound uncomfortable? "It doesn't have to be," Boodoo said. Sometimes, however, patients receiving psychotherapy need to be pushed to find the right answers.
That probably won't happen right away. "They may save the pushing for a later appointment," Boodoo said.
What if I don't like the therapist? How do I find one that's right for me?
There's always a possibility you and your therapist might not click, and you should never be afraid to make a change if it's not working, Boodoo said.
Many therapists have profiles available online, so you can do your homework ahead of time. You can also talk with friends who may have had experience with the therapist and know about them.
If, after you've visited with them for the first time, you aren't sure, don't rush to judgment, Boodoo cautions. "Everyone can have a bad day," he said. You might need two or three sessions to determine whether the therapist is the right one for you.
What if I'm just not sure?
Start with therapy. Unlike medications, which can have side effects, therapy is unlikely to be harmful in any way. And you don't need to have a specific problem in order to seek help. A therapist can help you explore what you need help with, even if you're not quite sure. And your therapy is your business, no one has to know. We all have a mind, and just like our body, we might need to have it looked at once in a while. Remember, there's no shame in needing help. The real tragedy is not asking for it.
Related content:
The Medical Minute is a weekly health news feature produced by Penn State Health. Articles feature the expertise of faculty, physicians and staff, and are designed to offer timely, relevant health information of interest to a broad audience.
If you're having trouble accessing this content, or would like it in another format, please email Penn State Health Marketing & Communications.