The Medical Minute: Need health care help and don't speak the language? You're covered.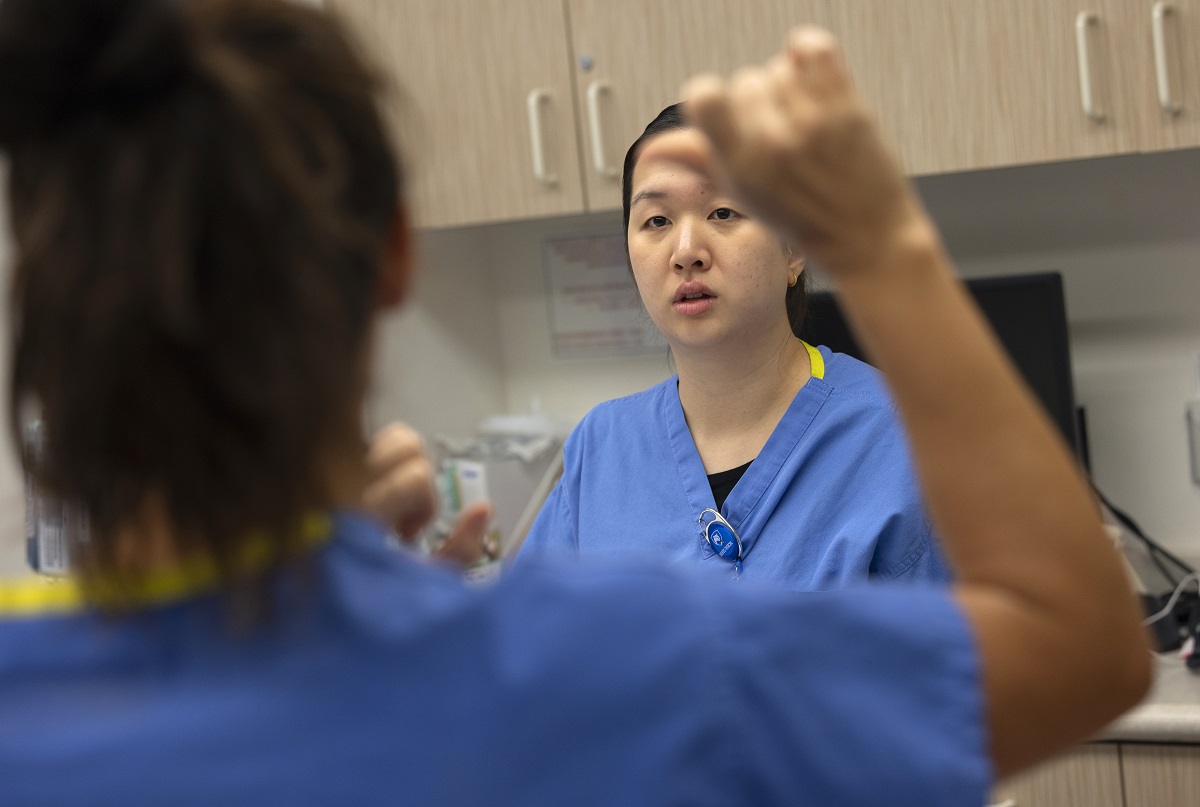 Health care providers are working to end a nightmare that leaves many throughout the U.S. feeling powerless.
It goes like this: You need help. All around you are the people you need, but none of them can understand a word you're saying.
For many seeking care, simply getting across what's wrong can seem impossible. More than 32% of the population speaks English "less than very well," according to the U.S. Census Bureau. For others, communication is complicated by hearing. Language barriers, cultural differences and the often-challenging nomenclature of modern medicine can make a give-and-take with a doctor a daunting task in the U.S. – especially for someone who doesn't speak English fluently.
It can be so daunting that many just give up and don't get the care they need, said Misty Bowman, manager for patient and family centered care at Penn State Health Milton S. Hershey Medical Center. Bowman helps oversee and organize the hospital's interpreters.
"There's a lot of fear people have when they feel like they aren't going to be understood," Bowman said. "Especially medically."
But the good news is the issue is becoming smaller all the time. At hospitals and practices like the Milton S. Hershey Medical Center, health care workers don't just focus on science and medicine. They are also hard at work to make sure it's understood.
It's a task with many variables. For example, a doctor might hold up three fingers indicating a patient should take a dose of medication three times.
If the patient grew up living in Nepal, they might think the doctor's three digits meant they should take the medication eight times, because the hand gestures don't translate between cultures.
Using interpreters, translators, technology and a few other innovations, health care workers are breaking down language barriers. Bowman assures patients their communication requirements won't get in the way of their receiving the care they need.
Interpreting does not cost extra. That's an important note for people who might be hesitant to visit a doctor for language reasons, Bowman said.
"We are here to help our patients no matter what language they speak," Bowman said. "We provide great care in the language that best serves them."
At many facilities, that work of understanding and being understood starts even before the patient walks through the door.
The phone call
For automated phone services, most health care facilities usually offer at least a recorded Spanish language option, available at the push of a button. But when communication with a live person is required, many health systems use a three-way phone call between the health care professional, the patient and a medically qualified interpreter.
That qualification is key, Bowman said.
If you're bilingual, you might want to help a friend who doesn't speak English at their doctor's appointment. If you don't speak English, you might think you can count on a friend who speaks the language to interpret for you.
While well-intentioned, the friend may not know medical terminology and misinterpret the conversation, Bowman said.
"They have to be qualified medical interpreters," she said. "We cannot guarantee what the doctor is saying will get back to the patient accurately ― or what the patient is saying to the doctor is well interpreted ― unless the interpreter has the right training and credentials."
Medical interpreters are trained, tested and receive certification through organizations like the National Board of Certification for Medical Interpreters to ensure complete and accurate medical information is exchanged between both patients and health care providers.
The front desk
When the patient arrives for their visit, they should do their best to express what language they speak to the attendant.
Many facilities are ready for you. At Hershey Medical Center, for example, receptionists keep a chart with examples of languages written on it. The patient can choose their language from the list.
Hershey Medical Center's interpreters have begun to hand out cards to their patients to show the check-in staff that they need an interpreter. On the reverse side of the card are instructions for how health care workers can request an interpreter.
Your visit
When it comes to interpretation, "the patient knows best," Bowman said, but often body language, temperament and, on occasion, lip-reading just works better person-to-person.
Many hospitals and medical practices are increasing their number of qualified or certified interpreters. Hershey Medical Center, for example, employs qualified medical interpreters who can communicate in Spanish, American Sign Language and Italian. The Medical Center is working to hire someone who can speak Nepalese.
Many members of the staff who communicate with languages other than English have taken courses to become qualified medical interpreters. The lists of languages and available in-person interpreters are growing. Interpreters comply with the Health Insurance Portability and Accountability Act, which means your visit will remain confidential, even if there's another person in the room helping the conversation.
When a live interpreter isn't an option, many health systems like Penn State Health offer video interpretation. Video screens on a cart, with on-screen interpreters serve as go-betweens for doctors and patients. It's effective, Bowman said, and it helps fill the gaps when not enough live translators who speak the needed language are available.
Printed materials
Interpreters also help translating the written materials doctors, nurses and others might give you. That includes prescriptions, instructions and written diagnoses.
Accurate medical information outside of the health care setting for non-English speakers is also becoming more common. The U.S. Centers for Disease Control and Prevention offers a wealth of public health information on its site in a variety of languages.
 Related content:
The Medical Minute is a weekly health news feature produced by Penn State Health. Articles feature the expertise of faculty, physicians and staff, and are designed to offer timely, relevant health information of interest to a broad audience.
If you're having trouble accessing this content, or would like it in another format, please email Penn State Health Marketing & Communications.