Ninth annual READ Awards recognize library supporters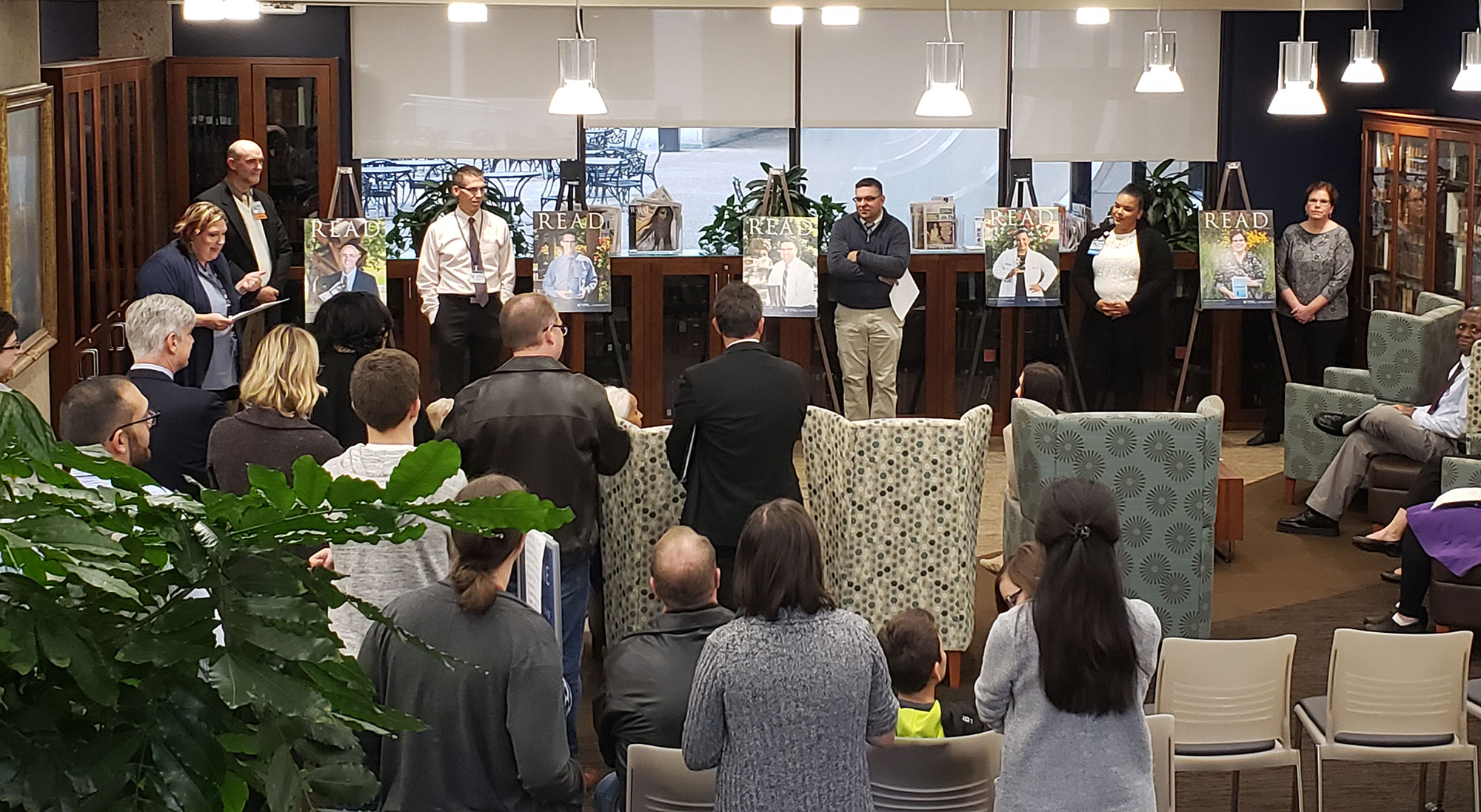 The ninth annual Harrell Health Sciences Library: Research and Learning Commons READ Awards presentation and reception took place Oct. 17, 2019, in the History of Medicine area in the library.
The READ Awards recognize individuals from Penn State College of Medicine and Penn State Health Milton S. Hershey Medical Center who are strong library supporters and have assisted in advancing the mission of Harrell Health Sciences Library.
Recipients are chosen by a committee of faculty and staff from within and outside the library. Each selected honoree is photographed with a book of their choice to create a READ poster and provide a statement about the book and why their experience with the library has been meaningful. The 2019 award posters are hanging in the library and will be displayed for one year.
At this year's event, library director Kelly Thormodson gave an opening statement and introduced each of the READ Award honorees. Each honoree briefly spoke about their favorite book and why it was important to them. Read their statements here.
2019 Awardees and their books
David Carnish, MDiv., BCC, ACPE Certified Educator; Manager, Clinical Pastoral Education: Moby Dick by Herman Melville
Kevin Moser, PhD, Director, 3D Imaging Laboratory; Assistant Professor of Radiology: If Disney Ran Your Hospital: 9 1/2 Things You Would Do Differently by Fred Lee
Peter Rainey, MS, LMFT, Director of Behavioral Health, Penn State Health Family and Community Medicine Residency at Mount Nittany Medical Center: The Book of Mormon and the Bible
Sarah Ramirez, MD, Assistant Professor of Family and Community Medicine: Gifted Hands by Ben Carson
Lisa Shantz, PhD, Associate Professor of Cellular and Molecular Physiology; Director, Biomedical Sciences Curricular Track: The Illusion of Separateness by Simon Van Booy
The Harrell Library is excited to continue this program for the 2020 award cycle. Submit nominations for the award here.
Questions about the READ program may be directed to Marie Cirelli at mcirelli@pennstatehealth.psu.edu.
Read more
If you're having trouble accessing this content, or would like it in another format, please email the Penn State College of Medicine web department.