Penn State receives $25 million to enhance medical research, human health
Funding will support Penn State Clinical and Translational Science Institute's efforts to promote collaboration, improve health research efficiency
Expanded partnerships, access to clinical trials and new medical and behavioral treatments and interventions reaching individuals more quickly will benefit communities in Pennsylvania and beyond thanks to the renewal of Penn State's Clinical and Translational Science Award (CTSA) funded by the National Institutes of Health (NIH). The NIH's National Center for Advancing Translational Sciences (NCATS) awarded Penn State more than $25 million to provide critical clinical and translational research infrastructure and continue building collaborations across the University's campuses and with communities around the state.
NCATS' CTSA Program develops innovative solutions to improve processes for turning laboratory, clinical and community research into health knowledge, interventions and treatments. CTSA institutions partner to advance biomedical and health research and share best practices and tools. Penn State is one of 64 funded CTSA organizations nationally and is one of a few that serves primarily rural communities.
"As one of the only CTSA programs with a rural focus, Penn State is positioned to expand its commitment and dedication to our rural Pennsylvania communities," said Dr. Lawrence Sinoway, director of Penn State Clinical and Translational Science Institute. "The COVID-19 pandemic shed light on health disparities, in general. Our rural communities were hit exceptionally hard, due to a lack of testing and vaccinations. Renewal of our award will reinforce and extend Penn State's ongoing health research, including reducing health disparities — one primary focus of our institute's broad efforts."
The institute's involvement in the CTSA Program Trial Innovation Network gives Pennsylvania residents opportunities to become involved in both large, national and smaller, local clinical trials. It has supported several trials involving diagnostics and treatments, including for COVID-19, at Penn State Health Milton S. Hershey Medical Center through its Clinical Research Center. Clinical Research Centers, located at both the Hershey and University Park campuses, provide dedicated space and research staff for study visits.
As part of its community outreach, the institute manages the Engage website featuring health research information and resources, including Studyfinder, the university's searchable website of actively recruiting research studies.
Tackling health disparities
The institute currently leads a project to understand the role of social and economic factors on health in the commonwealth. According to institute research with Highmark Health Enterprise Analytics, diagnoses of alcohol and substance use disorders and mental health conditions involving suicidal thoughts and behaviors – commonly referred to as diseases of despair – increased in Pennsylvania health insurance claims between 2007 and 2018. The COVID-19 pandemic amplified these problems due to isolation and economic hardships. The CTSI award will enable the institute to build a range of partnerships, including with Sharon, Pa.-based Primary Health Network and Pittsburgh-based Allegheny Health Network.
Through these collaborations and more, CTSI will develop ways to address diseases of despair, support victims of sexual assault, offer increased access to clinical research and develop solutions for a range of other health concerns that are prevalent in PA and beyond.
Penn State Clinical and Translational Science Institute provides essential research tools, training and resources to assist university scientists in developing and disseminating effective health innovations to individuals who need them. For example, the CTSI has provided several new tools so that researchers can best leverage the large amounts of available health care data, including using electronic medical records for cancer and COVID-19 research.
A key goal for the renewal award is creating a Division of Clinical Informatics within Penn State College of Medicine. This academic division will be home to data and computer scienctists who will conduct clinical informatics research and develop new ways to use clinical information to advance scientific discovery.
"Research is fundamental to Penn State's commitment to community impact by shaping the future of medicine through discovery," said Dr. Leslie Parent, vice dean for research and graduate studies at Penn State College of Medicine. "Being an integral part of the community of NIH-funded CTSAs puts Penn State in the national spotlight, giving us the opportunity to improve how research is conducted across the country. Our focus on using big data analytics is an especially powerful tool we will use to develop novel diagnostic and therapeutic strategies to improve the health of our communities throughout Pennsylvania, across the nation and around the world."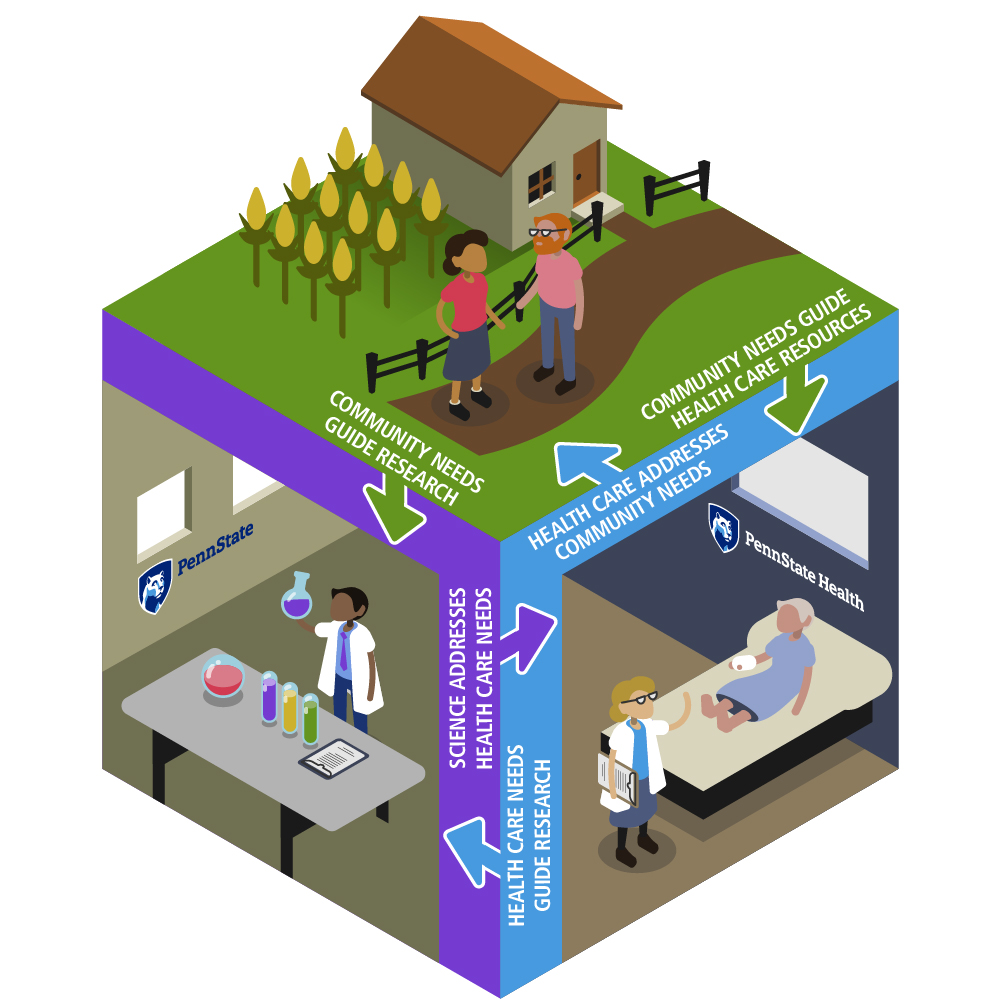 Partnering with peers
The institute will also focus on strengthening collaborations between scientists with different specialties. For example, a seed grant program supports discipline-diverse teams of scientists to collaborate around novel research ideas. Although scientists may use the same terms, these terms often have different meanings in different disciplines. The institute launched a Team Science Toolbox to assist in building effective scientific teams earlier this year and will continue developing new ways to bridge disciplines and professions.
"Penn State is built for interdisciplinary research collaborations; it's our culture," said Lora Weiss, senior vice president for research at Penn State. "Our Clinical and Translational Science Institute is integral as one of seven interdisciplinary institutes at Penn State delivering applicable research that is positively affecting the world. The renewal of our CTSA grant will allow critical collaborative work to continue to address diseases of despair, including exploring the use of artificial intelligence, the effects of rural hospital closures and neonatal abstinence syndrome. In addition, the institute will continue its focus on how to integrate informatics to not only make the research process more efficient but contribute to delivering exceptional health care."
Applying for the CTSA Program renewal required a more than 1,500-page application developed and written by a faculty team from both the College of Medicine and University Park campuses. The application serves as the blueprint for the institute's objectives and goals for the next five years.
"We thank all those from across the University who shared their expertise and helped prepare this application," said Dr. Jennifer Kraschnewski, co-principal investigator of the award who will transition to CTSI director during the current funding cycle." A core team worked together under a tight deadline to assemble and edit the application into a cohesive, focused and ultimately successful proposal, and their many contributions to our success can't be overstated."
Read more
Read more about the institute's work:
Description: Translational Research Influence Graphic
Expand answer
Three faces of a cube portray the interactions and influences between communities, scientists and health care professionals.
Three faces of a cube portray the interactions and influences between communities, scientists and health care professionals. On the top face is a community graphic which shows two citizens engaged in a conversation on a roadway outside a rural dwelling attached to a farm. On the front left face is a scientist in a lab wearing a lab coat and holding a vial of liquid. In front of them is a table with a clip board and more vials of liquid. The Penn State logo is visible on the wall underneath two windows. On the front right face is a patient and doctor conversing in an exam room. The doctor, wearing a lab coat, holds a clipboard while the patient, dressed in an exam gown, is lying on a bed with a cast on their right arm. The Penn State Health logo is visible on the wall underneath a single window. Various arrows show how the various groups influence each other. An arrow pointing from the community face to the science face says community needs guide research. An arrow pointing from the science face to the health care face says science addresses health care needs. An arrow pointing from the health care face to the science face says health care needs guide research. An arrow pointing from the health care face to the community face says health care addresses community needs. An arrow pointing from the community face to the health care face says community needs guide health care resources.
If you're having trouble accessing this content, or would like it in another format, please email the Penn State College of Medicine web department.
Subscribe to our email newsletter