Art gallery displays needlepoint work of pediatric endocrinologist
The employee art gallery outside of Conference Room T2500 at Penn State Health Milton S. Hershey Medical Center currently features the artistic talent of Daniel E. Hale, MD.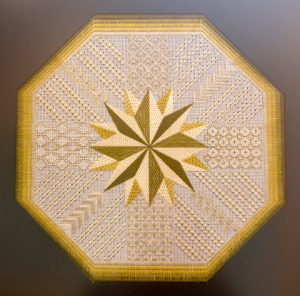 Dr. Hale, professor of pediatrics and chief of the pediatric endocrinology division at Penn State Children's Hospital, designs and creates highly intricate needlepoint art pieces in his spare time.
"In medical school, I found I needed to do some activity that would keep my hands busy but did not require me to read. So, I asked my mother to teach me to crochet. After multiple attempts, she realize that I had no ability in that regard, so she gave me a small needlepoint kit to try. Forty years later, I am still needlepointing. Aside from the pleasure of working with glorious colors and fibers, needlepointing is a time for quiet conversation with Mom (she died in 1994)."
Penn State Health and Penn State College of Medicine employees interested in displaying artwork in the employee art gallery can email Betsy Fallat at efallat@pennstatehealth.psu.edu.
If you're having trouble accessing this content, or would like it in another format, please email the Penn State College of Medicine web department.
Subscribe to our email newsletter