Clinical Simulation Center chosen to present at international conference on health care simulation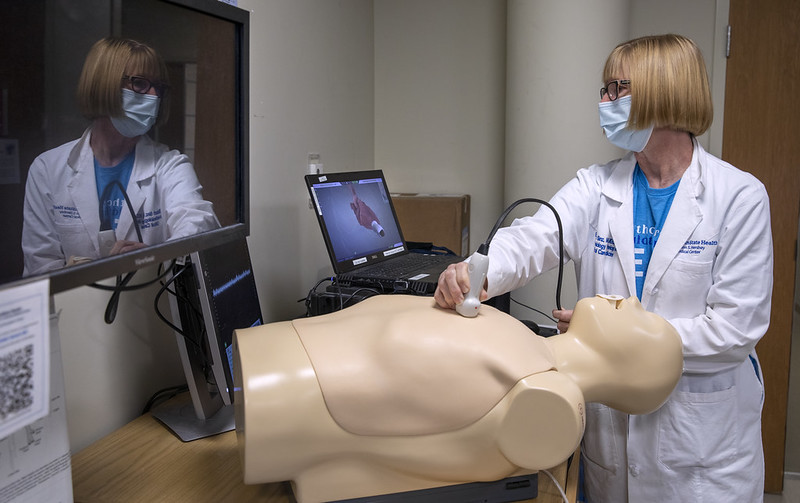 Penn State College of Medicine and Penn State Milton S. Hershey Medical Center's Clinical Simulation Center director provided insights on safety measures during an international conference in January on best practices in health care simulation.
Citing the Center's re-accreditation review, the Society for Simulation in Healthcare chose the Simulation Center team to speak at its International Meeting on Simulation in Healthcare because the center had "so many exemplars to choose from." The team was free to choose the topic.
The Center's team chose safety. Elizabeth Sinz, MD, associate dean for clinical simulation and director of the Simulation Center, shared the Center's innovative protocols to maintain a safe environment. She described the expectation that the lead instructor serves as the simulation safety officer, who is expected to monitor safety for all participants and staff during their sessions.
Sinz also presented two key measures to specifically protect standardized patients as part of the Standardized Patient Program, where community members are recruited and coached to role-play patient case scenarios so clinicians and students can learn and practice communication and key clinical skills.
One key measure is the use of a safe word to stop a simulation in case of any potential physical or emotional threat. If anyone says the word "mango" during a simulation, the case is immediately stopped and the safety issue is fully evaluated.
"These actors are so good that sometimes participants feel compelled to treat them as real patients," said Stacey Carmo, Standardized Patient coordinator.
The second key measure is adding a defender to cases where a Standardized Patient plays the role of an ill patient. The defender joins the simulation and will physically protect the Standardized Patient from harm if needed.
"We had a few minor injuries and near misses with our Standardized Patients, and this was not acceptable," Sinz explained. "The defender role has markedly improved safety, allowing us to continue these highly realistic scenarios."
Learn more about the Clinical Simulation Center.
If you're having trouble accessing this content, or would like it in another format, please email the Penn State College of Medicine web department.