Manglani, Class of 2022, Recognized for Community Service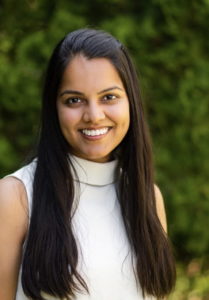 Monica Manglani, MD/PhD student, has received the 2021 Dellasega Community Outreach Award in recognition of her dedication and contributions to addressing community needs.
Given annually, the Dellasega Outreach and Community Service Award honors one medical or MD/PhD student in their final year of studies who has shown a passion for community service and outreach during their career at the Penn State College of Medicine. Cheryl Dellasega, professor of Medicine and Humanities and advocate of the value of community service, established the award.
Alleviating hunger and food insecurity have long been priorities for Manglani. When she arrived at the Penn State College of Medicine in 2013, she became involved with Prevention Produce, a program that provides 'prescriptions for produce' to the Hershey Farmer's Market for families experiencing food insecurity. More recently, she has been working with Community Health at Penn State Health and a non-profit in Harrisburg called Heartshine to develop a community pantry and refrigerator to provide food 24/7 to residents in need.
Manglani's commitments to public health and diversity, equity and inclusion also were noted. In addition to her involvement in student-led efforts to improve access to vaccines for people living in underserved communities, Manglani co-founded a local chapter of Advocacy for Students to support the personal, scientific and professional development of women in scientific training.
"The other finalists for this year's Dellasega Community Service Award show the breadth of commitment and passion College of Medicine students have for addressing community needs and set a standard that can serve as a model for all," said Benjamin Levi, MD, PhD, chair of the Department of Humanities Honorifics Committee, which oversees the presentation of the award.
Also nominated for the award were:
Brittany Ammerman, founder and Board President, Nikumbuke Soccer League in Kenya, to "provide women and girls the opportunity to participate in sport, receive an education, and lead healthier lives," and orthopaedic clinic coordinator for LionCare.
Tyler Brunisma for leadership with the Sexual and Gender Minority Alliance's pipeline program for LGBTQ+ high school students to explore careers in medicine; PULSE program; Food as Medicine initiative at Beacon Clinic in Harrisburg; and BraveCubs.
John Gaspich, co-founder of UP-10 that introduces high school students to health professions and medical topics and volunteer with University Park Campus' THON Committee; LionCare Tyrone Free Clinic; Habitat for Humanity; and LifeLion.
Kate Levenberg for spearheading Opening Minds through Art for people living with dementia; the outreach project Bare Soul Painting to create artwork inspired by stories from people living with stigmatizing mental illnesses; and Food as Medicine.
Shayann Ramedani, a key leader in SCOPE that established an outreach clinic in rural Lykens, Pa., (population 1800) to provide education, flu shots, health screenings during the COVID pandemic. Nine additional SCOPE sites to be established.
Elizabeth Raoof for involvement as a Curriculum Chair to improve virtual medical education; in Students as Educators for first year medical students; and with Penn State's Spinal Cord Injury Support Group, LionCare Free Clinic and the Lebanon Free Clinic.
To learn more visit https://sites.psu.edu/humanities/2021/06/23/dellasega-award/.
If you're having trouble accessing this content, or would like it in another format, please email the Penn State College of Medicine web department.