Frank: 'We will honor you for all of your efforts'
Joe Frank, Penn State Health St. Joseph's interim president, sent the following message to staff this week thanking them for welcoming him and praising their response to COVID-19:
I'd like to thank those  of you whom I have met so far for so warmly welcoming me into this interim role as St. Joseph's president. I wish I was starting under better circumstances, though from what I know and what I have seen so far, you are responding tremendously in the face of this pandemic.
I am picking up where John Morahan left off, with one of my first actions being to join the Incident Command team here that is skillfully overseeing our highest priority: St. Joseph's response to COVID-19. I also am part of the Penn State Health team leading the overall system response to COVID-19.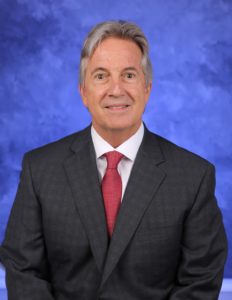 The St. Joseph response — from standing up the many entry checkpoints and operationalizing the drive-through testing area to improvising and adapting to new and more effective ways to provide COVID-19 clinical care — has been amazing. It's indicative of what I have heard, from members of my family who live in Berks, of the St. Joe's can-do spirit.
Your response to the COVID-19 crisis is evidence of the importance of our role in the community's overall health. As a community hospital, we also fall into the category of hospitals whose operating margin, even in good times, is thin at best. Due to the impact of COVID-19 on our normal operations, we can expect that the solid financial performance achieved earlier this year will be erased. It will be the same for hospitals across America. But, knowing what I do about you, recovering our normal operating capabilities will be but another challenge you'll take head-on.
We're developing work plans and taking actions that will enable us to have the resources and the strategies to begin resuming many of our previous activities. And, while our planning is being driven by the need for efficiency so that we can nimbly handle the pent-up patient demand, staff and patient safety will remain paramount in everything we do.
I want to thank you as we continue our Nurses Week celebration, and begin our recognition of Hospital Week, for your sacrifices, your exceptional work and your commitment to our patients, to our community and to each other. Although group celebrations are temporarily on hold, we will honor you for all of your efforts at events later this year, when it is safe to do so.
Although there are challenges ahead, I look forward to leading our team as we navigate the best way to provide quality, efficient patient care in a health care setting that has been completely transformed by COVID-19.
If you're having trouble accessing this content, or would like it in another format, please email the Penn State College of Medicine web department.