Two Penn State medical students receive prestigious awards to expand public health and research worldwide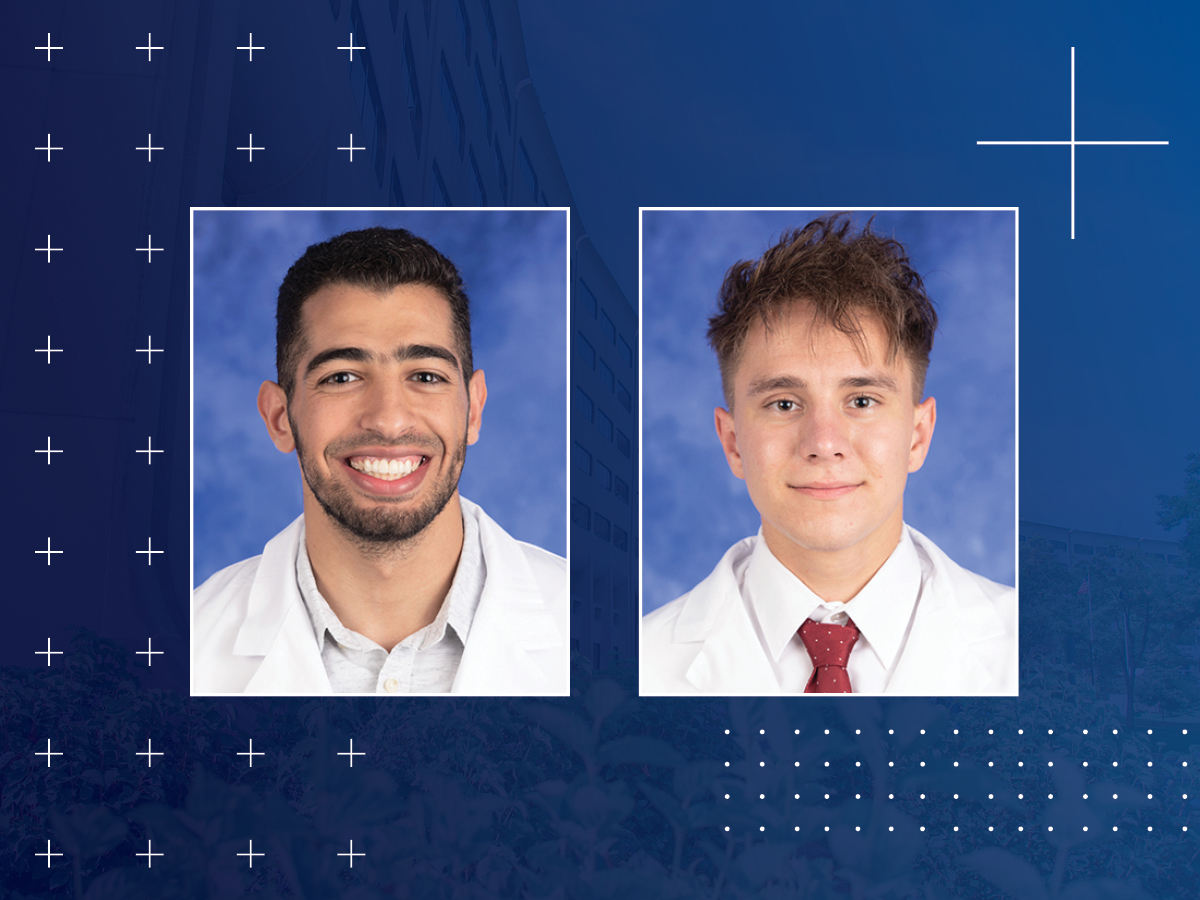 Two medical students from Penn State College of Medicine have been selected for Fulbright-Fogarty Fellowships in Public Health. In partnership with the Fogarty International Center and the National Institutes of Health (NIH), the Fulbright Program has awarded Andrew Yeich and Ahmed Abdeen the prestigious awards to expand public health and clinical research in resource-limited areas of the world.
This summer, Abdeen will leave for Peru, where he will be exploring risk factors associated with hand osteoarthritis and the progression of the illness among HIV patients. This fall, Yeich will be managing a clinical trial at Hanoi Medical University in Vietnam.
"This is the biggest research project I've undertaken in my career so far, and I have no doubt it will serve as the foundation for my future work as a physician scientist," says Yeich, whose interest in global health started as a Penn State undergraduate student studying in Rwanda.
As part of Yeich's fellowship, he will be examining low-cost ways to prevent antibiotic resistance in order to improve outcomes for patients suffering from infectious disease.
"Many people think they have allergies to penicillin and similar antibiotics known as beta-lactams. However, most allergies related to beta-lactams are misdiagnosed or can fade over time," Yeich explains, a third-year MD student. "When individuals — who think they're allergic to penicillin — get treated for bacterial infections they will oftentimes get second-line antibiotics instead of being prescribed beta-lactams. These backup antibiotics may be less effective or have more side effects. Over time, this can contribute to antibiotic resistance. The goal of this research is to find low cost ways to slow the spread of antibiotic resistance," said Yeich.
Meanwhile, Abdeen will be studying osteoarthritis, and how the aging process effects HIV patients with the disease.
"Age-related diseases have been shown to progress at much faster rates in HIV patients compared to non-HIV patients," explains Abdeen, a third-year MD student. "One of the goals of this project is to explore these factors and work toward eliciting policy changes in health care to better accommodate these individuals."
The two decided to apply for the fellowships after another medical student, Chandat Phan, encouraged them. Phan is a mutual friend and Fulbright Fellowship recipient. Based on his experience, Yeich and Abdeen knew it would be a rewarding learning opportunity for them.
In addition to Phan, both credit their mentors for encouraging them to pursue these fellowship opportunities.
"While there have been several College of Medicine faculty and staff that have had a positive impact on my education over the years, Timothy Craig, DO, and Maria Henao, MD, were key in helping me design this project," says Yeich. "N. Benjamin Fredrick, MD, Kimberly Hays, MD, Catharine Paules, MD, as well as, my former advisor at Juniata College, Alison Fletcher, PhD, helped me with the grant applications."
"Fadia Kamal, PhD, allowed me to join her lab early during my first year and has been a constant source of motivation and guidance," says Abdeen. "She is one of the people who pushed me to apply, and I truly would not be nor have accomplished what I've accomplished without her. Similarly, Michael Aynardi, MD, has given me freedom to explore various projects and guidance on how to manage them. I cannot stress enough that none of this would be possible without their help and the help of many others."
While professional growth and on-the-job training are important, those are not the only things that the two are excited about.
"While research and academic experience is to be expected, that is not all that I hope to gain," says Abdeen. "I am looking forward to interacting with the Peruvian people and learning about their culture. I want to return better equipped to care for Spanish-speaking patients. Not only that, but I'm excited to nail down a couple Peruvian recipes, because I have heard Peruvian food is among the best cuisine in the world. This experience will help me work toward becoming a more holistic person."
"The main reason I chose to apply to the Fulbright Fogarty Fellowship was the program's emphasis on cultural ambassadorship," says Yeich. "It's been astonishing how welcoming and supportive the faculty and students at Hanoi Medical University were throughout this year-long application process. I cannot wait to finally meet them in person. I'm excited to make new friends and play soccer."
The fellowships will begin later this year and will continue through the summer of 2024. Since 2011, the Fulbright-Fogarty Fellowship program includes the same benefits as the traditional Fulbright research grants, but in this case, the Fogarty International Center and NIH provide support to the research training sites. Sponsored by the U.S. government, the fellowships are open to students currently enrolled in medical school or in a graduate-level program and have an interest in global health.
If you're having trouble accessing this content, or would like it in another format, please email the Penn State College of Medicine web department.