Gonzalo recognized for Exceptional Moments in Teaching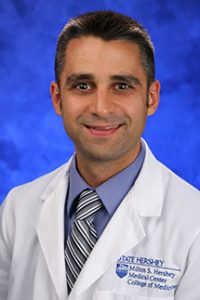 Dr. Jed Gonzalo, assistant professor of medicine and public health sciences and associate dean for health systems education, is featured in the January Penn State College of Medicine's "Exceptional Moments in Teaching" program. He oversees the design of curricula related to the emerging field of health systems science, which prepares physicians for evolving health systems.
"Dr. Gonzalo has been an exceptional teacher of health systems science over my past three years of medical school," wrote a current student on the nomination. "He has shown initiative and passion in introducing students and now residents to the idea of positively impacting and improving existing health systems and processes to optimize patient care and health care efficiency. More importantly, Dr. Gonzalo has provided us with the tools we need to enact change/quality improvement to better our patients and health system."
Gonzalo is funded by the American Medical Association "Accelerating Change in Medical Education" initiative, has 39 peer-reviewed publications related to medical education and clinical research and is a lead author on a textbook related to health systems science. In his first five years as a member of the faculty, Gonzalo has been awarded seven education awards, including two Dean's Teaching Awards, Internal Medicine Clerkship Teacher of the Year and the Association of American Medical Colleges Herbert Nickens Faculty Fellowship, which is awarded to one junior faculty member for education and research success related to health care disparities. He also won the National Society of General Internal Medicine Scholarship in Medical Education Award in 2016.
The College of Medicine's Office for a Respectful Learning Environment recognizes exceptional faculty members with the monthly "Exceptional Moments in Teaching" program. College of Medicine students are invited to submit narratives about faculty members, residents, nurses or any other educators who challenge them and provide an exceptional learning experience. Click here for the nomination form.
The Office for a Respectful Learning Environment fosters an educational community at the College of Medicine in which all learners and educators feel supported, challenged, valued and respected. It serves all learners at the College of Medicine: medical students, graduate students, PA students, residents and fellows.
If you're having trouble accessing this content, or would like it in another format, please email the Penn State College of Medicine web department.