Department recognizes Gregg Atland with Exceptional Performance Award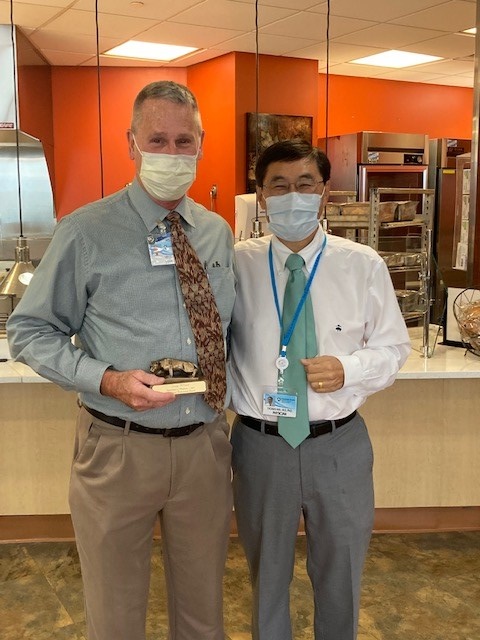 The Department of Medicine (DOM) at Penn State College of Medicine has recognized Gregg Atland, director of retail services at Penn State Health Milton S. Hershey Medical Center, with the department's Exceptional Performance Award.
Faculty, staff, APPs, residents and fellows in the DOM are nominated for the Exceptional Performance Award by their colleagues, division chiefs and other department leaders. Other College of Medicine and Penn State Health employees who work closely with the DOM may also be considered for the award.
Atland was named as an award recipient for his "exceptional" efforts to ensure internal medicine residents working overnight shifts had access to food, said Dr. Thomas Ma, department chair and professor of medicine, gastroenterology and hepatology, microbiology and immunology, and cellular and molecular physiology.
The DOM is glad to know, Ma said, that even though Atland is retiring from his role in the retail services department after 34 years, he will still be helping part-time with patient transports "because of his love and connection to the institution."
"If you're lucky, you find these individuals at every job, at every place, who just make your day," Ma said. "Gregg makes everybody's day, each and every day."
If you're having trouble accessing this content, or would like it in another format, please email the Penn State College of Medicine web department.