Penn State College of Medicine's Leaders Celebrating Leaders program recognizes student leaders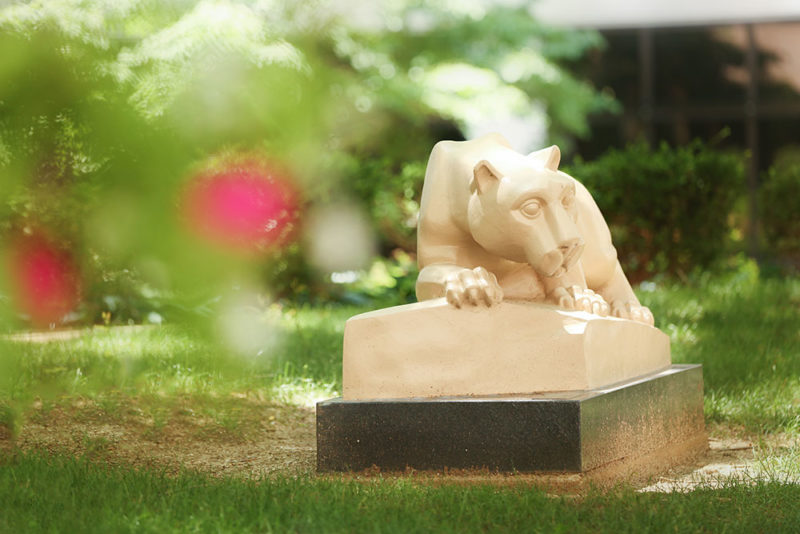 Each year, the offices of the Dean, Vice Dean for Educational Affairs and Vice Dean for Research and Graduate Studies unite to honor student leaders from the medical doctor (MD), physician assistant (PA) and graduate programs.
"This event is an opportunity to celebrate the exceptional student leaders in the College of Medicine," said Kevin Black, MD, interim dean of Penn State College of Medicine. "These students have shown leadership abilities amongst their peers and in health care. We are proud that they are a part of the Penn State community and helping to define what medicine means here at the College of Medicine."
See a list of student organizations and their officers here.
As part of the annual Leaders Celebrating Leaders program, class officers and representatives from the MD, PA and graduate programs acknowledge fellow students and their good work, commitment and service to the College of Medicine and community.
These individuals were honored by their peers for the past academic year:
MD Class of 2023: Alma Jusufagic
The MD Class of 2023 is proud to recognize Alma Jusufagic, as she has consistently led efforts to support and better her community. Her peers selected her to become a Gold Humanism Honor Society member, demonstrating her commitment to humanistic principles and compassionate patient care. As the Community Service Chair for her class, Alma led efforts to support our community through local food drives and raising awareness for national social justice initiatives. Moreover, as a member of the American Medical Association, Alma has represented the MD Class of 2023 at local and national meetings regarding health care policy and debate.
MD Class of 2024: Marc Levine
Marc has a passion for 3D printing and has been inspirational in using this to help others. During the COVID-19 pandemic he 3D-printed masks for homeless individuals in Miami and here, at the College of Medicine. Additionally, he started the 3D printing interest group which most recently began working with and mentoring students at Milton Hershey through the group. Marc is a wonderful leader and a model example of the humanistic characteristics needed in future physicians.
MD Class of 2025: Megan Nguyen
As a member of the MD Class of 2025, Megan Nguyen has served not only peers in her class, but she has also strived to go above and beyond for all students at the College of Medicine. In her roles as leader of the Med Gala committee, a social chair for the Class of 2025, a member of the Surgical Diversity and Inclusion Task Force, and president of the College of Medicine branch of the American Medical Women's Association, she has utilized her planning and organizational skills to bring fruitful and enjoyable events for all. This is no easy task, and Megan continues to take on significant responsibility as a leader to bring benefits to her peers.
MD Class of 2026: Eleni Fafoutis
In her past 8 months in Hershey, Eleni Fafoutis has quickly proven to be a passionate student leader at the College of Medicine. Eleni currently serves as President of PULSE, where she supports the intellectual endeavors of high school students in the area. She is also a clinical coordinator for the mobile, student-run free clinic SCOPE. Eleni dedicates her time to several academic and community engagement projects in service of Dauphin County, while also being a kind, supportive and resourceful member of our class.
MD University Park Curriculum: Lion Mobile Clinic
The University Park Regional Campus chose the Lion Mobile Clinic for the impressive efforts it has undertaken to increase medical accessibility in the State College and surrounding areas. Lion Mobile Clinic travels to local homeless shelters and nearby rural towns to provide health care services for the underserved, at no cost to them.
PA Class of 2023: Julia Frye
The PA Class of 2023 is proud to recognize Julia Frye as a leader in her class. In addition to participating in various volunteer activities during her didactic year, she spent a rotation in the Metro orthopedic clinic in Chicago, a free clinic providing health care to an underserved population, many of whom are unhoused. Julia is also a member of Student Body.
PA Class of 2024: Kaylan Mayo
Kaylan is a first-year physician assistant student who currently serves as the class diversity chair. She has brought initiative, creativity, and a personal touch to the role, and her passion for inclusivity is evident. She works hard not only to update our class via a monthly newsletter, but also to connect us with events and service opportunities throughout the college. Despite the rigor of our coursework, Kaylan's dedication to her role as diversity chair continues to motivate our cohort.
PSSA MD/PhD: Maryknoll Linscott
Maryknoll is a 6th-year MD-PhD student finishing her research thesis on breast cancer mouse modeling in Dr. Edward Gunther's laboratory. During her time at the College of Medicine, she has been a dedicated leader and a consummate problem-solver while serving in PSSA and other organizations. This year, she has organized panel discussions on AOA and F30/F31 applications to help MD-PhD students strategize and create successful applications. She has also built a robust alumni database for Penn State MD-PhD graduates to connect alumni members to programming, mentoring, and fundraising efforts that benefit MD-PhD students. In addition to PSSA, she devotes her time to scientific committees, organizations, and societies. These include her roles as the co-editor-in-chief of the Penn State Journal of Medicine, member of the Penn State Cancer Research Day planning committee, and trainee leader of the Breast Cancer Scientific Interest Group (SIG) of the American Society for Investigative Pathology (ASIP). Recently, Maryknoll has been elected as co-chair of the Gordon Research Seminar in Mammary Gland 2024 in Italy. She credits her family, friends, co-leaders, mentors, and love of discovery for sustaining her efforts to serve Penn State and the scientific community.
Graduate Student Association: Natasha Morales and Mindy Johnson
The Graduate Student Association would like to recognize third year Anatomy PhD candidates Natasha Morales and Mindy Johnson for their commitment to teaching curriculum anatomy courses for the Physician Assistant and Medical curriculums while continuing to work in their research labs. Natasha and Mindy serve as an example of leaders in the way they came together and got the job(s) done despite the odds. Their effectiveness and success were evident based on student performance on exams and positive feedback on evaluations. The Association would like to recognize Natasha and Mindy because of their professionalism, enthusiasm, and dedication to teaching was unwavering in the face of adversity.
If you're having trouble accessing this content, or would like it in another format, please email the Penn State College of Medicine web department.