NBS Buzz December 2021
Words from the Chair and Vice chair
Whom ever does join this department, and hopefully this will include a few new faculty, will quickly learn that we are a highly collaborative, hard-working, and a very productive bunch. Thank you all for making that so! I continue to be impressed by the work that everyone is doing, in spite of the COVID-19 pandemic. Our department staff has been remarkable! I know all would agree. Thank you very much for your hard work and commitment! Our laboratory staff and our students are amazing! We cannot do much without all of you. Thank you! Regarding faculty, all continued to teach, many in person. All continued to run their laboratories to capacity – leading to continued student training, publications, and to increased grant dollars. Last I looked, we had exceeded last year's numbers by quite a large margin and we are leading the charge amongst the Basic Science Departments. This is because of the tremendous work that each of you is doing. Thank you so very much for that effort.
All that said, my first Chair stated: "Fun is the grease for work". Assuming there is some truth to that, I am hopeful that you will take time for yourself over this holiday season. Spring semester shall be here soon enough and it is important that you take care of yourselves!! You may remember the saying, perhaps from a flight some time ago, "put on your own mask first". Again, I thank each and every one of you and I wish you and your family a happy and healthy holiday season.
Now for a few comments from Andras Hajnal, Vice Chair of Research: I am very thankful for the help I have received from Cathy Hirschbock and colleagues serving on the Space and Equipment committees aiming at making improvements to our space and shared equipment allocations. There is still plenty of work left to solve issues with access and address unmet needs. I would appreciate any feedback and ideas from any department member.
Special thanks to everyone for sticking together during the pandemic. As for my role as the Department Safety Officer, I want to thank the laboratory safety officers and everybody in our department for their compliance with COM regulatory policies and excellent job throughout the past 20 months of the COVID era. A heartfelt wish for everyone to have a wonderful holiday break that is much needed and earned!
Greetings! I will begin by welcoming Jonathan Ploski, our newest faculty member and Frank Back, his postdoctoral scholar, to NBS!! They arrived here from the University of Texas Dallas September 1, 2021, and we are so pleased to have them on board! Indeed, we are working to continue to grow our department. Jen Nyland transitioned into a tenure track appointment (Congrats Jen!) and our search is underway for a new Assistant Professor and we have several exceedingly strong candidates (Thank you to the search committee Yongsoo, Anirban, Andras, and Kirsteen). Indeed, I thank all of you for your contribution to this ongoing effort. Recruitment is time-consuming, it benefits from all of our input, and it is critical to the future of our department! So thank you!
Department Good News
On December 7, 2021, Dr. Grigson will be interviewed regarding COVID-19 on The Voice of America! What a Honor!
New Faculty Search Committee is going strong!
Congratulations to Dr. Jennifer Nyland, Assistant Professor for her promotion to tenure track!
Kyra Newmaster Thesis Defense December 13th
Best to you and your future success!
Join from PC, Mac, Linux, iOS or Android: https://psu.zoom.us/j/99006882119?pwd=M3FmcDRjc1NPNGxsa2FFbkxNdi85dz09
Password: 432270
Ask Yongsoo Kim about his latest publication!
Dr. Ian Simpson plans to RETIRE June 30, 2022
Best wishes on his next adventures!
Job Postings
Post Doc: Browning Lab
Post Doc: Paul Lab
Research Tech I: Paul Lab
Research Tech I: Kim Lab
Post Doc: Ploski (pending)
Leah Acajabon, NBS Financial Analysis
My name is Leah but I prefer to go by L. I have been with the Penn State College of Medicine since August 2019 and have worked in two Departments during my work career here. I have a passion for accounting and am always looking forward to the next challenge coming my way. When not working I indulge in my hobbies which include running, singing, and painting. A tidbit about me that most people don't know: I speak 3 languages.
Franklin Back, PhD in Pharmacology
Molecular basis of memory, Behavioral analysis, Viral insertion of transgenes, CRISPR/Cas system, gene therapy.
I enjoy outdoor activities, rock'n roll pubs and martial arts. We have a 5-year old daughter and we're all from Brazil.
Things to Remember
We need to keep C3700 clean and free of personal items. This room is for used for multiple purposes and we need to remember to clean up after each use!
NBS Seminar Series
We have had 17 NBS Seminars so far in 2021 and 2 are scheduled in January. Thanks to Yuval Silberman, for taking over as the Director, and a BIG thanks to Katrina Blaydon for coordinating and navigating the complexities, especially with the COVID-19 restrictions and guidelines.
Save the dates of the upcoming NBS Seminars:
Jan. 6, Ukpong Eyo, University of Virginia
Jan. 20, Megan Fox, Assistant Professor PSU, Department of Anesthesiology
Dec. 6, Penn State Addiction Center for Translation (PS ACT) Addiction Symposium. Register here.
Please share widely with your internal and external contacts. All are welcome!
Reminder
Techs, Students, Post docs need to have an eRA Commons ID. Easy process just contact Marybeth Brown in ORA mbrown2@pennstatehealth.psu.edu.
New Grants 2021
Anirban Paul: R01
Amy Arnold: R01
Jennifer Nyland: DoD
Sue Grigson: UG3 Supplement
Yuval Silberman: R01
Yongsoo Kim: R01 Supplement, Allen Institute Subaward
Patricia McLaughlin: Berks County, ElkinRx Award
Graduate Students Corner
Please remember to share your accolades!
Mariam Melkumyan's project entitled, "The Effect of Cannabinoids on Ethanol Induced Withdrawal Anxiety" receives the PA Options for Wellness Graduate Student Fellowship for the 21/22 academic year. WAY TO GO!
Congratulations!
Brianna Evans is selected as a recipient of a 2021 Trainee Professional Development Award (TPDA) on behalf of Society for Neuroscience.
Luke Urbanki, Anatomy PhD Candidate, is the recipient of the 2021 Graduate Alumni Award and nominated for the 2022 Woodward Student Educator Award. Luke received the Exceptional Teacher Recognition in August and November 2021. He will participate in the poster presentations at SfN and the PSU Research Forum 2021. Luke revieved a Certificate for Woodward Center's Graduate Students as Educators (GSAE). Tid bits you might not know: Luke really enjoys cooking, has 2 kittens named Tina and Toast, and is engaed to Lauren and the wedding date is October 15, 2022!
2021 Graduate Student List
Abdelmageed, Mofida
Benn, Alana
Bennett, Hannah
Carson, Kaitlin Evans, Brianna
Francis, Geoffrey
Goudsward, Hannah
Keller, Bailey
Kronman, Fae
Liwang, Josephine
Mehay, Darren Melkumyan, Mariam
Mills Huffnagle, Sara Morehouse, Jessica
Newmaster, Kyra
Olsen, Megan
Pearce-Clawson, Mason Radler, Jackson
Urbanik, Luke
Vernail, Victoria
Werner, Claire
NBS Spotlight: Arnold Lab
Amy C. Arnold, PhD
Assistant Professor
"Type A All Day"
Accolades: Mother to Ava (3rd grade); NIH R01; JFRSA ; APS Shih-Chun Wang Award; 65 publications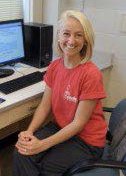 Sarah S. Bingaman, MS
Research Technologist III
"Pretends to Love Running"
Accolades: 4 publications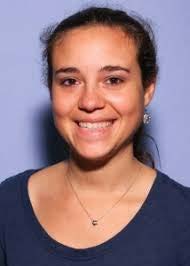 Amanda J. Miller, PhD
Postdoctoral Scholar
"Meme Obsessed Boy Mom"
Accolades: AHA Postdoctoral Fellowship; 9 publications from lab (34 total); 14 abstracts and 3 oral presentations at national meetings; APS Michael J. Brody Award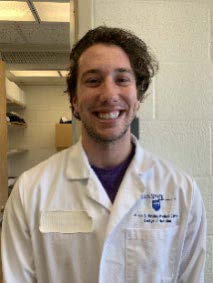 Darren Mehay, BA
4th Year Anatomy PhD Student
"Lean Mean Volleyball Machine"
Accolades 3 publications; 2 abstracts and oral presentations at national meetings; APS Van Harreveld Award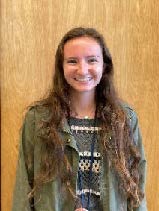 Victoria Vernail, BS
2nd Year Neuroscience PhD Student
"Thrives on True Crime"
Accolades: oral presentation at
Penn State ACRC retreat
Arnold lab focus
Better understand molecular mechanisms linking high blood pressure and obesity
Develop more targeted therapies with positive cardiovascular and metabolic effects for obesity and hypertension
Focus on the hormone angiotensin-(1-7) and neural mechanisms involved in its protective cardiometabolic effects
Translational: molecular-preclinical-clinical
If you're having trouble accessing this content, or would like it in another format, please email the Penn State College of Medicine web department.
Subscribe to our email newsletter