New man at the tiller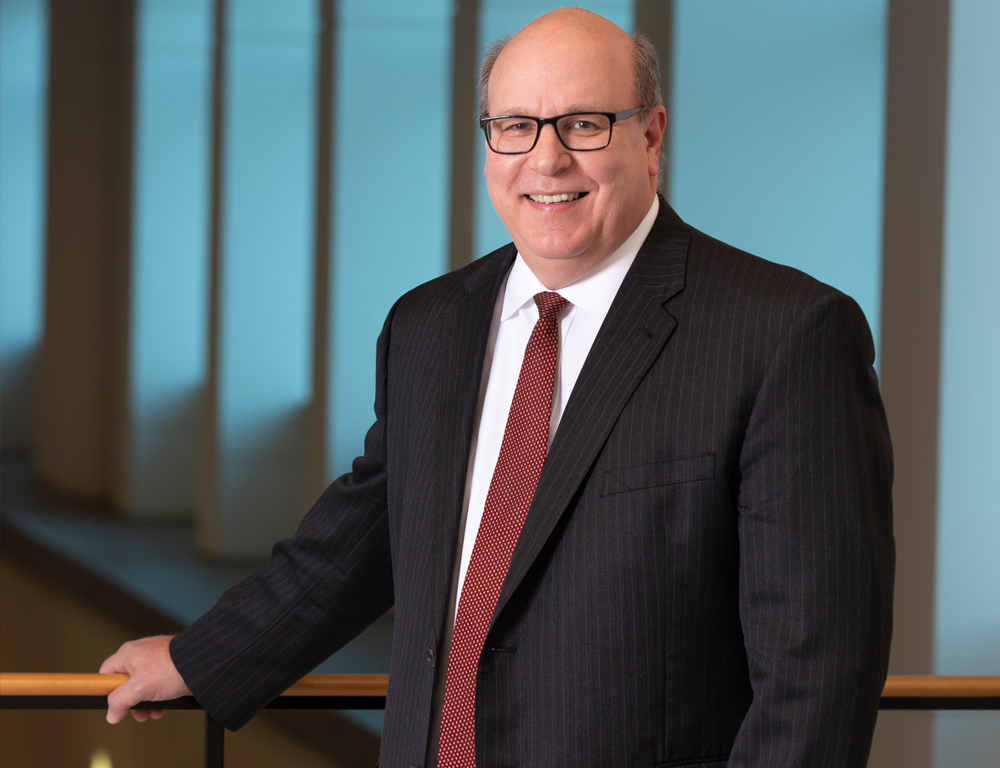 Steve Massini's vision has been an integral part of Penn State Health's growth. His input helped create the partnerships and make the decisions that have shifted a central Pennsylvania hospital into a regional health system for a new age.
And at least some of Massini's know-how comes from fish.
The new CEO of Penn State Health has spent much of his life enjoying fishing on the waters of southern New Jersey to the trout streams of rural Pennsylvania.
"Fishing is part of my family," he said.
Maybe that's why Massini's management style is equally calm and reflective. He watches the waters, takes in the environment and acts at the right moment — all without panic.
View the video on Mediasite
His new role places him squarely at the center of a surge. The Penn State Health of which he takes the helm continues to expand at a pace few envisioned a decade ago. So far, his approach has been keeping with the style he learned from his early days as a mate on a charter fishing boat. He's filled recent weeks listening and learning from all levels of the system's expanding staff. As the health care industry evolves and Penn State Health evolves with it, Massini says he'll continue to seek their counsel as he follows a path blazed by his predecessors.
Rather than blindly charting a course, Massini has arrived at his current job through patient, diligent attention to his surroundings and following his heart.
Young fisherman
Massini's family is originally from western Pennsylvania, but he grew up in Bridgeton, N.J., a small town near Delaware Bay where beaches back into farmland. Before he became a teenager, he got his first job: A neighbor bought a charter fishing business and asked the boy to help out as first mate.
Massini spent his summers as a youth on the bay, helping tourists reel in flounder and weakfish. It was a unique upbringing; while he developed the patience to land the big ones, he also interacted with people of all stripes.
"A different group showed up every morning…to have a good time and go out on a fishing trip," he said, and many didn't know the first thing about the sport.
"I learned a lot of people skills on that job," he added. "That's served me well in much of my career and personal life."
Nittany Lion
During freshwater excursions to Pennsylvania, Penn State hooked the young Massini. He opted early on to major in accounting.
During his first day of orientation at State College, he met a girl. He was too introverted to say much to her, but his mother and the girl's mother happened to be there, and they exchanged phone numbers.
Massini has been married to the girl—Shari—for 32 years. They have three daughters. Their oldest daughter is a pediatric oncology nurse in Philadelphia. Their middle daughter is a Penn State Law graduate serving victims of domestic violence, and their youngest is entering her junior year at Penn State, where she is studying business.
Penn State "has always been part of my DNA," he said. And that's why five years ago, when he learned Penn State Health was searching for a chief financial officer, Massini applied.
"I couldn't have scripted this out," he said. "The opportunity came across my desk."
By then, Massini had been working for years in health care, an industry that drew him for personal reasons.
Personal connection
Twenty-seven years ago, Massini lost his father to lung cancer. His father was only 62 at the time.
At the same time, his wife's mother was also diagnosed with cancer but survived. "It changed our focus on life," Massini said.
Massini worked in public accounting at the time, but he took on more clients in the health care sector. The Massini family became involved with groups like the American Cancer Society.
Eventually, he moved into roles for companies like Geisinger Health System. There, he served as chief administrative officer and chief financial officer for Geisinger Clinic — home to more than 1,100 physicians and 675 mid-level providers.
"I wish I was smart enough to have the master plan that brought me here," he said. "It evolved over time, but there was always a personal connection to health care. I always wanted to be part of it and contribute in some way."
Instead, Massini watched the waters and found an opportunity with his alma mater.
Momentum
The Penn State Health system Massini joined in 2015 was expanding through partnerships and strategic acquisitions. In July of that first year, the system acquired St. Joseph Regional Health Network, now Penn State Health St. Joseph, which includes a network of 150 physicians and midlevel providers serving more than 417,000 residents of Berks County.
At Hershey Medical Center, Penn State Health Children's Hospital and the Emergency Department both expanded with construction projects that are ongoing. In 2017, providers and practices that were part of the Physicians Alliance Ltd. joined Penn State Health Medical Group.
In December 2017, Penn State Health announced a strategic partnership with Highmark to build out the health system's community network. In October of the following year, Penn State Health Medical Group – Lime Spring Outpatient Center, a 76,000-square-foot outpatient facility brought specialty care, primary care and a wide range of additional services to Lancaster County. And in March 2019, the health system broke ground on Hampden Medical Center, a new $200 million acute care hospital, which broadened Penn State Health's reach in the Harrisburg and West Shore area.
"It's been a roller coaster ride," Massini said. "It's been an amazing couple of years."
Guiding Penn State Health along the way was Dr. Craig Hillemeier, who retired as dean of Penn State College of Medicine, CEO of Penn State Health and senior vice president for health affairs for Penn State in June. Massini largely credits Hillemeier for the new direction. Hillemeier has always been focused on Penn State Health's future, Massini said. Hillemeier looked outwardly and sought to bring care directly to the communities Penn State Health serves.
"It's really important we do these things," Massini said, "because otherwise patients in the communities we're in are not going to have access to Penn State Health and the care we can give.
"We're building something that we've never done before," he added.
Massini's job will be to maintain the momentum Hillemeier and others started before he arrived.
"I hope, too, that I can look out and look forward," he added, "and not be so focused only on what we're doing today."
The future
In the next five to 10 years, Massini expects Penn State Health to have even more hospitals and employees. But the system likely also will look much different in terms of how it delivers care.
In December, Penn State Health launched Penn State Health OnDemand, which allows patients to schedule appointments and see providers on smartphones and computers.
The move positions the health system at the vanguard of one possible new frontier – bringing care to patients on a more convenient level than ever before through technology and research. It's a critical move when Massini considers that unorthodox industry disruptors — Amazon and Google, for instance — could create unforeseen challenges and opportunities.
Penn State Health's strategy will meet these challenges head-on with the goal of preserving and growing its relationship with Penn State College of Medicine—the engine of the university health system's education and research potential.
"It's equally as important to continue the great work we do in the College of Medicine," Massini said. "The strength of the health enterprise is highly dependent on the research and education efforts of the College of Medicine. Similarly, the strength of the College is highly dependent on the success of the health enterprise."
Throughout all the upheaval, Massini has been keenly aware of its effects on the people he counts on the most – Penn State Health's employees. He worries about infrastructure, support and getting everyone what they need amid such rapid and dramatic change.
He's discovered during his recent weeks of observation and listening that while employees are working hard and feeling the related stress, just about everyone's focus is in the right place — on the patients.
"We solve challenges and problems, and we meet needs for communities," he said. "I say it all the time, even to our administrative side or our finance, our marketing, our HR folks ― Don't think you're not connected to the patients. You can make a difference."
When he gets the chance, Massini still gathers his tackle and escapes to the water. It's always a family getaway, but Massini still loves to show new people new fishing holes. Decades after he was first mate on a charter fishing boat, Massini says he relishes the moments when he can introduces someone to a great new place.
After all, every fishing story contains an element of hope. As golf legend Jack Nicklaus said, "There are always new places to go fishing. For any fisherman, there's always a new place, always a new horizon."
If you're having trouble accessing this content, or would like it in another format, please email the Penn State College of Medicine web department.