New Staff Retreat Zone offers respite from pandemic's front lines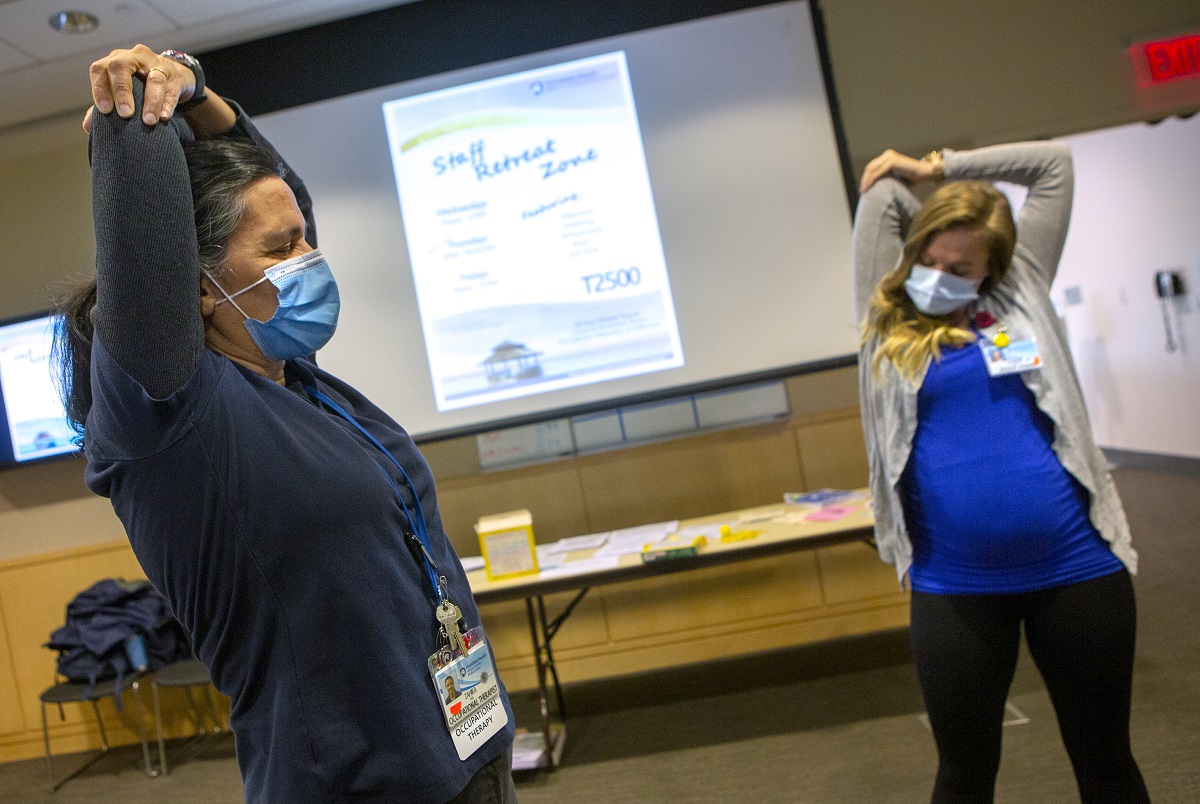 In the weeks since COVID-19 halted large gatherings, Room T2500 at Penn State Health Milton S. Hershey Medical Center has been unreserved and mostly empty. Until now. On any given Wednesday, Thursday or Friday, you can find staff practicing mindfulness in addition to social distancing. The new Staff Retreat Zone, created by Therapy Services and the Staff Morale Work Group, offers employees a respite from the front lines with snacks as well as a variety of wellness activities.
From the early days of COVID-19, Hershey Medical Center leaders have sought ways to support employees, according to David Simmons, director of Pastoral Services. First, they introduced the Hero carts stocked with popcorn, chips, granola, candy and water.
"Now we've provided a place where staff can step away from the stress of being on the front lines of this pandemic," said Simmons.
The Staff Retreat Zone opened April 16 and features athletic trainers and occupational, music and art therapists providing guided activities for employees. Among the most popular activities so far, according to Kileigh Hess, a certified athletic trainer with Therapy Services who heads the Staff Retreat Zone Committee, are mindful drawing, coloring and "make and takes," such as notecards to give co-workers.
"I'm seeing some of the COVID patients, and it's been a rough week," said Zahira Paul, an occupational therapist, during a visit to the Staff Retreat Zone. "My stress levels are increasing, and this has been a good thing to help relieve that stress."
Joann Mickolick, a respiratory therapist, said she enjoyed connecting with co-workers in a non-work environment. "This was relaxing, peaceful and a bit of a distraction."
According to Hess, more than 300 employees have used the Staff Retreat Zone so far. "This truly is a place where our dedicated and fearless staff can come to take a much-needed break and decompress. They leave feeling refreshed."
The Staff Retreat Zone is open Wednesdays and Fridays, noon to 2 p.m., and Thursdays, 9 p.m. to 10:30 p.m. Additionally, Pastoral Services has 24-hour retreat spaces in the Chapel and Meditation Room for solitude, reflection and relaxation.
"We're planning to do this as long as necessary," said Hess. For now, The Staff Retreat Zone has been scheduled in Room T2500 through the end of May.
If you're having trouble accessing this content, or would like it in another format, please email the Penn State College of Medicine web department.