Pi/Pie for Panama event a success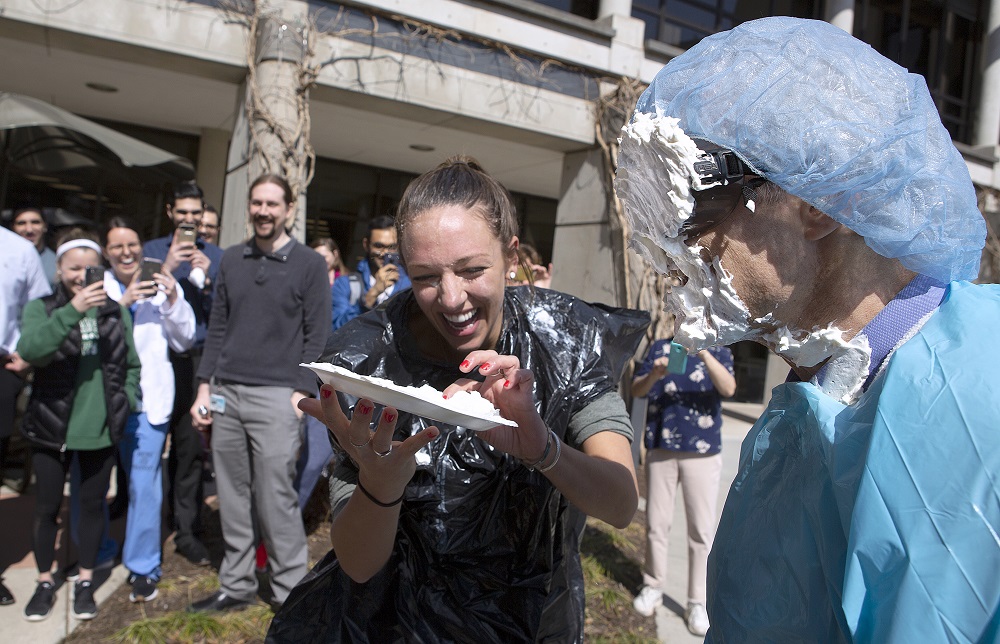 It's not every day you get to smash a pie in a professor's face.
And if you're the professor who pulled in the most money to be pied in the face, you might as well have it happen on National Pi Day (3.14) in a public courtyard, surrounded by your students, colleagues and curious onlookers.
It was the third and final fundraiser by a group of medical students from Penn State College of Medicine in support of their trip to Panama. Twenty first-year medical students will provide medical care and health education as part of their clinical primary care preceptorship. The volunteer trip is scheduled for April 11 to 20.
Leading up to the event, the students recruited 10 professors and lecturers who agreed to be hit in the face with pie if they received the most monetary votes. Jars in the entrance to the Harrell Health Sciences Library at the College of Medicine collected bills and spare change ― even a few Euros.
The results of Wednesday's final tally brought Dr. Michael Katzman to a crowd of cell phone-wielding medical students on the day before his birthday with a hotel shower cap, surgical hairnet and scrubs, safety goggles and plastic grocery bags to protect his shoes.
He outlined the drama leading up to the event – emails accusing colleagues of stuffing the jars, a call for a recount and a request to view security camera footage from the library entrance where the voting jars were placed.
Maddi Fritsche, the medical student who suggested the event – "We did something similar for a Relay for Life fundraiser during my undergrad," she said – did the honors, smashing a foam plate filled with a "pie" of spray-can whipped topping into her professor's face.
Then Dr. Eileen Hennrikus, who has organized the annual trip to Panama for several years with her husband, Dr. William Hennrikus, pulled bills from her pocket for a turn. She was the runner-up, but with $83 and change less in votes than Katzman's $138.
"The students obviously love him the most," she said.
The students and 10 doctors traveling to Panama will pay their own way but wanted to raise money to reduce the cost of their week providing triage, primary care and medical education to adults and children in remote islands near Boca del Toro, Panama.
The three fundraisers have raised approximately $3,000 for the trip. The group will volunteer with an organization that works to reduce the burden of disease in the developing world and improve health care delivery worldwide.
"We'll talk with adults about hypertension and diabetes and teach them stretches to reduce lower-back pain," said medical student Emily Leboffe. "We'll also use fun activities to teach kids about the importance of hydration."
If you're having trouble accessing this content, or would like it in another format, please email the Penn State College of Medicine web department.