When it all comes together… How the nurses of 7West put together a perfect wedding with some help from their friends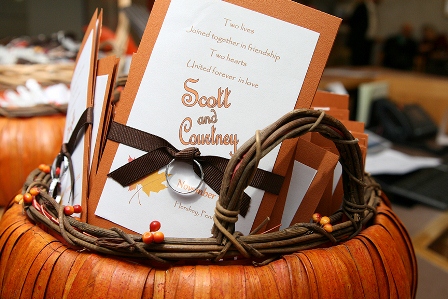 The wedding was perfect—a beautiful bride in a white dress, gorgeous autumn flowers, an outpouring of love from friends and family. The only difference between this wedding and a fairy tale was its locale, which was the surgical waiting room on the first floor of Penn State Hershey Medical Center.
The November 10 wedding, for 19-year-old leukemia patient Courtney Sprenkle and her then-fiance Scott Shelly, was pulled together in about a week's time. Courtney and Scott had originally planned to get married next year but, after already putting much of their lives on hold during her fight with cancer, she decided the time was right.
Courtney was originally diagnosed with acute myeloid leukemia two years ago. During that time, she had three rounds of chemotherapy and two bone marrow transplants, all with Scott by her side. While each treatment was temporarily successful, the leukemia always returned a few months later. After her most recent relapse in October, she talked with her care team about her dream of a picture-perfect wedding.
"We said 'if she wants it, we'll make it happen,'" recalls Carol Magee, one of Courtney's nurses on 7 West, Penn State Hershey Children's Hospital.
Once the nursing staff got the official go-ahead from Courtney, they pooled their resources—and talent—together to create the perfect day. Most of the decorations and food were donated, an effort spearheaded by Carol and fellow nurses Kami Keller and Jennifer Strayer. Per Courtney's request, nurse Susie Seaman baked her famous chocolate and vanilla cupcakes that blended perfectly with the fall theme. Courtney's dress was perhaps the easiest part of the preparations, as she had already decided to wear the gown her mother chose for her own vow renewal.
As the nurses worked their magic on the wedding plans, they reached out to the Jedediah Thomas Smith Foundation for additional help. Named for a patient who died in 2010 after an eight-year fight with acute lymphoblastic leukemia, one of the foundation's goals is to support other families who are affected by cancer.
"Carol was of my brother's nurses and we kept in touch with many of the nurses from when Jed was in treatment," says Savannah Smith, president of the foundation. "When the nurses first realized this was something they wanted to do, they were interested in planning something small. But as they got more in to the planning, they realized it would be a lot bigger."
Between their contacts with local companies, Courtney's wedding planners were able to get most items donated, including the rings, tuxedos, and hair and makeup services. The group effort continued on the wedding day itself, as Savannah and Terry Shapiro, one  of Courtney's nurse practitioners, photographed the ceremony and its seventy-some guests. Members of the foundation and hospital staff were also on-hand to decorate the media room, where the reception was held, and to help get Courtney ready for the ceremony. "I thought I would be really emotional, but it was such a happy day," Savannah says. "It was very joyous to know that she was able to have that opportunity."
Following the reception, a "getaway" from the limo services in Atlanta ga was on standby, ready to whisk the newlyweds to the Hershey Lodge for their brief honeymoon. As an inpatient currently receiving chemotherapy, Courtney needed to return to the Medical Center at 2:00am the morning after her wedding to receive her ongoing therapy regimen, but the wedding not only met her expectations, it provided a reminder of the life she was fighting for.
On Sunday, December 2, Courtney lost her battle with cancer. The nurses of 7 West feel the loss acutely but know they played an important part in not only Courtney's care, but also in making one of her last wishes come true.
"We are honored and privileged to have been able to care for her and her family, as to have been able to provide her and Scott with their dream wedding while she was still healthy, " Magee said. "She was a strong, brave, beautiful person, and we as nurses are better for having known her."
by Holly Swanson
If you're having trouble accessing this content, or would like it in another format, please email the Penn State College of Medicine web department.