University Park Regional Medical Campus welcomes first students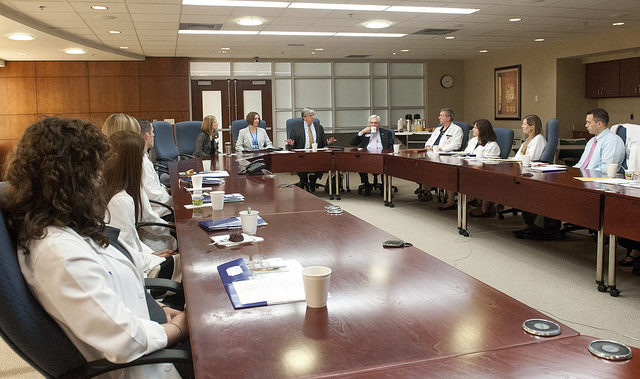 The University Park Regional Campus of Penn State College of Medicine welcomed its first group of medical students today to begin their core clinical training, in collaboration with local Penn State Hershey faculty, Mount Nittany Medical Center faculty, and other medical providers in the community.
Thirteen College of Medicine students started their third year of medical education in State College with an orientation session held at Mount Nittany Medical Center today.
Bringing medical students to State College from Hershey is part of the new University Park Regional Campus mission—to create an educational environment for training the next generation of healthcare providers and improve access to patient-centered, high quality, cost-effective health care for local residents. Primary care and rural-based medicine are the centerpieces of this mission.
"Back in the late 1960's, our first medical students took a chance and came to Hershey to pursue their dreams of becoming physicians, drawn there in part by the opportunity to be part of something new and by the unique attributes of the College of Medicine, including our commitment to humanities and to primary care," said Dr. Harold L. Paz, CEO of Penn State Milton S. Hershey Medical Center, Penn State's senior vice dean for health affairs, and dean, College of Medicine. "Just as those early students – now alumni – played a vital role in the development of our institution, this first cohort of students in State College has a unique opportunity to help shape the character of our regional medical campus and to set the bar for those who will follow."
The regional campus will eventually train up to 48 College of Medicine students each year, up to 24 in each of the third and fourth year medical classes. Some of these students may select to enroll in dual-degree programs as well, through the Smeal College of Business and other programs. Core clinical rotations include family medicine, primary care, surgery, OB/GYN, pediatrics, neurology, psychiatry, and medicine. A residency program in family medicine is also in development, along with various collaborative research initiatives between University Park and Hershey.
"We are very pleased to accommodate these future physicians as our inaugural cohort," said Dr. E. Eugene Marsh, senior associate dean, University Park Regional Campus. "Students will have the chance to spend their entire third year and a portion of their fourth year here, rotating through different specialties and interacting with the State College community in many ways."
Mount Nittany Medical Center, which is striving to become a regional academic teaching hospital, is a committed partner in developing the regional campus.
 "It was clear to me when I came to Mount Nittany how important a regional campus and residency program are for this community, allowing us to grow our own primary care physicians right here in State College," said Steve Brown, president and CEO, Mount Nittany Medical Center. "We are very excited to be part of this development lead by Penn State, raising the bar in health care for this region and creating a strong teaching environment."
Mount Nittany Medical Center is preparing to open a new state-of-the-art Emergency Department on July 7, exposing College of Medicine students to the latest technology, design and efficiency in emergency care in a community-based hospital setting.
"When I found out about the new regional campus, I was really excited because I've always liked the area and my family is there," said Sarah Smith, a student in the regional campus inaugural class. "I was actually born at Mount Nittany Medical Center and look forward to having life come full circle by helping deliver babies there during my OB/GYN and pediatric clerkships. Living in State College and being a medical student at the same time is very appealing."
Incoming third-year student Amanda Moyer said she was attracted to the regional campus focus on community-based medicine and how it meshes with her desire to help eliminate health disparities facing the nation.
"I ultimately see myself living and working in a place like State College," said Moyer.  "I had the opportunity to attend medical school in large cities such as Boston and Miami but decided I want to learn medicine in the same environment where I'll practice it in the future."
The clinical presence of the regional campus includes five Penn State Hershey Medical Group outpatient locations. For more information about the University Park Regional Campus, visit med.psu.edu/regionalcampus.
If you're having trouble accessing this content, or would like it in another format, please email Penn State Health Marketing & Communications.