30th annual CMN Telethon tops $5 million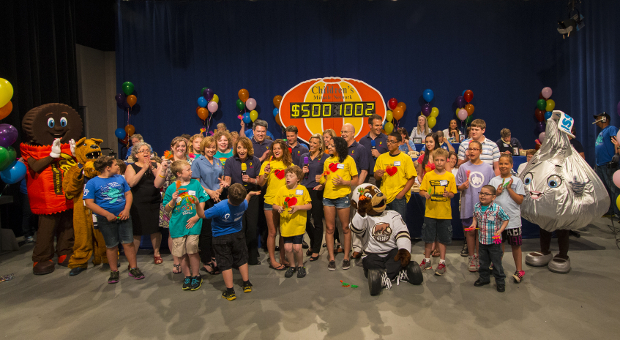 A weekend of sunshine and celebrations culminated in more than $270,000 raised for Penn State Hershey's pediatric trauma center, and an annual combined total of $5,001,002 donated to Children's Miracle Network at Penn State Hershey Children's Hospital.
This year marked the 30th anniversary telethon for Children's Miracle Network Hospitals in central Pennsylvania. The telethon was broadcast live on WGAL-TV8 from the WITF Public Media Center in Harrisburg. The $270,000 raised this past weekend will support the injury prevention program at the Children's Hospital and fund the purchase of a new isolette for the safe air transport of infants on Life Lion.
The grand total included the annual fundraising efforts of national partners including Rite Aid, Giant Food Stores, Walmart & Sam's Club, Credit Unions for Kids and Costco, along with fundraising by employees of The Hershey Company, Hershey Entertainment and Resorts and Penn State Hershey Medical Center. Local community organizers presented proceeds from unique events including Truckers for Miracle Kids at the Buck and Elstonville Motorcycle Club's Great American Snake Hunt. Miracle Children also presented donations from lemonade stands, golf outings, races and sporting events, while radio partners from Cumulus Media's  I-105 WIOV and The People's Morning Show on 105.7 the X shared the results of their annual on-air fundraisers to benefit Children's Miracle Network. These proceeds were combined with legacy gifts that provide special funding for the Children's Hospital, including a gift from the estate of John and Norma Schaffer, which will be used to purchase a portable CT scan unit for the Pediatric Intensive Care Unit.
"We offer our sincere gratitude to our loyal donors throughout central Pennsylvania and to the entire Children's Miracle Network team, both on camera and behind the scenes, who made this year-end celebration possible," said Wendy Nagle, director of Children's Miracle Network at Penn State Hershey. "We all share the honor of knowing that together we are making Miracles Happen for the kids at Penn State Hershey Children's Hospital."
If you're having trouble accessing this content, or would like it in another format, please email Penn State Health Marketing & Communications.