Drop Your Drawers celebrates life-changing weight loss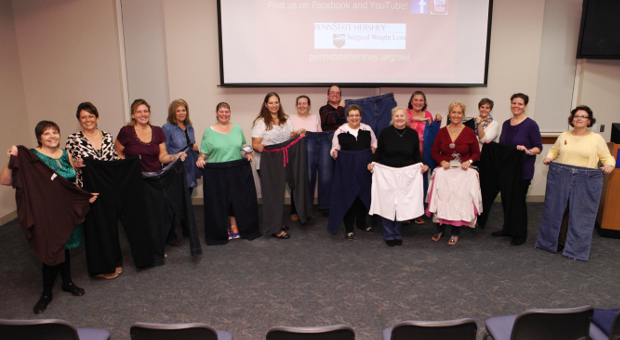 Penn State Hershey Surgical Weight Loss recently held its annual Fall Social and Drop Your Drawers event. Patients and guests enjoyed an evening celebrating the life-changing outcomes that surgical weight loss procedures can help to facilitate. Each year at the event, post-op surgical weight loss patients parade in pre-surgery clothing and reveal their new-found healthy bodies by "dropping their drawers."
Highlights of this year's event included:
Fifteen participants dropped their drawers showing off a total of 1,931 pounds of weight loss.
Two participants had weight-loss surgery this summer; one lost 45.5 pounds since July and another lost 54 pounds since August.
A duodenal switch (a new procedure) patient participated with a 169-pound weight loss.
A heart transplant patient participated with a 165-pound weight loss.
A married couple who had their surgery three weeks apart participated with a combined weight loss of 202 pounds.
One participant journaled her weight loss through photos , holding up a sign for each month with her weight, losing 130 pounds to date.
If you're having trouble accessing this content, or would like it in another format, please email Penn State Health Marketing & Communications.