St. Joseph officially welcomed into Penn State Health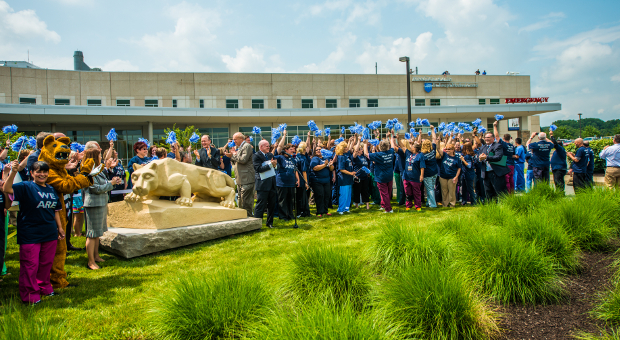 St. Joseph Regional Health Network is now Penn State Health St. Joseph. Signage bearing the new name was unveiled at a celebration today in Bern Township, Berks County. The event included the unveiling of a Penn State icon: a Nittany Lion statue that is now a fixture on the St. Joseph campus.
"As a member of Penn State Health we embolden St. Joseph's spirit of innovation while honoring the legacy of care we have so compassionately nurtured over 143 years," said John R. Morahan, president and CEO of Penn State Health St. Joseph. "We also gain the scale, resources, clinical investment and regional commitment that will be critical to continuing our proactive response to the convergence of legislation, technology, regulation and consumerism that is changing healthcare."
Today's celebration marked the evolution of a partnership that began five years ago when the Milton S. Hershey Medical Center and St. Joseph Medical Center first began collaborating to provide specialty care for the residents of Berks County.
"On behalf of Penn State Health, and the 10,000 faculty and staff at Penn State Hershey, we look forward to working with you to honor the history and legacy of St. Joseph, and to delivering compassionate, quality care to the residents of Berks County," said Dr. A. Craig Hillemeier, dean of Penn State College of Medicine, CEO of Penn State Health, and Penn State's senior vice president for health affairs.
EDITORS: High-resolution, raw footage from the event at Penn State Health St. Joseph can be viewed and downloaded here.
Also, view this photo gallery of high-resolution downloadable images.
Following remarks from several speakers, Morahan invited attendees to gather around the covered statue. As it was unveiled, Perry Focht, director of nutrition and environmental services at St. Joseph and a Penn State alum, led the crowd in the "We are…Penn State!" cheer. Also, a banner was pulled away to reveal the new Penn State Health St. Joseph sign on the Bern Township facility.
After today's event, the Nittany Lion toured the hospital, where he was welcomed by staff and patients who posed for photos with the mascot.
"We anticipate many promising opportunities for Penn State Health St. Joseph and Penn State Berks to work together in complementing and supporting our respective missions, as well as creating synergies that can enable us to better serve the citizens of the Greater Reading and Berks communities," said R. Keith Hillkirk, chancellor of Penn State Berks. He noted several areas of potential collaboration, including research and student internships.
Penn State Health and Catholic Health Initiatives recently completed the transfer of ownership of St. Joseph Regional Health Network to Penn State Health. The acquisition builds on the existing relationship between the two organizations and will enable them to more comprehensively coordinate the care of patients in the Berks region, enhance access to services, manage the cost of care and improve population health. It will provide increased and coordinated access to specialty care services and advanced therapies for patients, including clinical trials.
Read more: St. Joseph and Penn State Health union viewed as beneficial to community (Penn State Medicine)
If you're having trouble accessing this content, or would like it in another format, please email Penn State Health Marketing & Communications.