PRO Wellness Center, Highmark Foundation team up to provide health screenings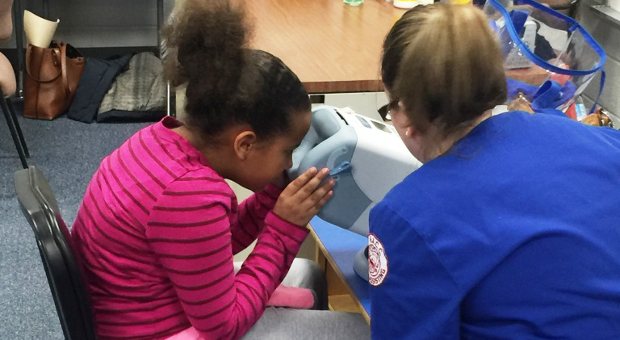 Nurses from Penn State Hershey Medical Center are teaming up with the Steelton-Highspire School District's nursing staff to conduct vision, hearing, scoliosis, height and weight screenings for students in grades 1 through 12. The goal is to expedite Department of Health-mandated school health screenings. Steelton-Highspire was chosen for health screening assistance based on location and 100 percent participation in the federal free and reduced price meals program. Screenings were conducted on Jan. 19-20 and will continue into early February.
"We are actively seeking to improve school health," said Donna Kephart, director of outreach for the Penn State Hershey PRO Wellness Center. "One of the ways we can do that is to assist school nurses with this effort."
In a typical school year, it could take months to conduct health screenings of the entire student body. This initiative spares the nurses' precious time that they can now spend helping students.
"Wellness screenings can identify health risks and cause you to take proper preventative action," said Yvonne Cook, president of the Highmark Foundation. "It's important we get the results in the hands of parents in a timely manner so that they can address any needs their child may have."
The project is being conducted through the Penn State Hershey PRO Wellness Center with funding from the Highmark Foundation. Steelton-Highspire is the latest central or western school district that the PRO Wellness Center has partnered with a community hospital to expedite the health screenings.
If you're having trouble accessing this content, or would like it in another format, please email Penn State Health Marketing & Communications.