Patients experience THON through Children's Hospital party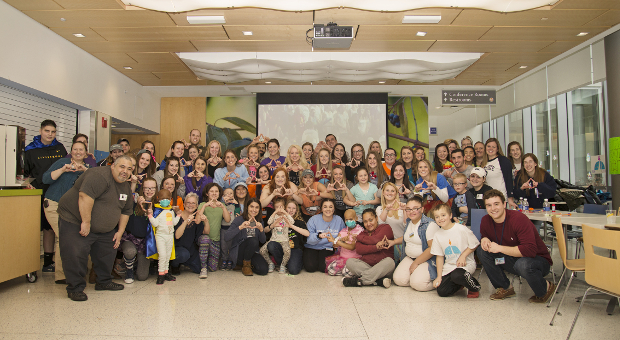 An event on Feb. 21 brought the excitement of Penn State IFC/Panhellenic Dance Marathon (THON) to Penn State Hershey Children's Hospital. The THON Reveal Party in the Tree House Café coincided with the final moments of the 46-hour dance marathon. Those moments included the final "reveal" that the latest effort had raised $9.8 million for Four Diamonds, whose mission is to conquer childhood cancer. THON is the largest student-run philanthropy in the world.
The party included a live video stream of THON on a big screen for those in attendance, who included children and their families as well as Penn State nursing students, Penn State Hershey clinicians, researchers and hospital staff members.
The THON Reveal Party was one of two events held over the weekend at the Children's Hospital to connect the student dancers at THON with the patients and families in Hershey who benefit from their emotional and financial support throughout the year. On Thursday, three teams of Hope Express runners took off for a 24-hour journey to deliver inspirational cards and letters from Children's Hospital patients to the THON dancers.
If you're having trouble accessing this content, or would like it in another format, please email Penn State Health Marketing & Communications.