Four-legged Child Life employee on the job at Children's Hospital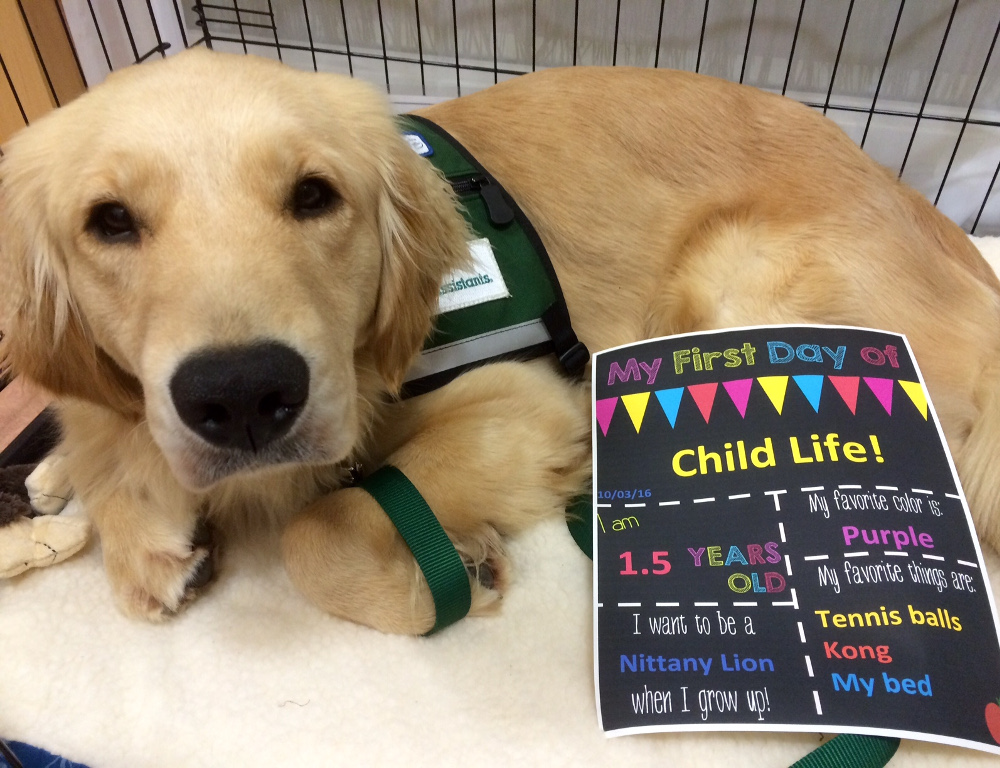 The newest Child Life employee at Penn State Health Children's Hospital loves playing with children – and chasing a tennis ball.
Kaia, a golden retriever, is the first full-time facility dog at a children's hospital in Pennsylvania. Nationwide, approximately 30 children's hospitals have facility dogs.
Though Kaia will be a presence throughout the hospital, she will help mostly with radiology and radiation oncology. She will provide assistance in the patient setting, such as demonstrating to a child how to be still on a CT scan table. Kaia will work for 40 hours per week, with time allowed for downtime, naps and walks.
She will work directly with her primary handler, Ashley Kane, manager of the Child Life Program, and secondary handler Alicia Cesare, a Child Life specialist in pediatric radiology. Kaia lives with Kane and goes home with her at the end of each day.
"Kaia can help to lower anxiety and bring smiles, laughter and positive energy to an otherwise potentially frightening time," Kane said. "Through Kaia's work, we hope to enhance the overall experience of our pediatric patients and their families, as well as the staff and providers who care for those patients."
Kane was matched with Kaia at a special training session run by Canine Assistants in Georgia, where Kaia was professionally trained for the first 18 months of her life. Earlier this month, Kane and Cesare went through training camp to learn about a special bond-based teaching method for Kaia.
Canine Assistants covers the cost of training the dog before placement. Spirit Halloween, through its "Spirit of Children" initiative, is currently covering other expenses – such as the dog's food, bedding, toys and veterinary care.
The facility dog program does not replace the Pet Therapy Program, which remains an important presence in the Children's Hospital and the adult hospital. Pet therapy dogs and the facility dog have different training and support patients in different ways: the facility dog provides very specific interventions for patients, while pet therapy dogs visit designated units to be a calming influence for patients.
Learn more about Kaia and her role at the Children's Hospital here.
If you're having trouble accessing this content, or would like it in another format, please email Penn State Health Marketing & Communications.