Penn State Health and Highmark Health join forces to create a high-value, community-based health care network for members and patients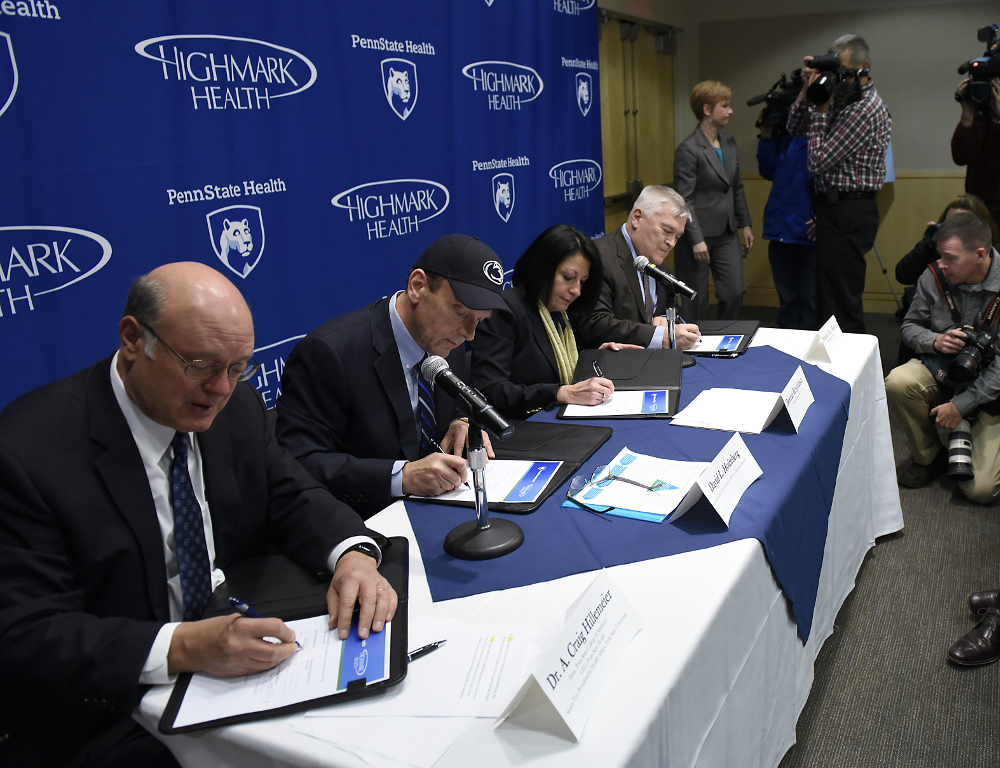 Two of Pennsylvania's health care leaders come together to invest $1 billion in the future of health care in central Pennsylvania
Hershey, Pa. (December 15, 2017) – Two of Pennsylvania's leading health organizations, Penn State Health and Highmark Health, today announced plans for an innovative strategic partnership aimed at securing the future of health care in the region.
At the heart of the new strategic partnership are plans for a collective investment by Penn State Health and Highmark Health of more than $1 billion toward the development of a high-value, community-based health care network designed to keep care local and enhance collaboration with community physicians. The community network will be anchored by the advanced care provided by the Milton S. Hershey Medical Center, the region's only university teaching and research hospital.
"This exciting partnership is a commitment by our organizations to ensure that health care delivery in our region remains patient-focused, enhances overall health and wellness and creates increased opportunity for collaboration with community physicians," said Dr. A. Craig Hillemeier, dean, Penn State College of Medicine; chief executive officer, Penn State Health; and senior vice president for Health Affairs, Penn State. "Penn State Health will offer more primary, specialty and acute care locations across central Pennsylvania so that our friends, families and neighbors will have easier access to our care, right in the communities where they live. Our two organizations share the belief that people facing life-changing diagnoses should be able to get the care they need as close to home as possible."
The new Penn State Health and Highmark Health strategic partnership is focused on improving access, quality and affordability of health care close to home for people across south central Pennsylvania, while creating new opportunities for medical education and research. Core to that vision is the creation of a community network to support the population health and local needs of patients and members. This value-based approach will reimburse health care providers for the quality of care they provide rather than for the volume of services, as part of a strategy to reform how quality health care is delivered and paid for.

"This is a game changer," said David Holmberg, president and CEO, Highmark Health. "We want to collaborate with forward-thinking partners who, like us, are committed to creating a positive health care experience for members and patients. Penn State Health shares this vision and, together, we're going to lead the change for a better model of health care in the heart of Pennsylvania."
Highmark Health will join Penn State as a member of Penn State Health, with a minority interest, that will provide up to three seats on the 15-member Board of Directors.
Both organizations received respective board approvals this week to move ahead with this new strategic partnership.
Goals of the strategic partnership include:
Development of a value-based, community care network, including new facilities, to ensure patients and members in central and southcentral Pennsylvania are in close proximity to needed primary care, specialty care and appropriate acute care hospital settings.
Reinforce the role of the Milton S. Hershey Medical Center and Penn State Health Children's Hospital as the premier destinations for advanced care in the region for adults and children, with the goal of ensuring no patient needs to leave the region for complex care.
Development of advanced population health management capabilities, analytics and care models to more effectively manage chronic conditions, enhance health and wellness, deliver improved outcomes and a lower total cost of care for patients, members and the community.
Exploration and development of innovative, patient-focused co-branded health care insurance products.
Expansion of support for Penn State College of Medicine through funding for medical and health sciences education, and advanced research.
"We are committed to improving health and access to care in the communities we serve across Pennsylvania," said Deborah Rice-Johnson, president, Highmark Inc. "Collaborating with high-value providers such as Penn State Health is one more way that we are helping to ensure that our members will continue to have access to affordable, high-quality care. The bold strategy that we are embarking on in the region is focused on getting health care right for our members."
Independent community physicians will be a foundational part of the Penn State Health and Highmark Health approach to community-based care. For example, in Berks County, Penn State Health St. Joseph exemplifies what it means to keep care in local communities by expanding local access to primary and specialty health care services.
"We will continue our valued partnerships with independent private practice physicians to develop a community-based provider network," said Dr. William M. Bird, senior vice president for Penn State Health. "Our goal is to keep care in the community while enhancing local access to specialty care. This partnership will help us do just that."
The strategic partnership does not affect patients' care or insurance coverage. Under the terms, Penn State Health remains free to contract with other health care insurance companies, now and in the future. Penn State Health's existing health insurance agreements will remain in place. Likewise, Highmark Health's payer arm, Highmark Inc., will be free to contract with other hospitals and health systems, and its existing agreements with other health care providers in the region will remain unchanged.
EDITORS: High-resolution photos, logos and video (b-roll) about this announcement can be downloaded here: https://psu.app.box.com/v/PennStateHealth-HighmarkHealth
If you're having trouble accessing this content, or would like it in another format, please email Penn State Health Marketing & Communications.