Highmark Health grants $25 million to Penn State Health to advance cancer research and innovative therapies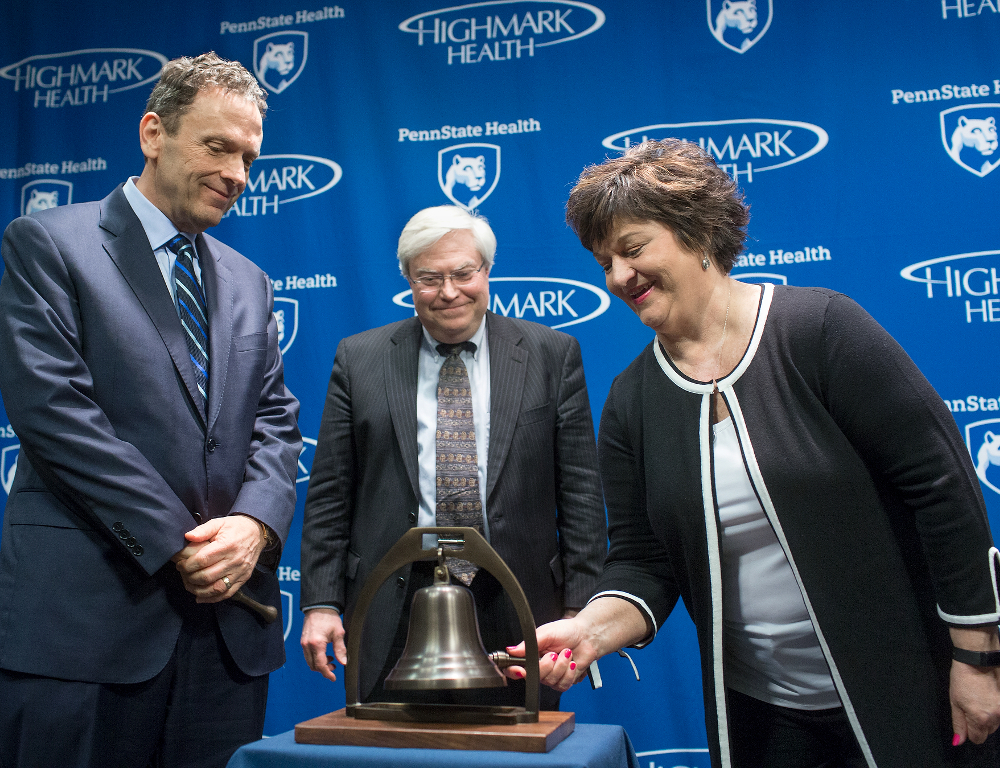 With a commitment to offering exceptional care close to home for those in central Pennsylvania, Highmark Health announced a $25 million grant to support specialized cancer care and innovative research at Penn State Cancer Institute.
The grant, announced in April 2018, will provide support for development of new cancer treatment drugs, clinical trials to test promising new therapies and recruitment of leading cancer researchers in key disciplines.
In December 2017, Highmark Health and Penn State Health announced a long-term partnership that includes a $1 billion joint investment to develop a high-value, community-based health care network designed to expand local access to primary and specialty care and enhance collaboration with community physicians.
"As we said last year, we believe very strongly in the team at Penn State and the clinical expertise at the Milton S. Hershey Medical Center," said David Holmberg, president and CEO, Highmark Health. "Today, through this $25 million investment in Penn State Cancer Institute, we are affirming our commitment to a collaboration between the two strongest health care brands in Pennsylvania who share a passion for providing our members and patients with unsurpassed service and quality."
Highmark's latest $25 million grant will allow the Cancer Institute to make immediate investments in research operations and transformative science. An area of emphasis will be developing research laboratory services through new shared scientific resources, which will be available to all Cancer Institute members. Examples include an Absorption, Distribution, Metabolism and Excretion laboratory—where the effects of potential new drugs can be studied—and a developmental therapeutics laboratory to develop and manage Phase 1 clinical trials.
"Penn State College of Medicine has a rich history in cancer research, from our work decades ago that contributed to the development of the world's first cervical cancer vaccine to the many vital studies underway today that are helping us to understand how different cancers form, spread and can be effectively prevented and treated," said Dr. A. Craig Hillemeier, dean, Penn State College of Medicine; chief executive officer, Penn State Health; and senior vice president for health affairs, Penn State. "This grant is a demonstration of Highmark's confidence in our ability to continue to advance discoveries that improve the lives of people with cancer."
Based on the Penn State Health Milton S. Hershey Medical Center campus, Penn State Cancer Institute is the region's leading cancer care provider. Clinical services are offered in Hershey and at two other locations in central Pennsylvania—State College, Pa., through a partnership with Mount Nittany Health, and Reading, Pa., at Penn State Health St. Joseph. With a research presence in Hershey and at the University Park campus, the Cancer Institute is the centerpiece of Penn State's commitment to discoveries that will lead to the prevention, treatment and cures for cancer.
"Penn State is among the leading research universities in the world, and we are committed to using that work to improve the lives of people across the region who are suffering from chronic and life-threatening conditions," said Penn State President Eric Barron. "We are very grateful that Highmark is partnering with us in the fight to conquer cancer and to invest in the future of health care."
One of Penn State Cancer Institute's greatest needs is recruiting highly trained personnel to assist in project management and protocol development for translational research and clinical trials. The grant funds also will support clinical researchers developing investigator-initiated trials, enabling "Highmark Scholars" to bring their research ideas into the clinic. This will allow people with cancer in central Pennsylvania, including Highmark members, the opportunity to take part in original clinical trials without traveling far from home.
"This grant will help us continue to pursue the best scientists in the world to be part of the Penn State Cancer Institute team," said Dr. Raymond J. Hohl, director, Penn State Cancer Institute. "This means we improve our knowledge about the disease, and that ultimately benefits our patients."
View accessible video with audio description and captioning here
The grant announcement follows other recent developments that demonstrate Penn State Health's leadership in providing comprehensive cancer care in central Pennsylvania. On April 4, 2018, Penn State Health St. Joseph announced the expansion of its Medical Office Building in Bern Township to incorporate a new linear accelerator to treat solid tumor cancers. On April 2, Penn State Health announced development of a new Department of Radiation Oncology at Penn State College of Medicine, a move also designed to enhance recruitment of the best minds in cancer treatment and research, and trainees that will become tomorrow's cancer care providers.
"I am so pleased that Highmark is part of this innovative provider-payor collaboration, which is going to change and improve lives," said Deborah Rice-Johnson, president, Highmark Inc. "This type of financial commitment also provides significant stability for Penn State Cancer Institute and helps ensure that our members and everyone in the community will continue to have access to high-quality, affordable care."
Rice also said keeping cancer care for patients close to their home, families and support system can't be emphasized enough. She added that it is one of the great benefits of these types of provider partnerships that have resulted from the Highmark and Penn State collaboration.
If you're having trouble accessing this content, or would like it in another format, please email Penn State Health Marketing & Communications.