Penn State Health, College of Medicine team develops protocols for managing newborns exposed to mothers with COVID-19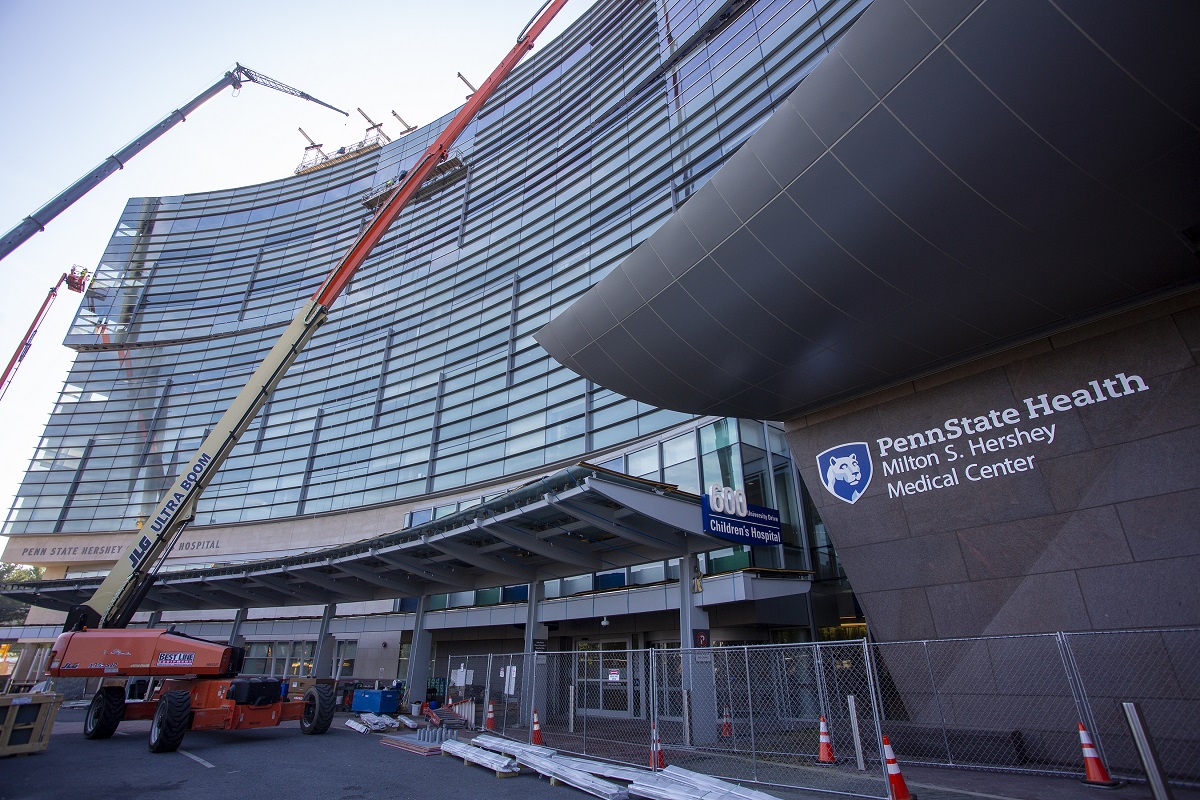 A team of faculty and clinical staff at Penn State Health Milton S. Hershey Medical Center and Penn State College of Medicine developed a series of guidelines for managing newborns exposed to mothers with confirmed or suspected COVID-19. Their goal was to keep patients and staff safe from COVID-19 while continuing to deliver high quality care.
The effort was spearheaded by Dr. Shaili Amatya, a neonatologist at Penn State Health Children's Hospital, which was ranked among the top hospitals in the nation for Neonatology by U.S. News and World Report. The idea came about after Dr. Jeffrey Kaiser, Chief of the Division of Neonatal-Perinatal Medicine, began to plan how the Neonatal Intensive Care Unit (NICU) at the Children's Hospital would respond to the pandemic in late March.
The result was a series of recommendations for managing newborns exposed to mothers with confirmed or suspected COVID-19, from before delivery through discharge and follow-up visits. Additionally, recommendations about the care of mothers with confirmed or suspected COVID-19 were developed. These guidelines were published online in the Journal of Perinatology in May.
"Our primary goal with every decision we made was to keep our staff, mothers and newborns safe during the pandemic," Amatya said. "The recommendations we've provided could be used by other hospitals around the country who may not have the expertise, resources or time to plan how they will treat and care for mothers and their newborns when a surge of COVID-19 cases happens."
To accomplish this task, 25 staff members from the Department of Pediatrics, NICU, Pediatric Infectious Diseases, Academic General Pediatrics, Pediatric Hospital Medicine, Pediatric Critical Care Medicine and the Department of Obstetrics and Gynecology collaborated to search and review existing published data and information from medical organizations.
"There were a lot of case studies, recommendations from organizations like the American College of Obstetricians and Gynecologists and the American Academy of Pediatrics, as well as guidelines set by the Centers for Disease Control and Prevention and the World Health Organization," Kaiser said. "We formed an interdisciplinary team to evaluate the information out there and develop a triage algorithm and set of guidelines for caring for mothers and their newborns."
The team developed guidelines beginning with universal COVID-19 testing for all mothers in labor and delivery. They also made decisions on how to properly isolate and care for mothers who test positive for COVID-19, testing newborns for COVID-19, offering respiratory support for newborns who are suspected or confirmed positive with COVID-19 and guidelines for breastfeeding and visitation.
Amatya and her colleagues also developed a plan for what happens after babies are discharged from the NICU. General pediatricians send families home with weighing scales and phototherapy blankets while educating parents on how telehealth can be used for safe, routine follow-up visits to check their newborn's progress.
Ultimately, Amatya says that her colleagues around the country have been grateful to have a starting point for developing plans at their own hospitals.
"The evidence we compiled in this paper has been useful for our planning at Penn State Health Children's Hospital and is a good foundation for us to build upon as more data from COVID-19 is collected in the coming months," Amatya said. "We ultimately hope that other institutions can use our findings and recommendations to keep their patients and staff safe during the pandemic."
Penn State Health and Penn State College of Medicine staff can listen to an episode of Coronavirus Q&A titled, "Caring for mothers and newborns amid COVID-19," where Amatya and Dr. Jaimie Maines discuss the paper here.
Read the full paper in the Journal of Perinatology here.
This article was originally published in the Summer 2020 issue of Lancaster Physician, the official publication of the Lancaster City & County Medical Society.
If you're having trouble accessing this content, or would like it in another format, please email Penn State Health Marketing & Communications.