Penn State Health celebrates topping off ceremony at new Lancaster County hospital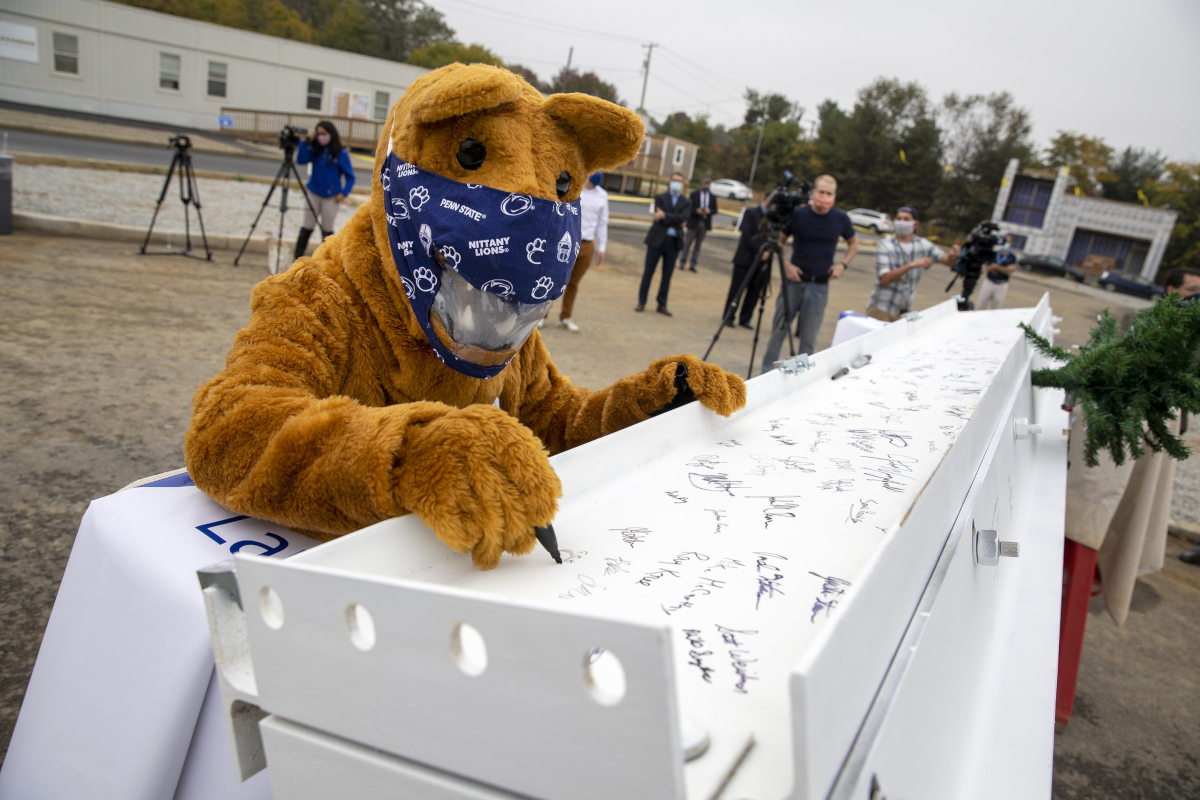 Penn State Health today celebrated the 'topping off' of its newest acute care hospital, Penn State Health Lancaster Medical Center. The future five-story, 341,000-square-foot facility is set to open in 2022.
A 'topping-off' ceremony is a long-standing construction tradition that marks the completion of a building's structure. Many such ceremonies include a tree, said to be due to the Native American belief that no building should be taller than a tree. Today's topping off ceremony included in-person and virtual speakers from Penn State Health, Penn State University, Highmark Health and members of state and local government. After remarks, the final beam for Lancaster Medical Center — which included a pine tree, a Penn State Health banner and the U.S. flag donated by East Hempfield Township — was hoisted into place.
Lancaster Medical Center, located near the intersection of State Road and Harrisburg Pike in East Hempfield Township, will give residents in the surrounding region enhanced access to Penn State Health's expertise and specialty services without having to make the drive to Hershey.
"It's been almost three years since we stood together with Highmark Health and promised the communities in central Pennsylvania that we would create a regional health network that will bring world-class primary, specialty and acute care to where it's most convenient for them," said Steve Massini, CEO of Penn State Health. "The topping off of Lancaster Medical Center signifies one of the significant strides we've made toward that promise."
The facility will feature 129 private inpatient beds, with the capacity to expand by 24 additional beds, an emergency department, various specialty inpatient services, an imaging lab, complete medical and surgical capabilities and an attached medical office building for outpatient services.
"In just a few years, Highmark and Penn State Health have made significant progress in delivering upon our joint promise of improving health care quality, access and affordability for central Pennsylvanians," said Deborah Rice-Johnson, president of Highmark Inc. "Together, we have invested millions in cancer research, partnered with thousands of community physicians to share best practices, developed customized health insurance solutions in tandem with employers, and created new healthcare access points. Today's construction milestone at Lancaster Medical Center is another proof point for the community–one that brings world-class care closer to home and creates family-sustaining career opportunities."
The project will bring hundreds of well-paying jobs to the community, both during construction and for hospital operations. The construction process is expected to bring about 600 jobs; and once Lancaster Medical Center is operational, about 900 health care jobs. Penn State Health is partnering with
Oak Tree Development Group
,
Barton Malow
Alexander
and
HKS Architects
on this project.
In addition to Lancaster Medical Center, Penn State Health Lime Spring Outpatient Center and a number of primary care practices in the region, Penn State Health also recently announced plans for a new outpatient center. Located at the former Toys "R" Us retail store at the intersection of Harrisburg Pike and Route 30, the 46,000-square-foot facility will house a variety of medical and surgical specialties.
If you're having trouble accessing this content, or would like it in another format, please email Penn State Health Marketing & Communications.