First look: Pediatric nurse gives unforgettable introduction to family affected by COVID-19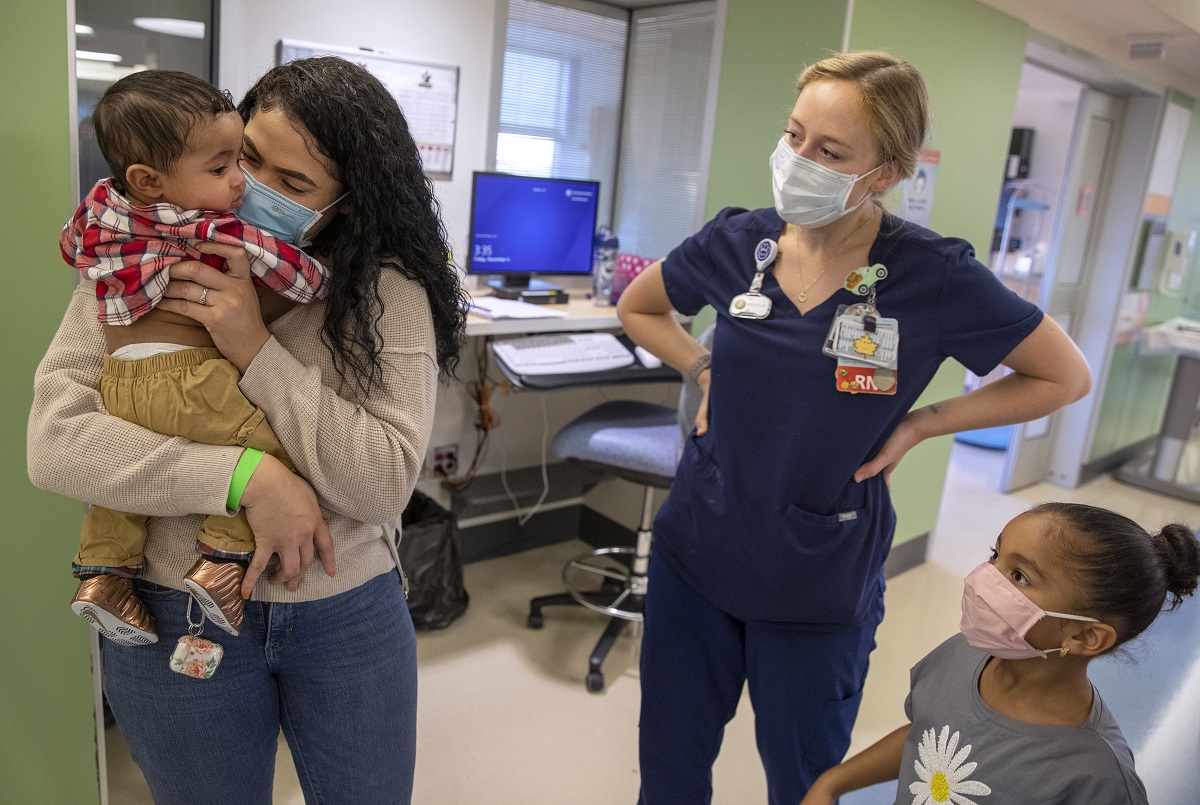 Imagine the stress of anticipating labor and delivery in the early days of the COVID-19 lockdown and then receiving an unexpected positive result for the virus, just as contractions begin.
Lebanon resident Terianny Vicente faced exactly that situation in March – and suddenly her birth plan looked a lot different, starting with the fact that her partner, Carlos Medina, wouldn't be allowed to accompany her to the hospital. An ambulance fetched her instead.
"I was scared, and I just didn't know what to do, honestly," said Vicente, recalling the tearful scene in her driveway as she bid Medina and his mother goodbye.
She labored and delivered in the Surgical Intensive Care Unit at Penn State Health Milton S. Hershey Medical Center rather than the maternity ward, but she was thankful for the nurses and Dr. Amber O'Leary, who didn't leave her side.
The hardest part was yet to come – right after Calvin made his entrance at 1 a.m. on March 31, Vicente caught only a quick glimpse before he was taken to the Pediatric Intermediate Care Unit (PIMCU).
"They told me that since the virus was so new, they weren't sure what to expect and they wanted to do what was safest for Calvin," said Vicente, who was likely infected by a co-worker and had only mild symptoms of a cold. "I felt so sad, but I tried to be strong. I knew it was hard on everyone, including the medical staff. It was heart wrenching for them to separate us."
Alone and in pain in the wee hours of the morning, Vicente remembers waking up and crying. Nothing was right, and she was now anticipating a 14-day quarantine between her aching arms and her newborn son.
Making a difference
Early that morning, nurse Jo Rosenberger was back at work after a week off and feeling nervous about the growing pandemic, especially when she was given charge of a 7-hour-old baby whose mom had COVID.
But from the moment she locked eyes with Calvin, she was in love – and determined to meet his every need as if he were her own.
"I could not imagine how his mother must feel, not being with him for the first day of his life," Rosenberger said.
That's when she decided to get creative. She enlisted the aid of Child Life Specialist Megan Blashford to help her FaceTime with Vicente.
"I told Mom that I was going to do my best to make her feel like she was right there in the room," Rosenberger said. "I held Calvin and turned him toward the camera so she could stare at him, and I narrated everything I did for him. There were lots of tears shed, for sure."
Unforgettable firsts
Rosenberger was also the first to introduce Calvin to his daddy via FaceTime. "I unswaddled Calvin and showed every little piece of him to his dad," she said. "I showed him the dimple on his cheek and the little birthmark on his leg. His dad was looking at him so adoringly, and I could see how much he loved him."
Other family members also got a virtual introduction to Calvin, including his big sister, 5-year-old Angeliany.
Knowing that there would be no pictures with family to document Calvin's first days of life, Rosenberger – who is also a professional photographer – offered to do a newborn photo shoot.
With Vicente watching remotely, Rosenberger photographed the little bundle with props she brought along, such as a basket and blankets. Everything had to be washed and rewashed, but the effort was worth it, she said.
"I was sweating bullets in my PPE (personal protective equipment) to get the shots I wanted," Rosenberger recalled with a chuckle. "It was a surreal combination of my two careers and my two passions coming together – and definitely a highlight of both careers and of life in general."
Comforting care
Any worries that Vicente had about her baby's care vanished as soon as she observed Rosenberger with him, she said. "I could feel how caring she was and that gave me such peace," Vicente said. "I was just praying it would be over soon and I'd have my baby in my arms, but I am very thankful for the team that took care of both of us."
In close communication with a larger team that included labor and delivery nurses, infectious disease doctors and others, Rosenberger coordinated newborn testing, did a COVID swab on Calvin and helped coordinate delivery of newborn education for Vicente.
"It was almost like I was caring for two patients at once, only across the hospital from one another," she said. "I wanted to do everything I could to make the situation better."
Since Calvin's COVID test was negative and the desire to foster the mother-baby bond was strong, plans changed and Calvin was allowed to go home to his parents three days after his birth. With joy, Rosenberger wheeled him through the hospital to meet them in person.
A story of gratitude
One day when he's older, Vicente said she will tell Calvin all about the strange and difficult time in which he was born. "I'll tell him we were both troopers for going through what we went through, and then I'll tell him there was a very special nurse who made all the difference," she said.
For that difference, Rosenberger was honored with a Daisy Award for Extraordinary Nurses, a national award that recognizes nurses for their clinical skills and especially the compassion they provide.
"Jo can see the impact of such a challenging time and still put humanity at the center of her nursing care," said her manager, Amanda Kells, who nominated her. "She used every resource at her disposal to provide the best experience possible for this family."
If you're having trouble accessing this content, or would like it in another format, please email Penn State Health Marketing & Communications.