A change of holiday heart: College of Medicine staffer gets unexpected surprise
By Carolyn Kimmel
By his own admission, Dwayne Morris was limping halfheartedly into this year's holiday season—and then he saw some clips from the holiday classic "It's a Wonderful Life," shared by Dr. Eileen Moser during a Penn State College of Medicine staff meeting.
The message—that true purpose in life comes not from achieving one's own greatness but from greatly impacting the lives of others—hit home with the education program specialist in Medical Education.
"The movie's sentiment washed over me like a tidal wave," said Morris, who thought immediately of a situation in his own life that he often felt had been thrust upon him, sometimes at the expense of pursuing his own path.
Suddenly, he realized that was the most important path after all—and one he is most grateful to be walking—as he pours love and stability into the lives of two granddaughters who live with him.
"When someone genuinely listens to you and cares about you, it's amazing the boost that can give you," Morris said. His mother, who passed away several years ago, modeled that for him in ways he realized he hadn't quite grasped before. "I guess I rediscovered my own gratitude, and I know beyond a shadow of a doubt that I'm right where I belong," he said.
Buoyed by renewed appreciation for his mother's impact and his cornerstone faith in the one whose birth is celebrated this month, Morris felt suddenly light and filled with Christmas cheer.
This story doesn't end there, though. Morris shared the rest of the story in an email with some colleagues:
"Fast forward a few hours after that staff meeting – my two granddaughters, Tiffani and Hailey, asked if they could put up our Christmas tree.  I responded 'Yes,' only for them to discover that while we were recently purging our house, we must have accidentally tossed our boxed Christmas tree into the rented dumpster.  Keenly aware of the disappointment in their eyes, I dug my car out of the snow and dashed off to Walmart, looking for an artificial, white Christmas tree that would honor their request, shouted from the doorstep in unison as I backed out of the driveway, 'Please get a white one!'
"Walmart had exactly one white, boxed Christmas tree left, so I grabbed it and quickly checked out. Dodging COVID-19 is exhausting.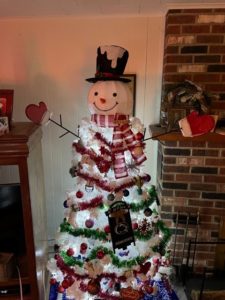 "When Tiffani was three years old and it was just the two of us, my mother blessedly moved into our home and lived with us for six years, before she was forced into a nearby nursing home due to health reasons. Tiffani and I would visit my mother frequently, until she passed away several years ago. When I say Tiffani misses her Grandma Sandy, it's the understatement of all time. Tiffani can't see a snowman without thinking of my mother, who absolutely loved snowmen. My mother had clothes, dishes, blankets and numerous other household items with snowmen displayed on them. Tiffani and I inherited much of this paraphernalia, which she treasures to this day.
"I plopped down the Christmas tree box and said 'I'm going back to work, and I want to be surprised, so don't show me the tree until it's finished.'  An hour later the girls led me into the living room, insisting I keep my eyes closed.  When I opened them, I suddenly realized what I had unknowingly grabbed at Walmart…"
Yes, it is a wonderful life, Morris said.
If you're having trouble accessing this content, or would like it in another format, please email Penn State Health Marketing & Communications.