Behind the Scenes on the Front Lines: Laboratories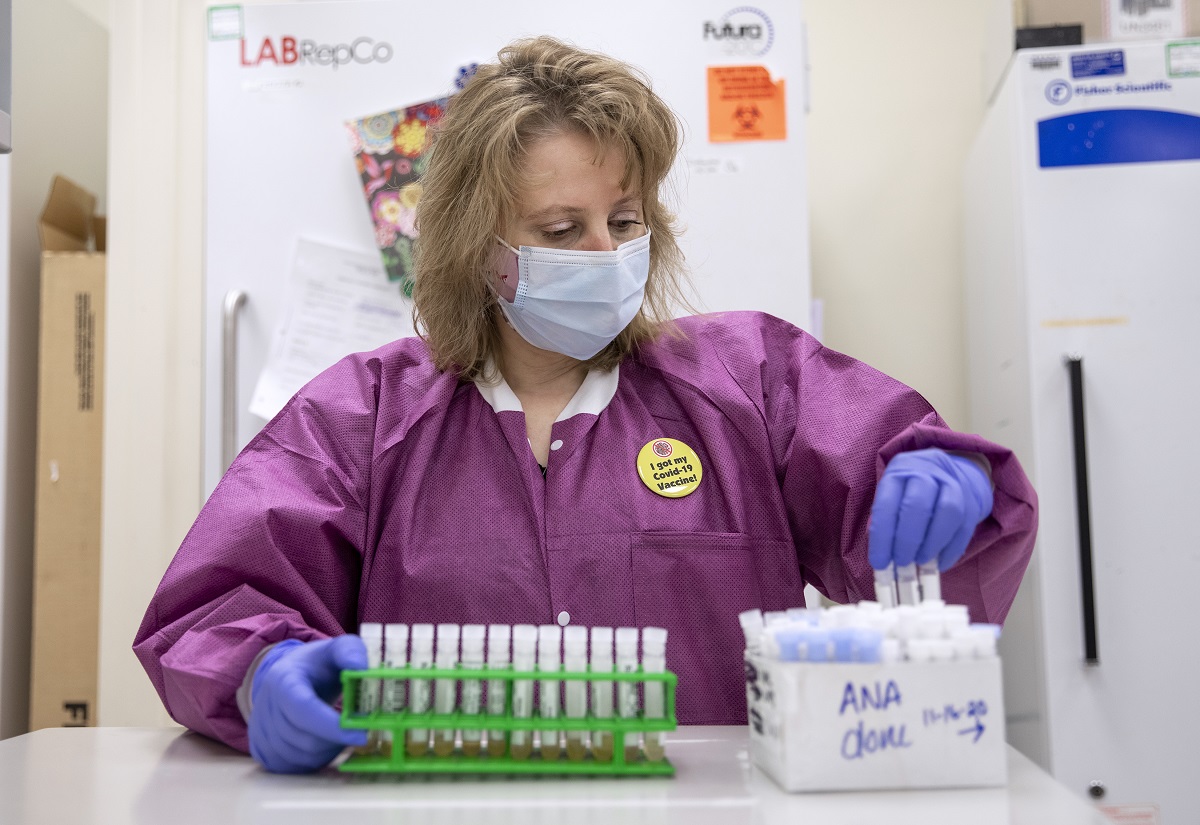 They are front-line workers collecting blood samples, problem-solvers addressing short supplies and heightened demand, and they are historians, providing data during an unprecedented health event.
And that's just for COVID-19.
Beyond that, the staff at Penn State Health laboratories are processing tissue samples and blood tests, giving doctors information they need to make correct clinical diagnoses and undertaking pioneering research that will lead to better health care in the future.
"Medical technologists are extremely skilled," said Dr. Melissa George, interim chair of the Department of Pathology at Penn State Health Milton S. Hershey Medical Center. "They're here 24/7 – they even snowshoe to work if they have to. That's how dedicated they are."
The past 10 months have had a tremendous impact on testing volumes, duties and staffing levels, often leaving lab employees feeling drained and energized at the same moment.
In mid-March 2020, the Department of Pathology issued a call for help with COVID-19 testing to all its staff. Within 12 hours, more than 40 people had stepped up.
"I told my family, get used to not seeing me because I'll be at work," said Angie Spohn, senior technical specialist, who validated and wrote operating procedures and trained staff on the instruments for COVID-19 testing. "We've trained 20 extra people in a very short time. We all pulled together as a team, and I couldn't be prouder of us."
With seven platforms of testing equipment now running, the ability to test and get results faster is improving, said Dr. Wallace Greene, medical director of Virology at the Milton S. Hershey Medical Center. Some 300 COVID-19 tests are processed daily at the lab, he said, expressing thanks to community volunteers who have assembled more than 16,000 test kits.
Lab staff – who all hold varied professional degrees and certifications – also compile detailed spreadsheets of COVID-19 data to submit to the Pennsylvania Department of Health.
What has been the biggest challenge your department faced during COVID?
"The supply chain is short, which is why we need to have multiple platforms. If we can't get the testing supplies we need for one, we have others to fall back on." ~ Angie Spohn, senior technical specialist, Hershey Medical Center
What qualities best describe your co-workers?
"Laboratorians will credit themselves as being very resilient people. We respond to any type of situation that is presented to us. I have a great team here at PSH St. Joseph's Hospital. They rise to each and every challenge!" ~ Linda Gallagher, lab director, Penn State Health St Joseph Medical Center
What makes you proud of your department?
"Every day, a new challenge is thrown at us, yet we have overcome them and accomplished what we set out to do… COVID has changed us, but it can't take away my sense of pride and purpose, so I feel gratitude. And I feel blessed." ~ Kathy Dederer, lab technologist, Holy Spirit Medical Center
What do you want everyone at Penn State Health to know about your department?
"Reliable results take time. It's not as easy as putting a tube of blood on a machine. It's a very intricate process that requires precise skills." ~ Jeri Anderson, Virology Lab supervisor, Hershey Medical Center.
"We care about the patient! When we reject specimens, it is not to ruin someone's day. It's because we take pride in the quality of results that we report – so that quality patient care is guaranteed." ~ Kathy Dederer, lab technologist, Holy Spirit Medical Center
Read more about Penn State Health labs
If you're having trouble accessing this content, or would like it in another format, please email Penn State Health Marketing & Communications.