Penn State Health Lancaster Medical Center's interventional cardiology team provides seamless emergency care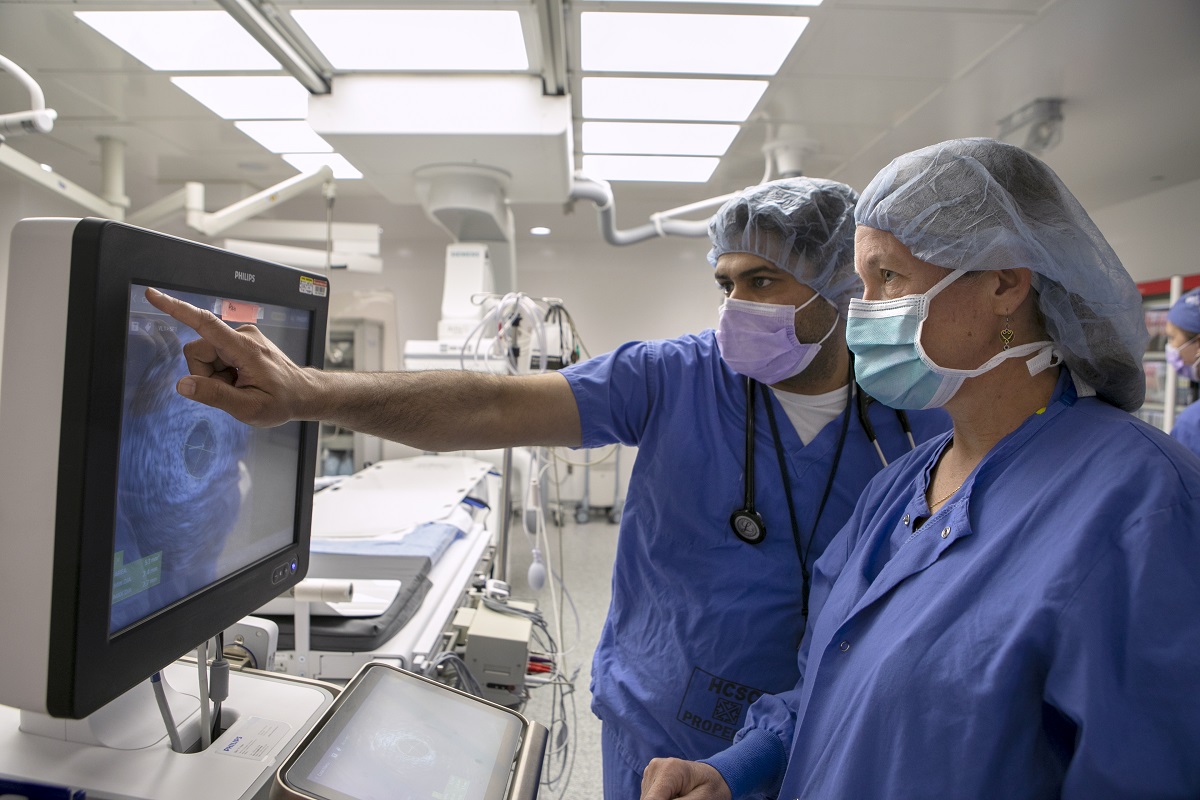 Don Farr believes he would not be alive if not for the efforts of the emergency medical technicians, emergency department personnel, and the highly skilled interventional cardiologists who treated him at Penn State Health Lancaster Medical Center after he suffered a heart attack and cardiac arrest in April.
"I most likely would have died if I had gone to any other hospital," said Farr, 65, of Mount Joy. "I not only had a heart attack, I went into cardiac arrest once I got to the emergency room."
Emergency department doctors had been in constant communication with the Life Lion EMS paramedics who treated Farr on the way to the hospital and were waiting for his arrival.
As an emergency team, led by Dr. Alex Siegal, worked to restart Farr's heart, a Penn State Health interventional cardiology team was mobilizing, having been activated upon receiving the results of the patient's EKG. Within minutes, Farr was moved to one of the hospital's cardiac catheterization laboratories, where doctors located a fully blocked artery and inserted a stent.
Dr. Patrick Fitzsimmons, an interventional cardiologist who treated Farr, said the rapid response of everyone involved and the experience of the catheterization lab team were key factors in saving Farr's life.
"Survival rates for someone who has both had a heart attack and suffered cardiac arrest are only about 10%," Fitzsimmons said. "It speaks to the work of everyone involved that this patient not only survived but walked out of the hospital just a few days after arrival."
He called the process of transporting patients to the hospital, having them treated in the emergency department, and getting them transferred to the catheterization lab "seamless," noting that the "door-to-balloon time" at Lancaster Medical Center  — the time it takes from when a patient enters the hospital to when percutaneous coronary intervention (PCI) is completed — is about 56 minutes. Current guidelines call for door-to-balloon times of 90 minutes or less.
Fitzsimmons also praised the state-of-the-art equipment in Lancaster Medical Center's three catheterization labs, including Impella heart pumps, which are tiny devices used to help maintain blood flow during high-risk PCIs.
Meanwhile, Farr, a retired union sheet metal worker, is following up with Fitzsimmons on his ongoing care and doing just fine at home. He said he experienced no negative effects from the nine minutes that his heart was stopped, crediting the care team for quickly administering oxygen to prevent further damage.
"It's like nothing ever happened," he said. "It's hard for me to comprehend. I had a heart attack and cardiac arrest on Saturday, and I ate lunch at home on Tuesday."
Farr has made some lifestyle changes to assure he stays in the best health possible, increasing his intake of fruits and vegetables and getting regular exercise. Meanwhile, he and his wife, Jane, are grateful for the expertise and experience of the Penn State Health professionals who got him to the hospital quickly and provided lifesaving treatment.
"I can't say enough about the care I got," Farr said. "Everybody was really on the ball, that's for sure."
This article was originally published in the Summer 2023 issue of Lancaster Physician magazine.
If you're having trouble accessing this content, or would like it in another format, please email Penn State Health Marketing & Communications.