Lights, camera, baby! Penn State Health Children's Hospital AngelEye cameras help parents keep watch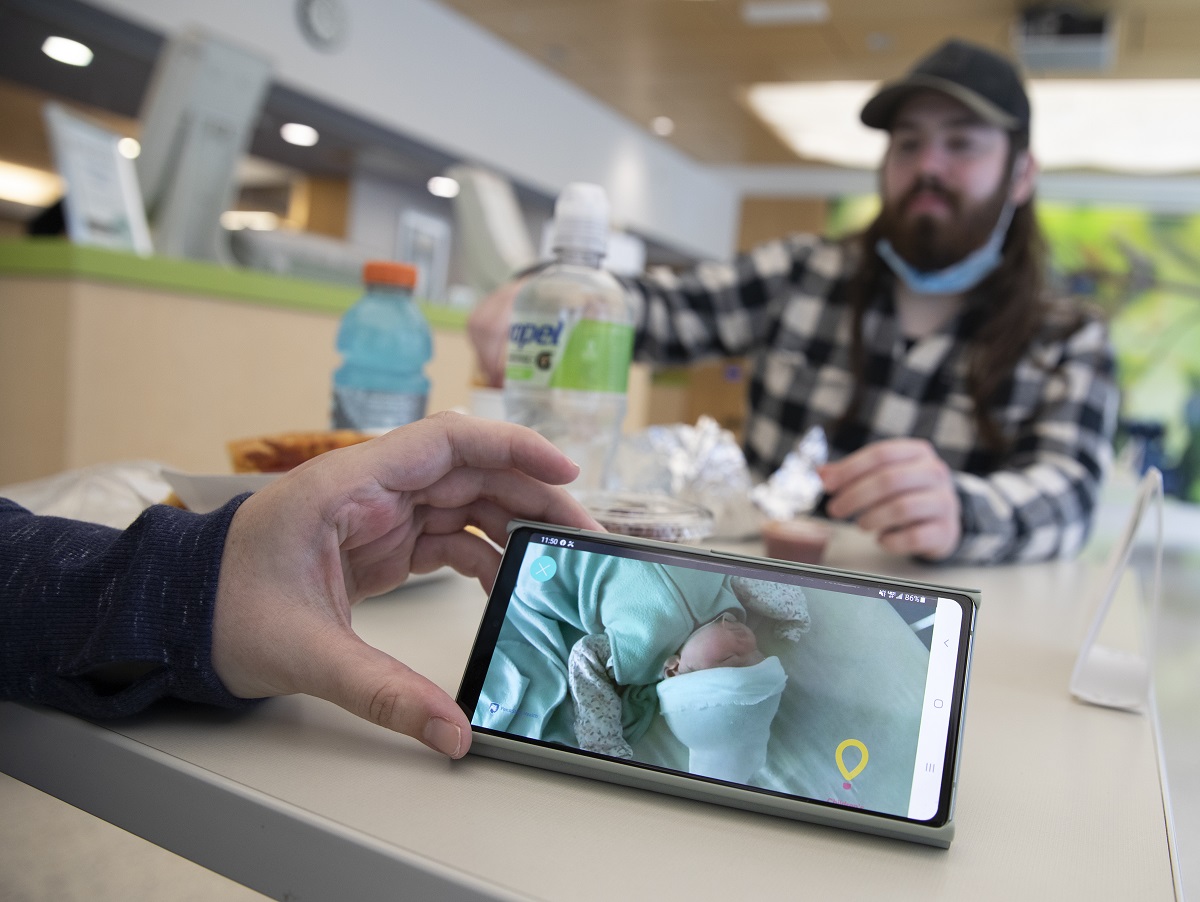 For weeks, 10 people in the Harrisburg area were hooked on a 24-hour channel – Penelope TV.
The programming didn't feature car chases or talking heads arguing politics. There was one star, Penelope Nelson, and she didn't do much more than nap, cry and soil the occasional diaper.
For her fans, that was enough. All Penelope, all the time – that's what they wanted. They tuned in on laptops and cellphones, sometimes letting Penelope TV play in the background all day long.
Penelope was born on Dec. 28, 2020, two weeks premature. Even before she arrived, dozens were praying for her. Pre-birth examinations showed she would suffer from birth defects, such as Dandy-Walker Syndrome, a rare genetic disorder that causes a shrunken cerebellum. At first, doctors believed her chances for survival were small.
"She's been defying the odds," said mom Brittany Baumgartner. Her parents brought her to Penn State Health Children's Hospital's Neonatal Intensive Care Unit (NICU) from a nearby hospital shortly after she was born because she wasn't breathing and had to be intubated.
More than a month later, Penelope is a feisty, 6-pound little charmer with a full head of brown hair. Her mom and dad and relatives across the Harrisburg region watched her transformation via video feed from the NICU's AngelEye Health camera.
In December 2020, the Children's Hospital purchased 56 cameras with support from Children's Miracle Network, enough for every bed in the hospital.
Point at the image below to reveal slideshow player controls.

In rooms like Penelope's, a metal arm holds a box the size of a digital alarm clock over the bed. The box is a camera. It allowed Brittany and partner Jacob Nelson to watch a constant video feed of Penelope using an app on their smartphones or a web browser on a laptop computer.
Brittany and Jacob say the AngelEye camera made the whole experience easier. They live in Newport, Pa., a 45-minute drive from the Children's Hospital. During Penelope's stay, they arrived early every morning and went home late every night. The camera meant they didn't have to wait for sunrise to see her.
"She's a party girl," Brittany said. Sometimes Brittany checked her phone at 2:30 a.m. Penelope TV was on, as always, and the star of the show was wide awake and moving around. "I think she has her days and her nights mixed up," Brittany said.
They used the camera to help their 7-year-old daughter, Violet, connect with her baby sister, even though she couldn't visit because of COVID-19 restrictions. And both families maintained a constant view at just about any hour – there's even a night-vision mode for late-night viewing.
In early January, doctors removed Penelope's breathing tube. Surgery fixed her cleft palate and a brace is helping to correct a slightly clubbed foot. Penelope TV is officially off the air for good. Her fans must go to Newport for the live version.
But for weeks the channel was addictive. During their days at the NICU, Brittany and Jacob only left Penelope's bedside occasionally, like to take the elevator down to the Tree House Café on the ground floor of the hospital.
Was leaving hard?
"Not anymore," Jacob said at the time. "Honestly, AngelEye makes it easier."
In the cafeteria, Brittany always clicked the app on her phone. Up popped her favorite channel.
"There she is," she'd say.
A matching grant from the John E. Morgan Foundation to Children's Miracle Network helped to purchase these cameras. To continue to fund innovative equipment like the AngelEye system, make a gift at CMNHershey.org.
---
About Children's Miracle Network at Penn State Health Children's Hospital
Children's Miracle Network Hospitals is a non-profit organization that has affiliations with 170 children's hospitals including Penn State Health Children's Hospital. Gifts raised locally through Children's Miracle Network (CMN) fund equipment, patient programs, and pediatric research at Penn State Health Children's Hospital, which is the only children's hospital between Pittsburgh and Philadelphia fully equipped to treat the most severely ill children of central Pennsylvania. CMN's mission to save kids' lives and improve their quality of care is part of "A Greater Penn State for 21st Century Excellence," a fundraising campaign focused on three key imperatives: Open Doors, Create Transformative Experiences, and Impact the World. Learn more at greaterpennstate.psu.edu
If you're having trouble accessing this content, or would like it in another format, please email Penn State Health Marketing & Communications.