I am Penn State Health: Lea Eller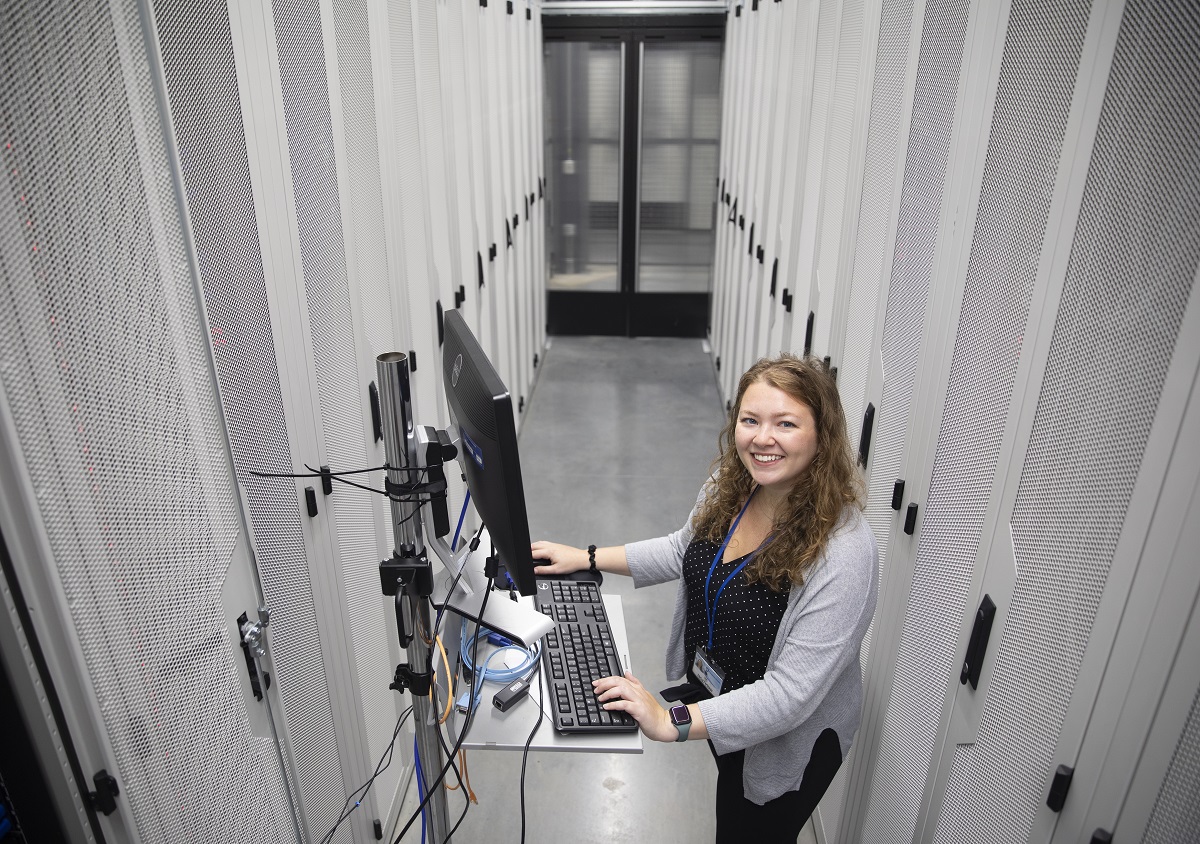 To many people, the field of cybersecurity is foreign and intimidating, but it feels like a natural fit for Lea Eller, a cyber defense infrastructure engineer in Penn State Health's Office of Cybersecurity and Privacy.
"What I'm currently doing is better than what I ever dreamed I'd be doing," said the York County native who took a coding class in high school, majored in computer science and mathematics in college and now holds a master's degree from Penn State. "I've been with Penn State Health for three years, and I enjoy the unique opportunity to use both my coding and cybersecurity backgrounds."
How I Spend My Days
I function as a key resource for the architecture, deployment and maintenance of various cybersecurity tools to help protect our workforce. This includes email security, network security, security automation, endpoint security ─ which means end-user devices such as desktops, laptops and mobile devices ─ and working with others across the health system to troubleshoot issues and answer questions.
Biggest Challenge
Understanding technology and cybersecurity is just one part of what is needed in my role. Just like our health care workforce at Penn State Health, our Cybersecurity team is challenged with educating ourselves on the terminology, equipment and laws that the health system follows to provide accessible health care.
My Take on Recent Rise in Cyberattacks
These attacks are very real, and their impact can go as far as physically affecting a patient. The increase in the number of cyberattacks makes my work even more important but, more notably, it makes the cybersecurity processes and best practices each employee follows very important. If you see something, say something.
Why I'm Proud to Work at Penn State Health
Penn State Health was there for me when I needed critical and complex surgery as a child. It's rewarding to work alongside the same doctors and nurses who cared for me in my time of need. I come to work every day knowing what we do as a health system doesn't just save lives, but can also give a patient their life back.
Why Other Cyber Defense Specialists Should Consider Joining Penn State Health
As a member of this team, you would be provided with the training, tools and support from leadership to expand your cybersecurity skills while also playing an important part in providing health care to those in need.
My Hobbies
Between my husband and me, we play seven different instruments. Our house tends to be a little loud some nights.
On My Bucket List
My husband and I would love to own a small farm one day. Nothing too big, maybe some chickens or goats.
What Others Say About Lea
"Lea is an invaluable asset to us. She was the key resource for deploying a password management tool to help the Penn State Health workforce more easily keep track of and manage their passwords."
~ Angela Davis, Cybersecurity director
Job Opportunities
Penn State Health has opportunities for cyber defense infrastructure engineers like Lea, as well as information services support specialists, registered nurses and a variety of other clinical and support positions.
If you're having trouble accessing this content, or would like it in another format, please email Penn State Health Marketing & Communications.