Obstetrics and gynecology resident Brubaker recognized for exceptional teaching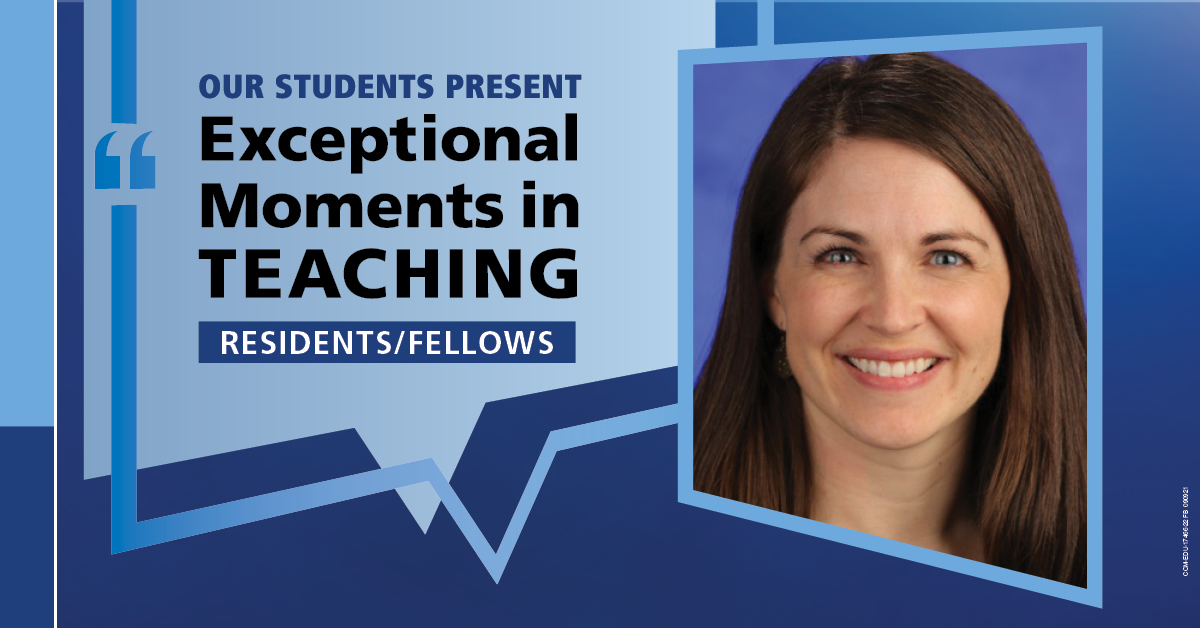 Dr. Laura Brubaker, an obstetrics and gynecology resident at Penn State Health Milton S. Hershey Medical Center, was recognized in September 2021 as part of the Exceptional Moments in Teaching program of Penn State Health and Penn State College of Medicine.
"Dr. Brubaker is an excellent educator to students and patients alike," a current student wrote. "She immediately helped make students comfortable and informed of expectations and identified learning objectives. When in 'work mode,' she still made teaching moments available by talking aloud through her thought process and actions, so we could learn during observation (e.g., in the operating room).
"During slow moments in clinic and on Labor and Delivery, she would identify our questions and do short teaching moments, while helping us identify resources for additional reading. During the entirety of our time together, I never saw a moment where her enthusiasm waned. She treated everyone with the utmost respect and patience. All around, she was a model physician and educator."
Brubaker is a graduate of West Chester University, with a Bachelor of Science in nursing. She worked as a labor and delivery nurse for two years before returning to school to get her Master of Public Health degree from Johns Hopkins Bloomberg School of Public Health. She held various roles as a public health nurse at a not-for-profit health system, culminating in writing grants and coordinating a Ryan White grant-funded HIV program for several years.
While her roles in public health varied, Brubaker almost always was involved in maternal-child health care in some capacity. Knowing that she ultimately wanted to study and practice medicine and specifically wanted to return to labor and delivery, she enrolled at Penn State College of Medicine. Obstetrics and gynecology was an obvious choice, and she appreciates being a resident physician in the Penn State Health Department of Obstetrics and Gynecology. She is currently applying for a maternal-fetal medicine fellowship.
Penn State College of Medicine's Office for a Respectful Learning Environment recognizes exceptional faculty, residents and fellows with the monthly "Exceptional Moments in Teaching" program. Each month, one faculty member and one resident/fellow are highlighted for their contributions. College of Medicine students are invited to submit narratives about faculty members, residents, nurses or any other educators who challenge them and provide an exceptional learning experience using the online nomination form.
The Office for a Respectful Learning Environment fosters an educational community at Penn State College of Medicine in which all learners and educators feel supported, challenged, valued and respected. It serves all learners at the College of Medicine: medical students, graduate students, physician assistant students, residents and fellows.
See previous faculty and resident/fellow honorees here.
If you're having trouble accessing this content, or would like it in another format, please email Penn State Health Marketing & Communications.