Radiology resident Chen recognized for exceptional teaching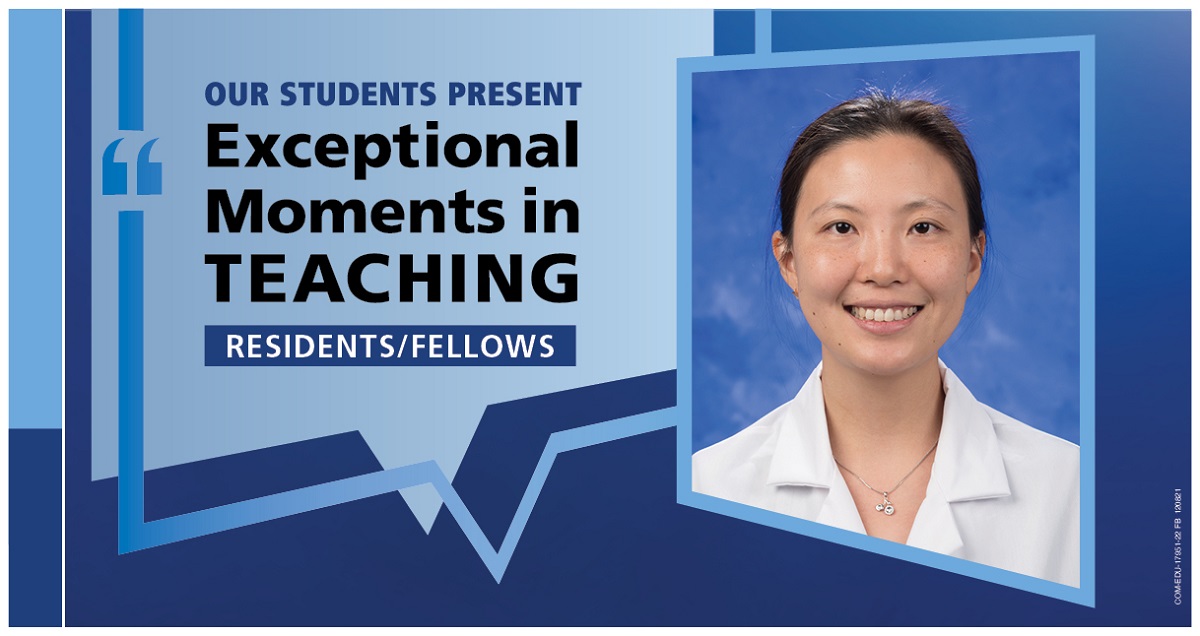 Dr. Jing Chen, a radiology resident at Penn State Health Milton S. Hershey Medical Center, was recognized in December 2021 as part of the Exceptional Moments in Teaching program of Penn State Health and Penn State College of Medicine.
"Dr. Chen was an excellent teacher from day one of my pediatric radiology rotation," a current student wrote. "She was quite enthusiastic about teaching medical students and welcomed our questions at any time. She also took the time to learn about my individual learning and career goals and tried to apply what we were learning to my interests.
"Dr. Chen was so helpful throughout the entire rotation, but something that really stuck out to me was that she took time out of her day to allow students to practice their presentations in front of her. Not only did she listen attentively, but she wrote down notes for feedback and provided great constructive criticism that improved our projects. I have never had a resident so invested in teaching medical students, and I feel that any student would be lucky to have the opportunity to work with and learn from Dr. Chen."
Chen is a fourth-year radiology resident and will start her interventional radiology training next year. She grew up in China and initially came to the U.S. for graduate school. After completing her PhD in chemistry at Johns Hopkins University in Baltimore, Chen changed her career path and enrolled in Virginia Tech Carilion School of Medicine, Roanoke, Va. She enjoys cooking (particularly Chinese cuisines) and spending the majority of her free time with her husband and two young children.
Penn State College of Medicine's Office for a Respectful Learning Environment recognizes exceptional faculty, residents and fellows with the monthly "Exceptional Moments in Teaching" program. Each month, one faculty member and one resident/fellow are highlighted for their contributions. College of Medicine students are invited to submit narratives about faculty members, residents, nurses or any other educators who challenge them and provide an exceptional learning experience using the online nomination form.
The Office for a Respectful Learning Environment fosters an educational community at Penn State College of Medicine in which all learners and educators feel supported, challenged, valued and respected. It serves all learners at the College of Medicine: medical students, graduate students, physician assistant students, residents and fellows.
See previous faculty and resident/fellow honorees here.
If you're having trouble accessing this content, or would like it in another format, please email Penn State Health Marketing & Communications.