De Jesus recognized for Exceptional Moments in Teaching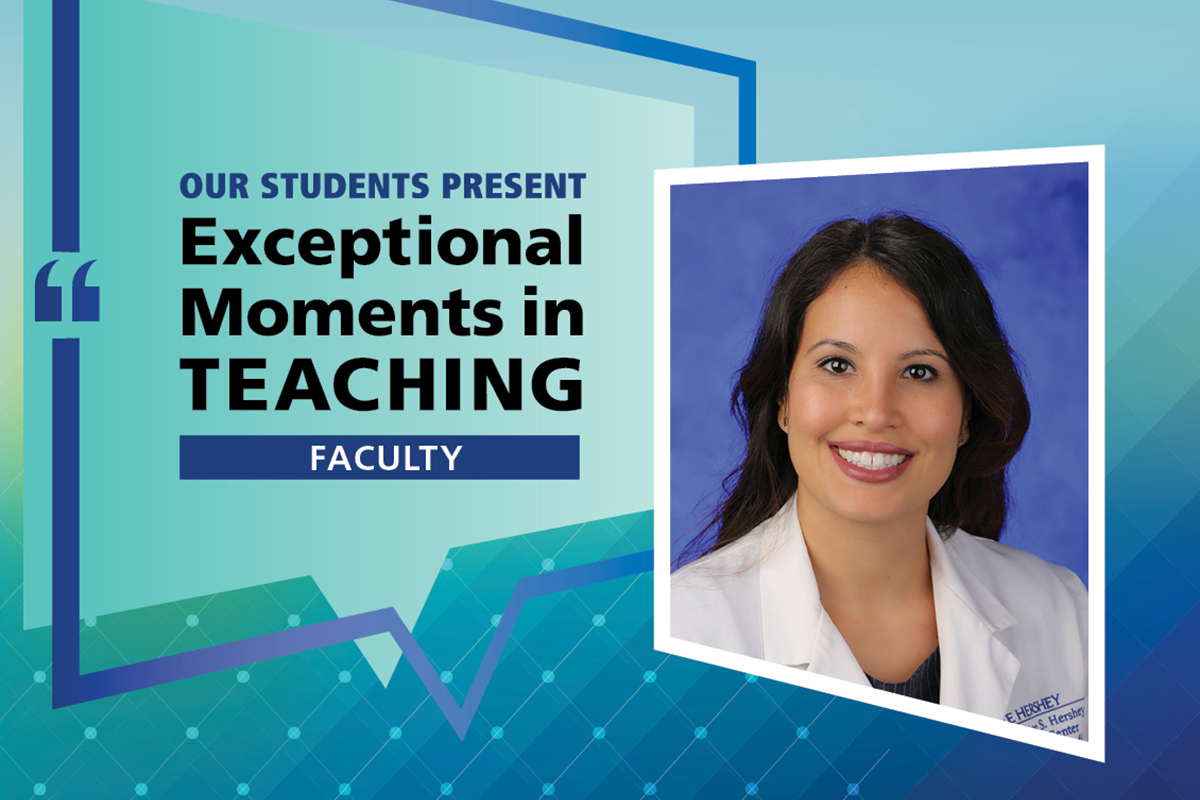 Dr. Sol De Jesus, assistant professor and vice chair for quality in the Department of Neurology, Division of Movement Disorders, is featured for January in the "Exceptional Moments in Teaching" program.
"Dr. De Jesus is a fantastic teacher and mentor," a current student wrote. "For a clinical skills session, Dr. De Jesus found patients who would allow us to interview them and who had been admitted to the hospital for a health issue directly related to topics we were learning about. This allowed me to connect what I was learning in class directly to real-world patient care. It was a great experience and one example out of many that demonstrates Dr. De Jesus' efforts to enhance the medical education of students."
De Jesus joined Penn State Health in 2016 as an assistant professor in the Department of Neurology and co-director of the Deep Brain Stimulation (DBS) program. She received her medical degree from Ponce School of Medicine and Health Sciences (now Ponce Health Sciences University), Puerto Rico, and completed her neurology residency at Hershey Medical Center, followed by subspecialty fellowship training in movement disorders at the University of Florida Health Movement Disorders and Neurorestoration Program.
De Jesus is passionate about devoting her clinical skills and research work to improving the care of patients with movement disorders and increasing our understanding of the mechanisms underlying DBS. Her research interests include patient quality improvement and factors impacting post DBS-outcomes, and she is actively involved in education and mentorship at Penn State College of Medicine. De Jesus has served as the co-director of the Office of Interprofessional Collaborative Education and Teamwork and as faculty co-advisor to the Student Interest Group in Neurology and the Latino Medical Student Association. She also established a formal curriculum and rotation in movement disorders to recruit more neurology residents into this field. In her free time, De Jesus enjoys traveling, staying active and spending time with her family and friends.
Penn State College of Medicine's Office for a Respectful Learning Environment recognizes exceptional faculty, residents and fellows with the monthly "Exceptional Moments in Teaching" program. Each month, one faculty member and one resident/fellow are highlighted for their contributions. College of Medicine students are invited to submit narratives about faculty members, residents, nurses or any other educators who challenge them and provide an exceptional learning experience using the online nomination form.
The Office for a Respectful Learning Environment fosters an educational community at Penn State College of Medicine in which all learners and educators feel supported, challenged, valued and respected. It serves all learners at the College of Medicine: medical students, graduate students, physician assistant students, residents and fellows.
See previous faculty and resident/fellow honorees here.
If you're having trouble accessing this content, or would like it in another format, please email Penn State Health Marketing & Communications.
Subscribe to our email newsletter