Research and Innovation Awards highlight faculty, staff, student achievements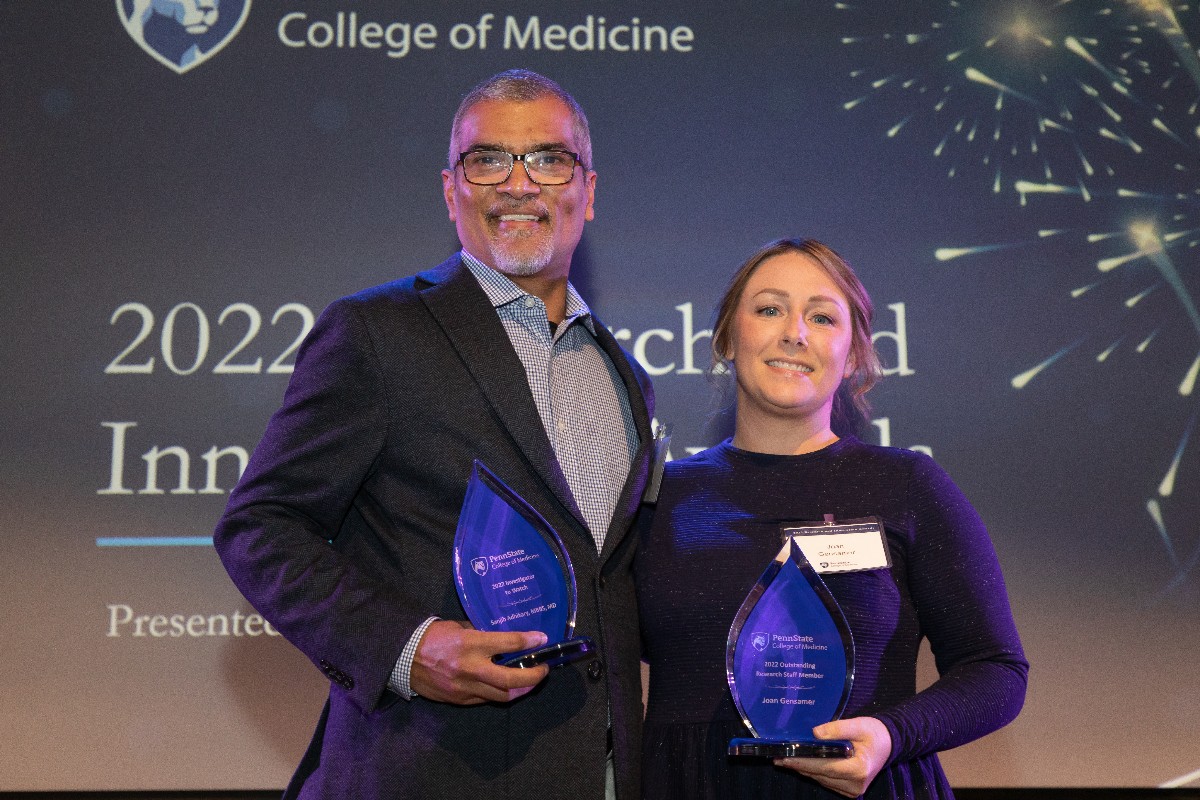 College of Medicine recognizes exceptional contributors to the research mission
Penn State College of Medicine faculty, staff and students celebrated their peers' research achievements, including patenting or licensing technologies, reaching career citation milestones, publishing outstanding research and promoting diversity in research at the Research and Innovations Awards on Oct. 12.
Hosted by the Office of the Vice Dean for Research and Graduate Studies, Research Development and the Penn State Center for Medical Innovation, the event honored 37 individuals selected from among more than 80 nominees.
"Groundbreaking research and innovation makes the College of Medicine critical to Penn State Health and the communities we serve in central Pennsylvania and beyond," said Kevin Black, MD, interim dean. "We instill this spirit of innovation and translation in our learners so that their discoveries will shape health care for generations to come."
More than 130 members of the research community gathered to network, socialize and honor the achievements of their colleagues during an event sponsored by Barry Fell and Brenda Hershey‑Fell, Oracle Cerner and Fran and Mark Cardaci. Professor emeritus Mel Billingsley, PhD, presented the keynote address.
Craig Meyers, MS, PhD, distinguished professor of microbiology and immunology and of obstetrics and gynecology, received the 2022 Innovator of the Year Award for being a serial inventor, having several patents that resulted in commercial products. Barry Fell and Brenda Hershey‑Fell presented the award, which recognizes an individual who exemplifies innovation and entrepreneurship in translational research through a demonstrated track record of developing new technologies, processes or services.
Vernon Chinchilli, PhD, professor and former chair of the Department of Public Health Sciences, was honored with the Career Research Excellence Award for more than 30 years of service to College of Medicine's research efforts. The award, presented by Oracle Cerner, recognizes the outstanding achievements of an investigator who has dedicated their career to enhancing the research mission through education, mentorship and collaborative efforts to further advance science.
"Whether doing basic research in the lab, translational clinical studies in our hospitals or working to commercialize an innovative idea into the market, we all have the same goal of trying to improve human health," said Kevin Harter, director of the Center for Medical Innovation. "Congratulations to all those recognized for their exceptional contributions and hard work. Your efforts are making a difference in peoples' lives."
2022 Research and Innovation Awards Winners
Student Award for Excellence in Innovation – Kristen Manto, PhD
Outstanding Research Staff Member – Matt Bolton, MHA; Elizabeth Conner, MBA; Joan Gensamer; Marissa McCann; Andrea Murray, MPH; and Todd Umstead
Outstanding Education Researcher – Andrew Freiberg, MD
Outstanding Community‑Engaged Researcher – Sarah Kawasaki, MD
Outstanding Research Mentor – Edward Gunther, MD
Outstanding Collaborative Research Team – Nicholas Buchkovich, PhD, with Rinki Kumar, PhD, Neil Christensen, MSc, PhD, Rebecca Kaddis Maldonado, PhD, Maria Bewley, PhD, Alexandria Ostman, Malgorzata Sudol, Eunice Chen, MD, PhD, Natalie Buchkovich, Leslie Parent, MD, and John Flanagan, PhD, from Penn State College of Medicine; Abhinay Gontu, Meera Surendran Nair, PhD, Ruth Nissly, Allen Minns, Vivek Kapur, PhD, Randall Rossi and Suresh Kuchipudi, PhD, from Penn State College of Agricultural Sciences; and Scott Lindner, PhD, from Penn State Eberly College of Science
Outstanding Champion of Diversity in Research – Brianna Evans
Investigator to Watch – Sanjib Adhikary, MBBS, MD
Outstanding Research Publication – Jonathan Stine, MD, MSc, and Fadia Kamal, PharmD, PhD
Samuel Hinkle Junior Faculty Research Award – Fadia Kamal, PharmD, PhD, and Elizabeth Proctor, PhD
2021 Lloyd Prize for Innovative Thinking in Research – Pritish Mondal, MD
2022 Lloyd Prize for Innovative Thinking in Research – Roopa Siddaiah, MBBS
Innovator of the Year – Presented by Barry Fell and Brenda Hershey‑Fell – Craig Meyers, MS, PhD
Career Research Excellence – Presented by Oracle Cerner – Vernon Chinchilli, PhD
Career Citation Milestone (1000+ citations) – Edward Bixler, PhD; Paul Eslinger, PhD, MS; Alistair Barber, PhD; Chandra Belani, MD; and Mitchell Machtay, MD
Career Citation Milestone (500+ citations) – Russell Scaduto Jr., PhD; Ashokkumar Jain, MD; John Gorcsan, MD; Leonard "Jim" Jefferson, PhD; Ralph Norgren, PhD; Zhonghua Gao, PhD; James Connor, MS, PhD; Julie Fanburg‑Smith, MD; Marc Kaufman, MA, PhD; Ian Simpson, PhD; Alexandros Vgontzas, MD, ScD; and Shengyu Yang, PhD
Investigators whose technologies were licensed to industry in fiscal year 2021-2022 – Joslyn Kirby, MD, MEd, MS; Zissis Chroneos, PhD; and Neil Christensen, MSc, PhD
Investigators who received an issued patent in fiscal year 2021-2022 – Ian Paul, MD, MSc; Steven Hicks, MD, PhD; Ian Gilchrist, MD; Christopher Siedlecki, MS, PhD; and Qing Yang, PhD
View a gallery of photos from the event
If you're having trouble accessing this content, or would like it in another format, please email Penn State Health Marketing & Communications.