Grateful patient family surprises doctor with funding for hydrocephalus research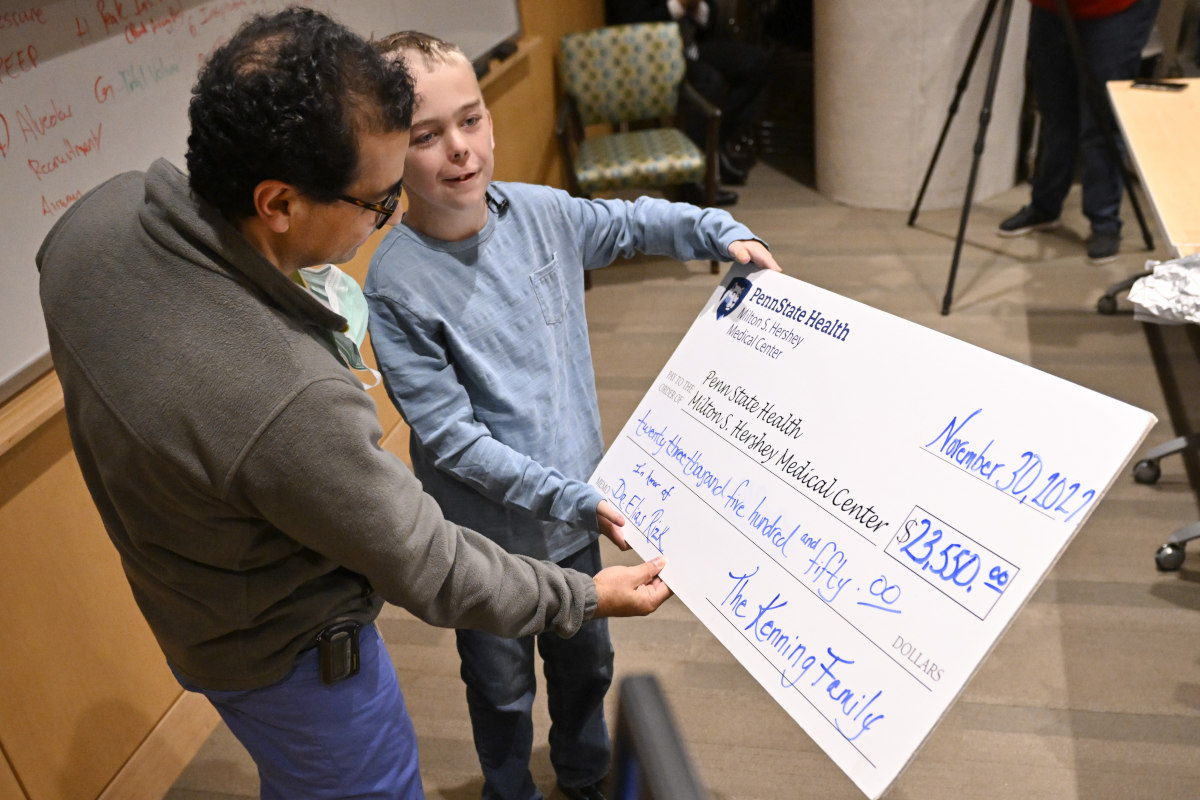 Dr. Elias Rizk arrived at a conference room, assuming he was walking into another routine meeting. Instead, the pediatric neurosurgeon at Penn State Health Children's Hospital was surprised by a patient and his family – who had secretly orchestrated a check presentation to express their gratitude for the care Rizk has provided for the child's complex illness.
Twelve-year-old Coltin Kenning and his mother, Stephanie Kenning, gathered Rizk's colleagues and members of hospital leadership so they could celebrate and thank him for the care he has provided to date for Coltin in his battle against hydrocephalus. They then presented Rizk with a check for $23,550, earmarked for hydrocephalus research. The family had raised the money with a raffle, quickly blowing past their initial goal of $10,000.
Hydrocephalus is a potentially fatal disease resulting from too much cerebrospinal fluid around the brain. Symptoms can often be relieved with placement of a shunt – which is a system of tubes that carries the excess fluid from the brain to other areas of the body where it can be more readily absorbed. After Coltin developed an allergy to silicone – which is used to make shunts – Rizk worked with a manufacturer to develop a specially coated device that Coltin can tolerate with the help of anti-rejection medication.
"There's nothing we could possibly do to thank him enough for what he's done," said Stephanie Kenning. But the family's attempt to do so comes in the form of a check designed to serve as seed funding for important research.
"The shunts used today to treat hydrocephalus are the same ones that have been used forever. We hope our gift will start Dr. Rizk down the path of developing something more permanent that works for so many other children like Coltin," said Stephanie Kenning. "We hope this will get him started and help him show progress, then secure even more funding that will eventually lead to a permanent solution."
Today (Wednesday, Nov. 30) is significant: it marks the one-year anniversary since Coltin's last surgery for hydrocephalus.
Coltin's story
In August 2021, Coltin Kenning, who was being treated for hydrocephalus at the Mayo Clinic in Minnesota, received permission from his doctors to leave the hospital for a brief vacation. It was to be a welcome respite from the scores of surgeries and other procedures he was undergoing on a regular basis to fight back his illness. The family booked a vacation trip to Hershey – but while in the area, Coltin became ill. His mother, Stephanie Kenning, did a web search and found Penn State Health Children's Hospital.
Rizk cared for Coltin, and worked with a manufacturer to alter the child's shunt so that he doesn't have to remain in the hospital.
Today, Coltin is enrolled in school, playing baseball and enjoying life as a kid. He and his mom moved to central Pennsylvania in October 2021 so that he could continue to receive care from Rizk. They were joined by three siblings in January. His father, a farmer, remains in Minnesota to maintain the family business.
"Dr. Rizk has given Coltin a life that he's never had before," Stephanie Kenning said.
If you're having trouble accessing this content, or would like it in another format, please email Penn State Health Marketing & Communications.