Cancer Institute researcher awarded grant to increase diversity in clinical trials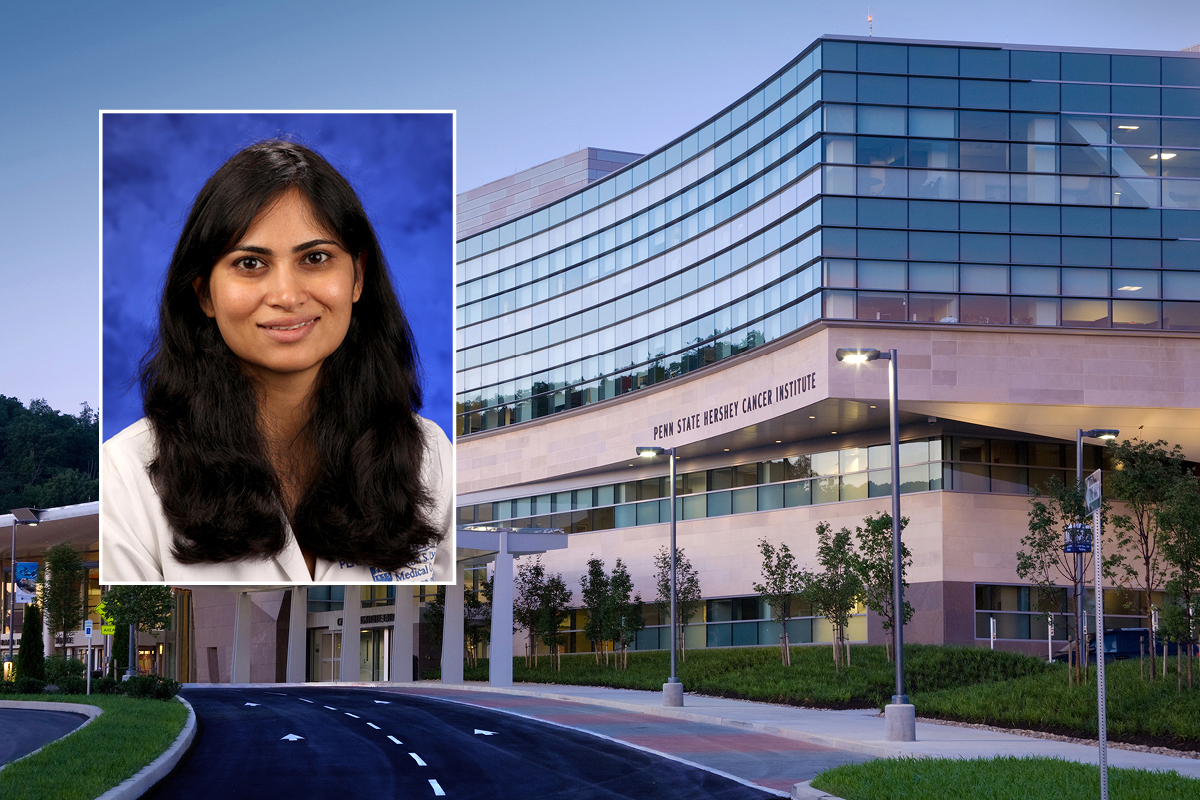 Penn State Cancer Institute researcher Dr. Monali Vasekar has received the Robert A. Winn Diversity in Clinical Trials Career Development Award from the Bristol Myers Squibb Foundation. The grant is intended to help strengthen partnerships between clinical investigators and communities, increase the diversity of patients enrolled in clinical trials and enhance the development of therapeutics for all populations.
Vasekar, an assistant professor of medicine at Penn State College of Medicine and oncologist at Penn State Health Milton S. Hershey Medical Center, primarily focuses on the treatment of breast cancer. She is involved with several breast cancer research trials, including large cooperative group trials with researchers at other cancer centers around the country. She also started a study at Penn State Cancer Institute that is investigating the role of brochure-based education in reducing side effects associated with chemotherapy.
According to Vasekar, mentorship will be a key part of her award. Just like she is mentoring a group of medical students on her Cancer Institute study, Dr. Monika Joshi, medical director of the Cancer Institute's Clinical Trials Office and oncologist, will mentor Vasekar as part of the grant. Joshi says she'll be helping Vasekar develop her own clinical trial by coaching her on how clinical trials are designed and carried out.
"Dr. Vasekar is a stellar early career clinician-researcher and is sincerely dedicated to improving diversity in clinical trials," Joshi said. "Her work as inaugural chair for the Rise Up (Reconciling Inequities in Cancer Therapeutics in Underserved Population) Committee is helping create a culture of inclusion in research within the Cancer Institute so trials are more equitable and accessible for underserved patients."
Vasekar said this award will help her advance Penn State Cancer Institute's goal of fighting cancer on every front by improving prevention, treatment and survivorship through quality education, research and patient care.
"Disparities in cancer research and clinical trials create barriers in helping us fight cancer in underserved communities," Vasekar said. "The training, resources and mentorship provided by this grant will help me enhance my skills as a clinical investigator and advance health equity through research, networking and community outreach and engagement."
About the Robert A. Winn Diversity in Clinical Trials Award Program
The Bristol Myers Squibb Foundation (BMSF) established the Robert A. Winn Diversity in Clinical Trials Award Program to increase diversity in clinical trials and transform the clinical research landscape. It includes two awards: the Robert A. Winn Career Development Award for early-stage investigator physicians who are from diverse backgrounds and/or committed to increasing diversity in clinical trials, and the Robert A. Winn Clinical Investigator Pathway Program Award for medical students who are underrepresented in medicine.
BMSF created the Winn Award Program in 2020 with a $100 million pledge as part of its commitment to health equity, inclusion and diversity. The Foundation selected the American Association for Cancer Research (AACR) as a curriculum partner to develop the BMSF-AACR intensive Design and Implementation of Clinical Trials Workshop, which is the first training the Winn Career Development Award Scholars receive. Virginia Commonwealth University serves as the program implementation partner under the direction of Winn. Gilead Sciences is a program supporter and has committed $14 million to sponsor a total of 40 Winn Career Development Award recipients and 40 Winn Clinical Investigator Pathway Program Award winners. The Winn Award program aims to train, develop and mentor more than 580 diverse and community-oriented clinical trialists and medical students by 2027.
If you're having trouble accessing this content, or would like it in another format, please email Penn State Health Marketing & Communications.