3D-printing student interest group inspires next generation of STEM professionals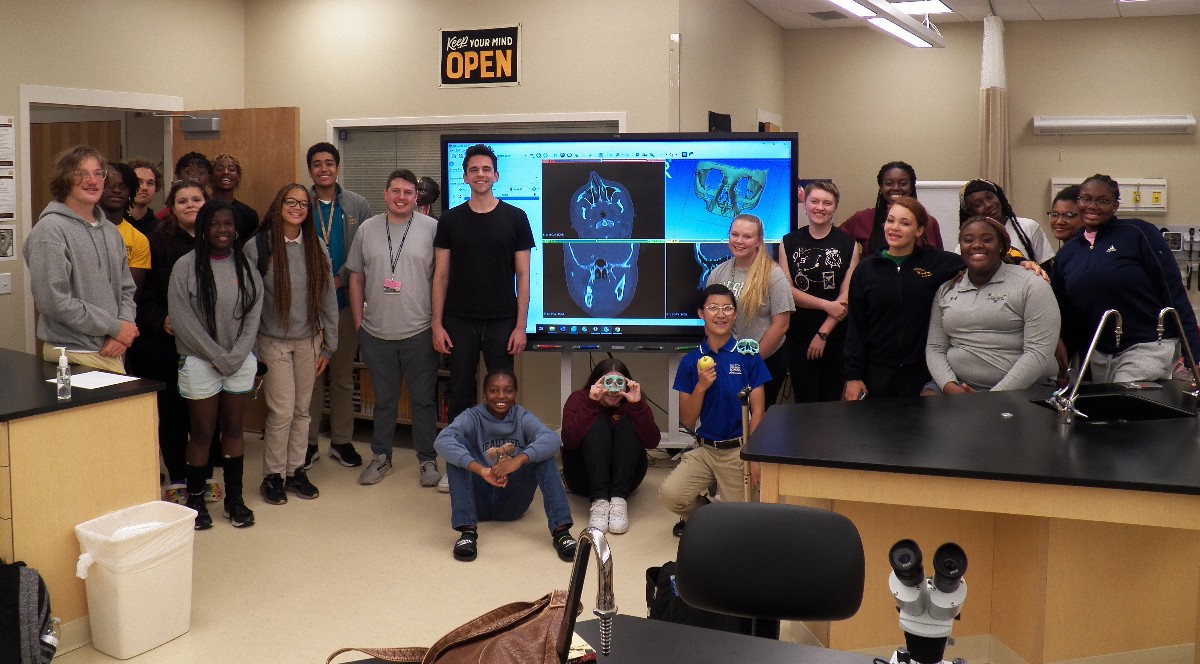 Ever since he was in high school, Marc Levine has enjoyed bringing computer-designed objects to life with 3D printers. His enthusiasm for the technique created a desire to share his knowledge with others.
"It's a unique skill that has lots of applications," said Levine, a third-year medical student at Penn State College of Medicine, who has applied 3D printing to his own research projects related to plastic surgery.
During the early months of the COVID-19 pandemic, Levine and his brothers used 3D printers in their apartment to print, assemble and distribute 1,000 respirators to homeless people in their hometown, Miami. He then improved schematics for 3D-printed respirators and conducted research, published in the American Journal of Medicine, to compare the efficacy, production costs and customizability of certain 3D-printed respirators to N95 masks.
Once his peers heard about his efforts, they expressed interest in learning more about the skill and its real-world applications. Partnering with Benjamin Hoover, assistant librarian at Harrell Health Sciences Library, Levine founded the 3D Printing Club. According to Levine, many students didn't realize the College of Medicine had 3D printers available for student use.
"We wanted to teach students how to use these resources and explore applications that might be relevant to their own interests," Levine said. But he still felt like there was more we could do to share his knowledge and passion with others.
Our students inspire the next generation. They demonstrate what medicine means.
Levine connected with Robert Kopp, a health professions educator at Milton Hershey School (MHS), to train students with interests in health care professions on how to use 3D printing. Levine used club funds to purchase a simple 3D printer to share with the MHS students.
During the school year, club members and MHS students took turns visiting each other's campuses. Medical students taught the younger students skills like 3D printing or using virtual reality simulators to learn human anatomy.
"Our original goal was to teach students how to use 3D printers, but it's evolved into something more," Levine said. "We're mentoring these students and helping them get a glimpse of what life is like as a health professions student."
Kopp agrees. He said that on average 15 to 20 students show up to each session eager to learn new skills and explore health careers. On one occasion, Levine used a de-identified patient's computerized tomography (CT) scan to show students how to design and 3D-print facial bone. During another visit, the MHS students 3D-printed an anatomically accurate heart key chain. After trying and failing a few times, Kopp said they finally got it to work.
"These are low-pressure ways for students to explore careers in science and health care," Kopp said. "Marc shows us how he and his peers use the 3D printer, and then the students use the skills in their own way."
According to Levine, one MHS student even used 3D printing as part of their science fair project. He said seeing the students apply what they learned is rewarding. He recently purchased an additional 3D printer and is currently working to establish a partnership with another local high school. He is enthusiastic about growing the organization and involving more community members.
"3D printing is all about troubleshooting," Levine said. "It is not an exact science. Things will inevitably go wrong and it requires constant problem solving. Sometimes there's more than one solution. Learning the process of trial and error and failure before success, gives these students a framework of thinking that will allow them to more easily overcome obstacles in the future."
Contact Marc Levine to learn more about the club
If you're having trouble accessing this content, or would like it in another format, please email Penn State Health Marketing & Communications.
Subscribe to our email newsletter