'Hopeful Tomorrow' commemorates COVID care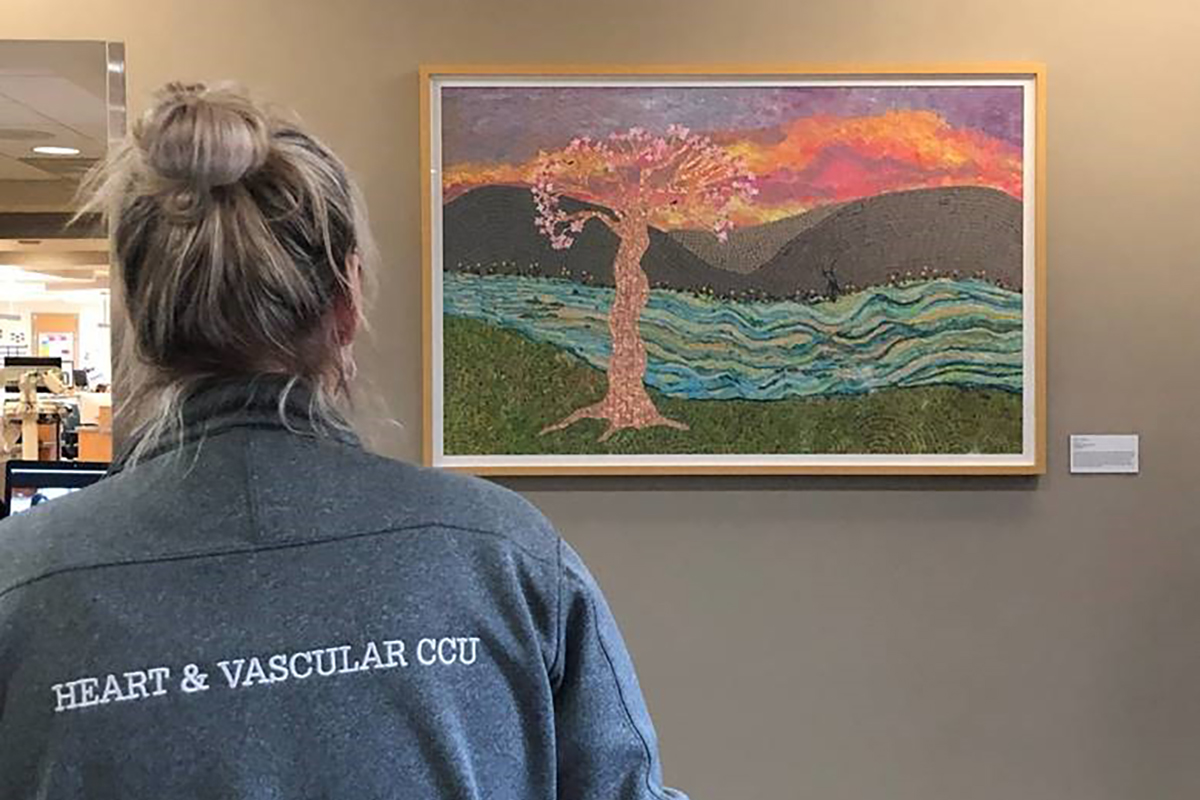 A new mosaic work of art reflects the light coming in the Penn State Heart and Vascular Institute Critical Care Unit (HVICCU) south entrance lobby. The art itself reflects so much more. "This special artwork pays homage to the strength and resilience our nurses found during the height of pandemic patient care," said Claire de Boer, director of Center Stage Arts in Health, which provides arts programming to the Penn State Health Milton S. Hershey Medical Center and Penn State College of Medicine community.
Center Stage collected the bags used to store N95 masks on-site at the beginning of 2020 when personal protective equipment (PPE) was in short supply. Professional mosaic artist Gail Jones of Muncy Valley, Pa., took the bags and cut, painted and arranged the pieces into a glimmering composite titled "Hopeful Tomorrow."
"The transformation of this material honors the caregivers who bravely worked in the unit during the height of COVID," de Boer said
One outcome of COVID is the ease with which people can connect digitally. Jones was able to watch the unveiling of the art from her studio. She said she was humbled and amazed to see how many staff came out for the event. "A thrill went through me, along with other emotions. My hope is that the art evokes a sense of calm, joy and hope."
Jaime Rank, HVICCU clinical staff leader, championed the project. "When the art piece was unveiled, I was speechless, overwhelmed with a rainbow of emotions and flooded with memories and snapshots of moments in time during the COVID-19 pandemic. We were truly transformed into heroes overnight and together our ICU team persevered to give the care and comfort our patients so desperately needed."
Rank explained that as viewers peer closely at the artwork, they will recognize the small pieces of the PPE bags that Nikki Clutton, patient care secretary, put countless hours into decorating and individualizing for each member of the care team. "The bags were just what we needed to make us smile and feel special during a difficult time in our profession. Just like our health care team, our bags have now been transformed into a timeless piece of art. The spirit of the art takes my breath away," Rank said.
Clutton said "Hopeful Tomorrow" makes her smile whenever she sees it. "I really enjoyed making the bags for my unit. I started with just the name and a small design, and it grew into an individualized design specific to each person. It was an unexpected way to make people smile during a difficult time."
"This unit cared for the sickest of our patients. Our nurses were their families, their ministers, their friends and their caregivers," said Michele Szkolnicki, senior vice president and chief nursing officer at the Milton S. Hershey Medical Center. "They took tremendous pride in the recovery of every individual. I am so glad that they have this beautiful piece of art to remind them of their beloved patients and each individual's journey into the future that they helped to ensure."
Long after people who have recovered and moved on with their lives, this art will be here to celebrate the care they received in the HVICCU, said Deborah Addo, Penn State Health executive vice president and chief operating officer. "'Hopeful Tomorrow' truly reflects the emotions we are all feeling as we move into brighter days."
If you're having trouble accessing this content, or would like it in another format, please email Penn State Health Marketing & Communications.