Cockroft named vice president of neurosurgical services, chair of Department of Neurosurgery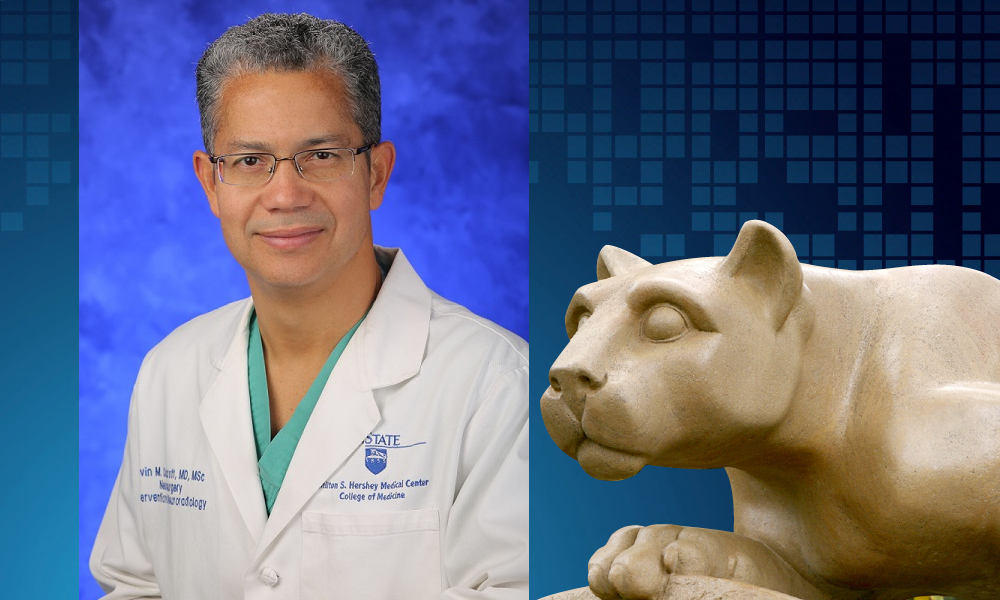 Dr. Kevin Cockroft has been named chair of the Department of Neurosurgery at Penn State College of Medicine and Penn State Health Milton S. Hershey Medical Center after serving as interim chair for a year and a half. Cockroft was also named vice president of neurosurgical services at Penn State Health Medical Group.
In his role as vice president, Cockroft will help drive the health system's patient care strategy for neurology and neurosurgery, ensuring the delivery of superior neurological care across each of Penn State Health's five acute care hospitals and outpatient practices. He will work with leadership at the hospitals to develop and promote quality programs as well as credentialing and privileging guidelines for neurosurgical services. He will also coordinate outreach and collaboration with other regional physicians and care providers related to neurosurgical services.
Cockroft's clinical and research interests include brain aneurysms and subarachnoid hemorrhage, as well as arteriovenous malformations of the central nervous system and occlusive cerebrovascular disease. The principal investigator on several NIH- and industry-sponsored clinical trials, he has authored numerous scientific articles and book chapters and is frequently invited to lecture on topics related to neurovascular surgery at national and international meetings. Cockroft is the immediate-past chair of the American Board of Neurological Surgery and is also a former chair of the Joint Cerebrovascular Section of the American Association of Neurological Surgeons and the Congress of Neurological Surgeons. He is president-elect of the Carotid Stenting Facilities division of the Intersocietal Accreditation Commission.
Cockroft is co-director of Penn State Health Stroke Center and a professor with joint appointments in neurosurgery, radiology and public health sciences. He previously served as vice chair for clinical affairs, as well as director of cerebrovascular and endovascular neurosurgery and director of the Department of Neurosurgery's accredited Neuroendovascular Fellowship Training Program.
If you're having trouble accessing this content, or would like it in another format, please email Penn State Health Marketing & Communications.